I've always loved Ben Affleck on screen, who doesn't? He is charismatically good-looking, clearly bound for stardom, with a distinct likeability as an actor. But if there's one thing that I like more, then it's Affleck prowess behind the camera. This is probably a bold statement to make, but Affleck is a better filmmaker than an actor, and his latest outing as both a director and an actor, Air, reinforces this claim.
Starring Affleck alongside Matt Damon, Viola Davis and Jason Bateman, Air is a biographical sports drama, that traces back to the origin of Air Jordan, Nike's basketball shoe line and how a marketing executive in the company goes above and beyond to crack a deal with Michael Jordan, a rookie player then.
Damon, who is a longtime friend and colleague of Affleck, essays the role of Sonny Vaccaro, the sports marketing executive, while the latter plays Phil Knight, Nike's founder and chairman. Bateman plays Rob Strasser, Nike's marketing director while Davis plays Deloris Jordan, Michael Jordan's mother.
Grit, greatness and genius
Written by Alex Convery, Air does a fine job at telling this tale of a business deal that made both Jordan and Nike insanely rich while changing sports marketing forever, but the film is neither much about money nor is it about Jordan, rather it is about core human values like love, determination, grit and well, of course, greatness and genius.
Also read: Dahaad review: A perfect antidote to toxic propaganda, unveils truths of our times
It is amusing yet awe-inspiring at the same time to see how Affleck and Convery together create a touching and heartwarming film about a story that is essentially about capitalism. Indeed what is astounding about Air is how it makes plutocrats recite poetry, and finds philosophy in the midst of a multimillion dollar deal.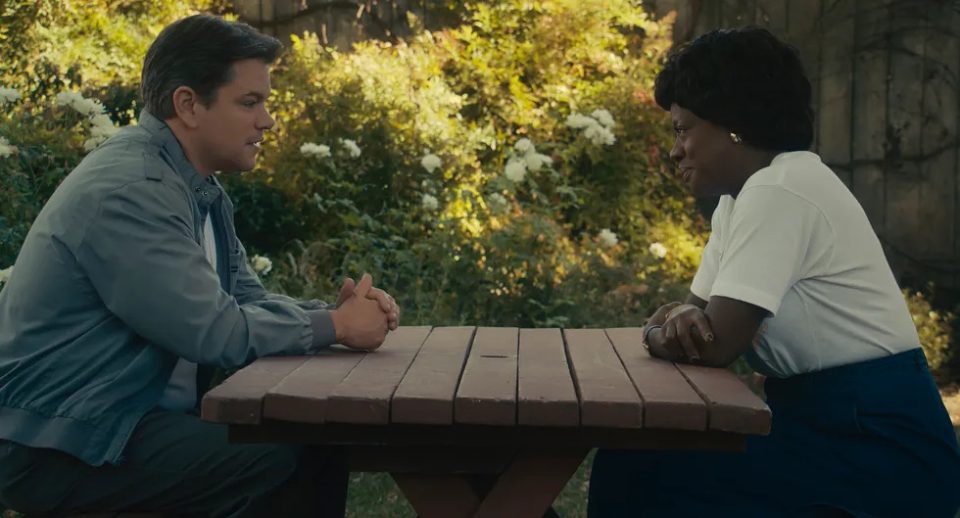 That said, the film banks as much on delivery as it does on its slightly frothy, lightly humorous, and completely compelling screenplay. To put it simply, Damon makes the film happen — the distance between a pitch perfect, gimmicky Netflix Documentary and a soul-bearing film that captures various nuances of business, race, colour, and dreams, is covered by Damon's unerring acting prowess, and Affleck's passionate vision for this true story.
Damon lands an immaculate performance of a paunchy, go-getter who doesn't take no for an answer if he believes in what he is pitching, even if it means taking a risk so massive that he could take everyone down along with himself. The film rests on the actor's able shoulders, giving him much of the heavy-lifting, especially since Affleck takes a perplexing directorial decision to never really show Michael Jordan, except from the behind or in the background.
An unconventional triumph
Scenes where Vaccaro has long and elaborate conversations with Jordan (Davis), Strasser (Bateman), and Knight (Affleck) are vividly memorable for the human touch they bring to a story about commodifying talent, and fulfilling capitalistic ambitions. When Strasser talks about how he uses shoes to connect with his daughter, whom he only gets to meet on Sunday for 4 hours, it is beautiful for the way it depicts vulnerability.
Also read: Modern Love Chennai delivers but Bharathiraja and Thiagarajan Kumararaja's shorts are the best
Vaccaro's conversations with Knight are delightfully reminiscent of the off-screen friendship that they share due to which these scenes look flawlessly organic, sizzling with impeccable ease that can only translate on-screen when the chemistry off it is filled with love and laughter, which is true in Damon's and Affleck's case.
Air could have easily been a monolithic montage of the American Dream, a one-dimensional tale of the underdog company that goes against fate to reach the top. It could've even more effortlessly been a story of how a white man recognises a black man's potential and strives to make him great, but Air is neither, because in a room full of white men, it is none other than Deloris Jordan (a black woman) who comes through as the most powerful person.
When she tweaks the film's winning line which is 'a shoe is just a shoe until someone steps into it' to 'a shoe is just shoe until my son steps into it' you realize that none of these men, not even Michael Jordan himself, is as strong as this woman.
A tale of breaking rules
Viola Davis lets her evocative eyes do all the talking, with succinct but formidable dialogues. The scenes featuring her and Damon are the film's most delicious parts as they meld emotional depth with concrete corporate discussions. She elevates the film tremendously, with her prudent subtlety.
Also read: Succession review: A cautionary tale on the state of democracy, and rich-poor divide
Davis also plays a huge part in putting the racial subtext of the Nike-Jordan deal in context for the film, along with other black actors (Julius Tennon, Chris Tucker, Marlon Wayans), who provide much-needed representation, thanks to Michael Jordan's own inputs to Affleck.
All in all, Air is the kind of watch that you want to come home to for its sense of familiarity that engulfs you from the very first frame. Perhaps it's because the legend of Air Jordan has become folklore, even if Affleck and Convery veer away from facts, sacrificing truth in favour of dramatic impact. One doesn't require to be either basketball nerd or a sneakerhead for the film keeps itself accessible, without dumbing down the material too much.
On the face of it, Air may appear to be a corporate drama, but in reality, it is a tale of breaking rules and defying conventions, revolutionizing an entire industry, fearlessly pursuing your desires (even if it means claiming 25 percent of Nike's Jordan Brand sales), recognizing your worth, and having unwavering faith in yourself long before the world acknowledges your potential. The truth of Air Jordans might be juicier, but Affleck's storytelling is more human, and more affecting.