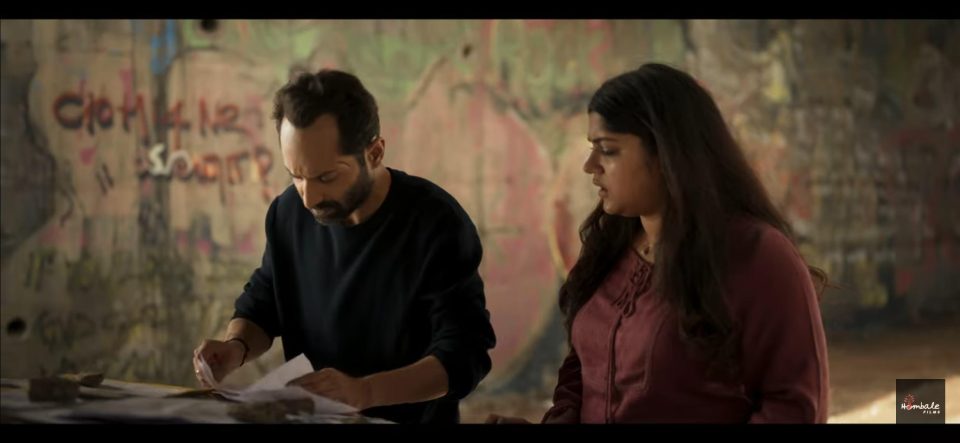 Dhoomam review: Pawan Kumar's thriller fails to ignite, despite Fahadh Faasil
The Fahadh Faasil-starrer Dhoomam had a lot of expectations riding on it, not least on account of a production house such as Hombale Films — behind films like KGF and Kantara   — bankrolling it. Sadly, the film, which had many elements to keep the audience hooked, turns out to be a disappointment in the end.
Dhoomam is also Sandalwood director Pawan Kumar's directorial debut in Malayalam. Having made his mark in Kannada cinema with critically acclaimed films like Lucia (2013) and U Turn (2016), Kumar is following it up in Tamil and Telugu.
Smoke, but no fire
Dhoomam (smoke) unfolds in the backdrop of the tobacco industry and the world of marketing, where there is no space for ethics or principles. It plays out as a thriller, where the story unfolds in several rounds of flashback, keeping the viewers hooked on to the screen with a non-linear narrative.
Set in Karnataka, the film follows Avinash (Fahadh Faasil) and Diya (Aparna Balamurali), a couple staring at hard times when Avinash decides to quit his lucrative position at a cigarette company, headed by Sid (Roshan Mathew), due to his growing moral concerns.
Also read: Good Night, Dada: Small-budget Tamil films make it big at box-office
Despite his successful stint as the marketing head, Avinash realises that tobacco addiction is making even little children its victim as the company willingly targets them as new customers. Little does Avinash know that his decision will plunge him and Diya into a nightmarish ordeal.
Seized by an unknown assailant, the couple is subjected to a horrifying ultimatum: produce Rs 1 crore within a tight deadline or face the catastrophic detonation of a time bomb implanted within them. Ironically, the bomb's countdown can only be suspended by smoking cigarettes.
All over the place
Abandoned by their former colleagues who turn a blind eye, the couple must devise a plan to obtain the funds from the very company Avinash sought to leave, embarking on a tense and high-stakes journey to secure their survival. By the interval, the plot becomes somewhat predictable, but the film fizzles out towards the end with an abrupt climax sequence.
Also read: Tamil superstar Vijay drops first look of new film 'Leo' on 49th birthday
Pawan Kumar supposedly wanted to make this film as far back as 2008, and hence the plot coming across as a tad dated may account for that. True, smoking and passive smoking continues to be relevant for all times, but issues like drugs and other evils have taken over. Dhoomam could have still worked if Pawan Kumar managed to hold the story together, but it's a bit all over the place when the end credits roll.
Fahadh Faasil and Roshan Mathew do not disappoint as usual, and nor does the rest of the cast in their performances. Vineeth and Anu Mohan also play pivotal parts. Fahadh's wiry frame makes for a contrasting pairing with Balamurali and also lends his action sequences rather unconvincing.
Loose ends, lost in translation
The subject being language/region-agnostic meant that Dhoomam could have been made in any setting. Pawan Kumar reasoned that he could not make the film in Kannada with a big star due to fan bases and image stereotypes, or take a risk with a newcomer in a big-budget film. In came Fahadh, but he wanted the original film made in Malayalam, which Kumar and Hombale Films acceded to — with mixed results.
Also read: Kith, kin and comedy: How teenage TV shows embrace the power of the family
Thus, Kumar joins the likes of stalwarts Balu Mahendra and Mani Ratnam, to make films in all four South Indian languages. The dialogues could have been scripted better, though. There are issues with dubbing, too. The editing of the Dhoomam is top-notch, however, especially in the blending of the past and the present and the way it carries the narrative forward, till things go haywire in the second half.
For all the effort put in, Dhoomam has a lot of loose ends, like a jigsaw failing to come together at the end. It has also lost out much in translation, with certain dialogues sticking out. Pawan Kumar may have his heart in the right place, but fails in delivering his message across with Dhoomam. The film does keep you hooked for the entire duration of 150 minutes, and if that's all you expect from a film, it should be a worthwhile watch.