The meaning of love probably keeps changing every few years on-screen. Though the central idea has remained the same, we are regularly taken on grand tours by reputed filmmakers to witness different kinds of romance.
In Unnale Unnale (2007), Jhansi (Sadha) lets go of her ex-boyfriend, Karthik (Vinay Rai), in the closing segment instead of trying to keep changing his traits to suit her tastes. She realises that they will never be on the same page as a couple and moves on finally in order to find a greener pasture — isn't letting go also a form of love?
I'll happily place Unnale Unnale on a unique pedestal since it doesn't come with the message that there can be only one true love. It breaks several barriers that way. It's not a perfect movie; there are many jokes that are even childish. But it takes a step towards recognising that the heart doesn't have to perform somersaults to heal. However, in this particular genre that I adore, there isn't much space for middle-aged people to have conversations about their desires.
Love that lives
Love doesn't fade with time. Don't mistake me; I'm not saying that it will last forever. I'm rather saying that it doesn't diminish within ourselves. When we have the mental capacity to offer and receive love, we'll keep an eye on people who'd be able to do the same for us. Why can't Tamil cinema then look at protagonists who are approaching their forties, fifties, sixties, and beyond?
In the Amazon Prime Video series Modern Love Chennai, the episode titled 'Paravai Kootil Vaazhum Maangal', directed by Bharathiraja, deals with the icky topic of divorce between Ravi (Kishore) and Revathi (Ramya Nambeesan). Since a chance encounter on the metro leads to a full-fledged relationship with Rohini (Vijayalakshmi), Ravi comes clean to his wife about his intentions — here's a married man who knows he owes more than an explanation to his wife and kids.
Also read: Modern Love Chennai delivers but Bharathiraja and Thiagarajan Kumararaja's shorts are the best
Although Ravi holds himself back after introducing Rohini to Revathi (perhaps, due to awkwardness), he doesn't ever consider rolling his decision back and getting back with his wife. Even when his father berates him for straying from the conventional modes of society, he calmly explains that his needs have changed. Ravi may not have necessarily stopped loving his wife, but he definitely appears to have dedicated himself to making a home with Rohini moving forward.
Bharathiraja's take on marriage is quite a delight as it makes the involved parties treat each other with kindness and reassurance. Of course, Revathi has to ultimately make a difficult choice with regard to her kids, but she never harbours ill-will toward the new woman who has entered her husband's life. And Rohini, on the other hand, slowly becomes a mother figure for her step-children.
Their flaws and triumphs
In Halitha Shameem's Turtles, from the anthology Sillu Karuppatti (2019), kids do not pose a problem at all as they are absent. Yashoda (Leela Samson) is single, whereas Navaneethan (Krav Maga Sreeram) is a widower. They are both at an age where they cannot rely on their own bodies. If a fall is enough for her to be confined to bed, poor eyesight and diabetes are enough to keep him eternally worried.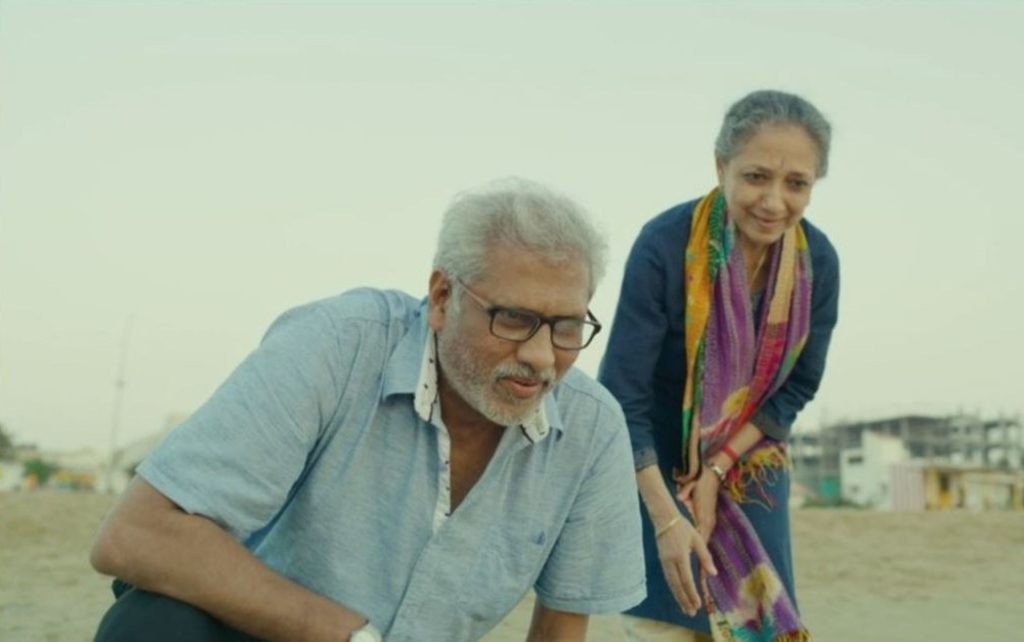 Turtles has some of the best lines for a movie in which an older man tries to woo an older woman. They are cheesy and, at the same time, filled with trepidation. When Navaneethan flirts with Yashoda on the beach, she mutters, "Have some dignity," and walks away in a huff. But their relationship doesn't come to an end thankfully. It actually blossoms to the point where Navaneethan asks if he can be given an opportunity to take care of her in return for her companionship. Could there be anything better than this deal?
Also read: Dahaad review: A perfect antidote to toxic propaganda, unveils truths of our times
Samson has also starred as one half of a married couple, named Bhavani, in O Kadhal Kanmani (2015), while Prakash Raj plays the other half, named Ganapathy. These two people serve as role models for the principal characters, Adhi (Dulquer Salmaan) and Tara (Nithya Menen). They show that staying together through thick and thin is what makes a relationship work. Love cannot be earned in a vacuum, after all.
Adhi and Tara may be the cynosure of all eyes, nonetheless, it's the story of Ganapathy and Bhavani that's more endearing. Such inimitable characters sadly do not rise beyond the bar of exceptions. We need the flaws and triumphs of middle-aged people. We also need to watch them cross hurdles, and sing about their current and past flames — in fact, Dhanush's Pa Paandi (2017) covers all these bases pretty well.
Also read: 'Air' review: Ben Affleck soars as a director in affecting Nike sports drama
The young and the old
Pannaiyarum Padminiyum (2014) and Kabali (2016) also venture into this rarely visited territory quite effervescently. The respective couples — portrayed by Jayaprakash and Thulasi, Rajinikanth and Radhika Apte — make us feel as though they have spent decades together. There's a similar vibe between Rajinikanth and Easwari Rao in Kaala (2018). Even though the narrative of Kabali keeps the husband and wife apart for most of the movie (and their lives), it becomes hard for us not to factor in the large dose of yearning.
What's the point of love if it doesn't echo the fears and frustrations of the young and the old in equal measure? Older couples should know that we'll be rooting for them just as we have been trained to cheer for onscreen teenagers and twenty-somethings.