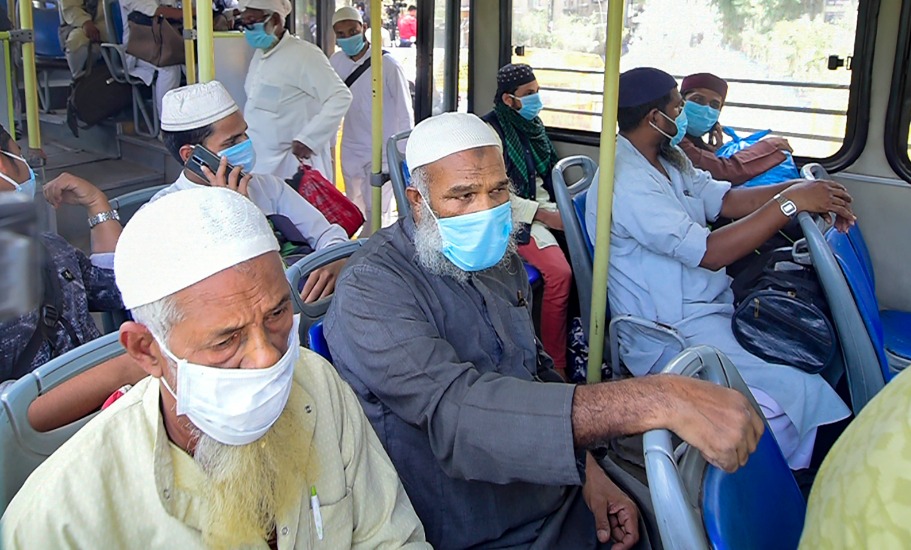 A day after several people died of COVID-19 after attending a religious event in Delhi's Nizamuddin area, the Union health ministry on Tuesday (March 31) said it is not the time to find faults but to take action.
Delhi Police has cordoned off a major area in Nizamuddin West where many showed symptoms of coronavirus after taking part in the Tabligh-e-Jamaat held earlier this month that was attended by over 2,000 people. Besides the fatalities, several others who had attended the congregation have also tested positive for the infection.
"With respect to the Nizamuddin area, we all need to understand and appreciate that this is not the time to do fault finding. What is important for us is to take action as per our containment process in whatever areas we find a case," said Lav Agarwal, joint secretary, health ministry.
Related news: 'South Korea model' to help India tackle virus spread from Nizamuddin
Delhi Health Minister Satyendar Jain said earlier 24 people who took part in the religious congregation have tested positive for the novel coronavirus.
He said 700 people who attended the congregation have been quarantined while around 335 people have been admitted to hospitals, and that screening of all those who participated in the event was being conducted by the government.
The Union government, meanwhile, said 2,100 foreigners had visited India for Tablighi activities since January 1 and they had first reported at its headquarters in Nizamuddin, which has now become a coronavirus hotspot.
In a statement, the home ministry said while approximately 824 of them, as on March 21, were dispersed in different parts of the country, 216 were staying at Nizamuddin Markaz, where several of them tested COVID-19 positive.
It is estimated that from January 1 onwards, approximately 2,100 foreigners had visited India for Tabligh activities, the statement said.
Related news: COVID-19 from Nizamuddin mosque event: What you need to know
Tablighi Jamaat workers, both foreigners as well Indians, indulge in preaching tours or 'Chilla' across the country throughout the year.
Various nationals, particularly from Indonesia, Malaysia, Thailand, Nepal, Myanmar, Bangladesh, Sri Lanka and Kyrgyzstan come for Tabligh activities. All such foreign nationals normally report their arrival at Tabligh Markaz at Banglewali Mosque in Hazrat Nizamuddin, the statement said.
From here, they are detailed for Chilla activities to different parts of the country. Chilla activities in all states are coordinated by district coordinators in different districts, who, in turn, in some states are supervised by 'state Amirs'.
"As on March 21, there were about 1,746 people staying in Hazrat Nizamuddin Markaz. Of these, 216 were foreigners and 1,530 were Indians. Additionally, about 824 foreigners had been, as on March 21, doing Chilla activities in various parts of the country," it said.
(With inputs from agencies)