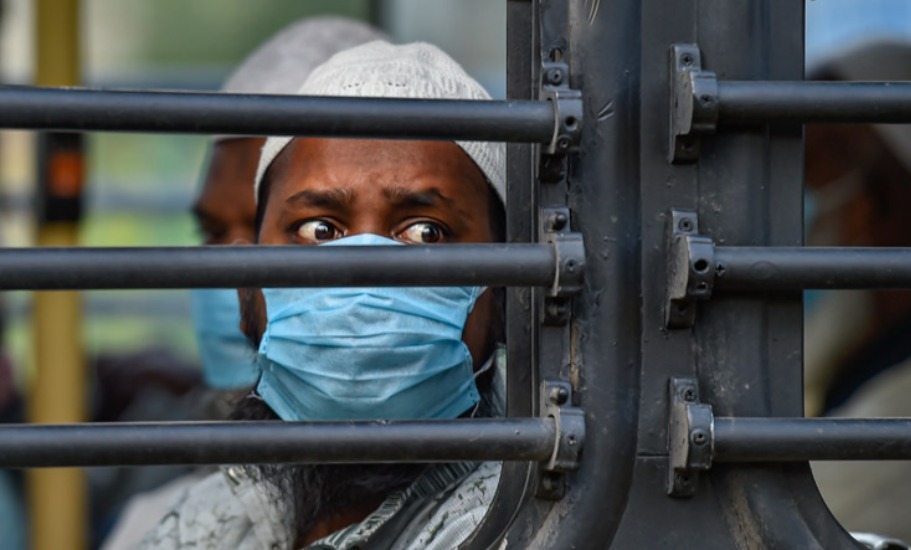 The Centre and the Delhi government have joined hands to launch a 'South Korea model' operation to isolate, track and test all coronavirus infections that could have been triggered off by the Tablighi Jamaat's Markaz congregation at south Delhi's Nizamuddin area.
In South Korea, spread of COVID-19 through a religious event organised by the Shincheonji Church of Jesus was contained by the authorities by cordoning off Daegu, the city where the church is located, and also by tracing all potential cases by tracking mobile data as well as credit card data of the infected persons.
This was followed by rigorous testing in and around Daegu that has a population of around 3 million, and also the contacts of the primary patients treated for the coronavirus infection.
Nationwide combing operation
Since the South Korean model was successful in containing spread of COVID-19, the health departments of the Centre as well as the Delhi government now plan to follow a similar strategy and rope in various state governments, including Tamil Nadu, Telangana, Assam, Karnataka and Andhra Pradesh, to carry out nationwide combing operation to detect all infections originating from those present at Nizamuddin during the congregation.
This will be followed by testing even those who are asymptomatic and those who could have remotely come in contact with the 'carriers' of the virus who had travelled to various parts of the country.
Similarities with South Korea
The Nizamuddin Markaz event and the secretive cult identified with the Shincheonji Church of Jesus in Daegu, which is also called the "Temple of the Tabernacle of the Testimony" by South Koreans, have many similarities when it comes to spread of Covid-19 infection.
Related news: COVID-19 from Nizamuddin mosque event: What you need to know
In both these cases, large numbers of people reportedly gathered at one place and conducted prayers in close proximity with each other, besides having food together and socialising in large gatherings.
Initially, infections from the congregations were not reported until a flurry of people showed symptoms and reached hospitals. The coronavirus spread from Markaz has so far resulted in over two dozen confirmed cases in Delhi alone and half-a-dozen deaths in Telangana.
More complicated due to foreigners
The Markaz episode is more complicated since the preachers, who participated in the congregation, subsequently travelled to Telangana, Assam, Tamil Nadu, Andhra Pradesh, Bihar, Kashmir and even Andaman and Nicobar islands to participate in events that also involved large gatherings.
Related news: COVID-19 cases rises to 74 in Tamil Nadu, Nizamuddin link surfaces
While those participating in the Shincheonji event were primarily South Koreans, those who joined the Markaz at Nizamuddin included foreigners from Indonesia, Thailand, Sri Lanka, Malaysia, Bangaldesh, Nepal, Kyrgyzstan and even Fiji.
They arrived at Delhi from various places, stayed at Nizamuddin for a considerable number of days extending up to a week, visited several places in Delhi and then travelled to other states, making the tracking more complicated.
Violation of visa norms
Participation of a number of foreigners, including preachers, in the Markaz event and their subsequent journeys to various locations have led to speculations about violation of visa guidelines. The Home Ministry suspects many of those who travelled to other states and engaged in preaching have violated visa guidelines since most of them had travelled to India on tourist visas.
That the Markaz event did not have any specific permission since the Arvind Kejriwal-led Delhi government had issued ordered against holding gatherings, adds to the violations. Worst of all, many of the infected tried to get treated at private hospitals, rather than reporting the infection at government hospitals.
Testing holds the key
Widespread and rigorous testing of all infections that could have originated from Tablighi Markaz is now central to containing further spread of COVID-19. In South Korea, almost 80 per cent of those living in and around Daegu were tested as the procedures developed by South Korean companies were approved within a week.
No bothering about privacy norms, credit card data and mobile phone records of all primary patients from the Shincheonji Church congregation were also obtained to trace possible infections. This was followed by large number of tests to identify potential infections and then isolation of the positive cases.
This strategy has resulted in curtailing local infections to such an extent that South Korea is now gradually relaxing social distancing guidelines. In fact, South Korea did not even announce complete lockdown since Daegu COVID-19 infections were not allowed to spread to other parts of the country. Its casualties too were lower than that of other countries.
Change in testing strategy
In view of the high risk from the Markaz episode and potential damage of defeating the purpose of lockdown, Delhi Chief Minister Arvind Kejriwal has called for an emergency meeting on Tuesday, and called upon the health administration to make all efforts to douse the spread of COVID-19.
Till now, only people with foreign travel history and their contacts were being tested in the country, and the Indian Council of Medical Research (ICMR)'s random tests on a smaller scale was cited to rule out any community transmission. However, the Markaz episode has now triggered several questions against the ongoing strategy of testing.
Related news: India may blacklist 281 foreigners who attended Nizamuddin event
Apart from the hospitals in Delhi, those who participated in the Tablighi Jamaat event are now being treated or are in quarantine in various states. The congested Nizammudin area is also under complete lockdown and efforts are on to test all those staying in the buildings associated with the Bangle Wale Masjid.
Delhi government has also asked the police to take legal action against the organisers of the Markaz event, including filing of cases for violation of orders issued against gatherings.