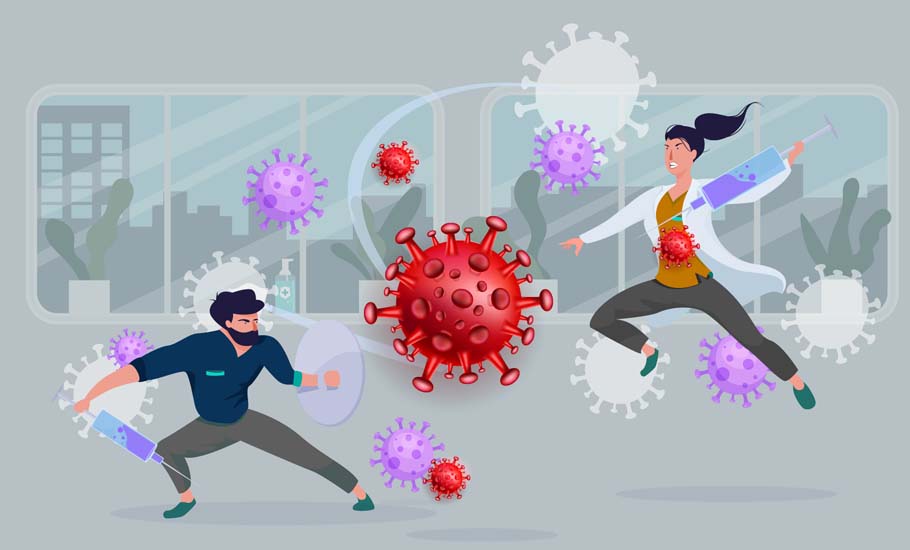 Not just coughing or sneezing, talking too can spread coronavirus, finds study
It is known that sneezing and coughing transmit droplets that carry viruses like SARS-CoV-2 to others in their vicinity? But, does talking to an infected person also carry an increased risk of infection? A research team, which carried out computer simulations to analyse the movement of the speech aerosols, tried to answer this, according to a report in The Deccan Herald.
The team included researchers from the Department of Aerospace Engineering, the Indian Institute of Science (IISc), along with collaborators from the Nordic Institute for Theoretical Physics (NORDITA) in Stockholm and the International Centre for the International Centre for Theoretical Sciences (ICTS) in Bengaluru.
Also read: After 'COVID gains', world's 500 richest lose $1.4 trillion in 2022
Visual simulations
The team visualised scenarios in which two maskless people stood two, four or six feet apart and talked to each other for about a minute, and then estimated the rate and extent of spread of the speech aerosols from one to another. Their simulations showed that the risk of getting infected was higher when one person acted as a passive listener. Difference in height between the people talking and the quantity of aerosols released from their mouths also appeared to play an important role in viral transmission.
"Speaking is a complex activity … and when people speak, they're not really conscious of whether this can constitute a means of virus transmission," the report quotes Sourabh Diwan, Assistant Professor in the Department of Aerospace Engineering, and one of the corresponding authors.
Asymptomatic transmission
In the early days of the Covid-19 pandemic, experts believed that the virus mostly spread through coughing or sneezing. Soon, it became clear that asymptomatic transmission also leads to the spread of Covid-19. However, very few studies looked at aerosol transport by speech as a possible mode of asymptomatic transmission, according to Diwan.
In the simulations, when the speakers were either of the same height, or of drastically different heights (one tall and another short), the risk of infection was found to be much lower than when the height difference was moderate.
Also read: Why must you take COVID booster dose? ICMR study has fresh inputs
Based on their results, the team suggested that just turning their heads away by about nine degrees from each other while still maintaining eye contact can reduce the risk for the speakers considerably.