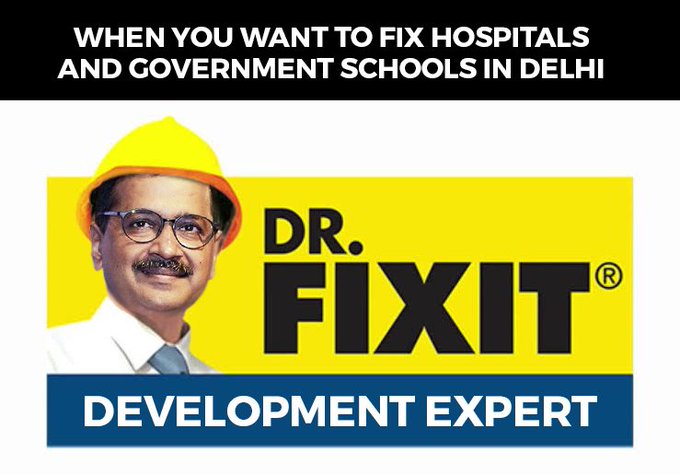 In about three-and-a-half weeks Delhi will go for elections. The question is, will AAP be able to win this time too? Will the BJP and the Congress be once again confined to the opposition benches for the next five years?
It would appear that both, the BJP and the Congress, have a lot of catching up to do with the young AAP as Delhi's ruling party has already started setting up the agenda for elections on February 8 with its smart and innovative poll campaign.
On January 1, AAP put out a cheeky billboard advertisement wishing 'happy new year' to all seven chief minister candidates of Delhi BJP – Gautam Gambhir, Manoj Tiwari, Vijay Goel, Hardeep S Puri, Dr Harsh Vardhan, Vijender Gupta and Parvesh Singh. Later in a tweet they asked – "But the question is who will contest against Arvind Kejriwal?"
A very Happy New Year to all 7 CM candidates of Delhi BJP @GautamGambhir, @ManojTiwariMP, @VijayGoelBJP, @HardeepSPuri, @drharshvardhan, @Gupta_vijender, @p_sahibsingh

But the question is who will contest against @ArvindKejriwal ? ? pic.twitter.com/Y13RSVpzu2

— AAP (@AamAadmiParty) January 2, 2020
This quirky style of campaigning has taken the opposition by surprise. Through the billboard, AAP made two points – one, there is a clear leader in AAP and second, there is too much confusion and infighting in the BJP. In cricketing analogy this is like sledging, to upset the batsman's composure.
And like cricket, such tactics work well in electoral politics too.
#LageRahoKejriwal song is so good even sir @ManojTiwariMP is also dancing on it. pic.twitter.com/Ye3077PMK4

— AAP (@AamAadmiParty) January 11, 2020
Look at how AAP riled up Delhi BJP President Manoj Tiwari, a former Bhojpuri singer and actor. AAP's official twitter handle, which is going all guns blazing with its fun and aggressive approach, tweeted a video that showing Tiwari dancing to the tune of AAP's campaign song, "Lage Raho Kejriwal". It irked Tiwari so much that he threatened to file a "₹500 crore defamation suit" against the party.
Also Read: 7 states ready for Phase 6; Arvind Kejriwal sends notice to Gambhir
However, the footage for AAP's video was drawn from Tiwari's Bhojpuri dance albums.
AAP is attempting through its social media handles to connect with the newer generation, the first time voters who may not be comfortable with complex political jargons. AAP's message is simple, clear and at the same time funny.
In a series of posts, the party has put out different memes like the one inspired by the movie "Avengers – Civil War" where it pointed that everyone in the BJP loves to disagree with its own party president.
On the day elections were announced, AAP tweeted, "Delhi elections 2020 declared". "AAPvengers Assemble".
#DelhiElections2020 are declared.

AAPvengers! Assemble. pic.twitter.com/XGeV1Qx5EY

— AAP (@AamAadmiParty) January 6, 2020

AAP's latest style of messaging is like a breath of fresh air. Earlier, political parties were reluctant to push such content from official social media accounts for the fear of landing in a controversy. AAP has redefined that strategy – if your content is good and funny, let it stir a controversy; it will only ensure your message reaches more people.
Contribution of @BJP4Delhi ruled MCD to Delhi in last 12 years. pic.twitter.com/ofGhXWLujK

— AAP (@AamAadmiParty) January 2, 2020
Bringing out the differences within the BJP, AAP put together different statements of BJP leaders on electricity and water issues in Delhi and asked – why don't BJP leaders at least sit together to decide what they want to say.
Everyone in @BJP4Delhi loves to disagree with their State President. pic.twitter.com/n59HyLqFVG

— AAP (@AamAadmiParty) January 15, 2020
When Home Minister Amit Shah attacked AAP and asked where they had installed the promised CCTV cameras, AAP's education minister called a press conference and shared a CCTV clip which showed footage of Shah's door-to-door campaign in South Delhi's Lajpat Nagar. Amit Shah visited eight houses in a small lane in the area where there were 16 cameras put up by the AAP government.
AAP minister Manish Sisodia said, "To spot CCTV cameras in Delhi, all he (Amit Shah) needs to do is to look up." It was a short ball from the BJP and deserved to be hooked for a sixer.
Also Read: BJP seeks ₹500 crore as defamation damages over AAP's Manoj Tiwari video
Though Delhi is supposed to be a three-way contest, BJP and AAP have chosen to ignore Congress's presence. The BJP may even be secretly wishing that the Congress wrests back some of its vote share from AAP. But AAP hasn't attacked Congress either in its press conferences or on social media. A probable reason could be that AAP does not want to bring the Congress and its past work in Delhi into the discourse.
The Congress, however, is taking Delhi down memory lane by reminding people of its accomplishments under former chief minister Sheila Dikshit.
The BJP is trying to appease people by promising five times the subsidies offered by AAP and regularization of illegal colonies.
AAP, on the other hand, is sticking to its claims about the improvements it has brought to the education system of Delhi and the flagship Mohalla Clinics.
How much do you pay for your electricity and water ?

Delhiites : pic.twitter.com/VS8CI6QNLs

— AAP (@AamAadmiParty) January 4, 2020
BJP's campaign, robust and loud as it may appear, is not able to match AAP's preparedness. BJP is only responding to what AAP is doing. Ideally, the party should have been picking holes in AAP's governance model, which it has not been successful in doing. What instead it is dishing out, is outlandish promises like 'five times the subsidies given by the AAP'. Far from an election strategy, it is a compliment to Kejriwal. AAP's water & electricity subsidies are hugely popular in Delhi. In fact, the BJP has borrowed from AAP's campaign book by holding small corner meetings & Mohalla Sabhas to connect with people.
Also stop copying us. @HardeepSPuri @ManojTiwariMPhttps://t.co/grLjdaJh7h

— AAP (@AamAadmiParty) January 4, 2020
Modi's 2014 victory changed a lot of things in Indian politics. The one lesson he taught India's political class is how to 'pace' one's innings. There has not been a single day since 16th May 2014, when we haven't heard either 'Modi' or 'BJP', or seen PM's face on TV or on an advertisement or his mention in the news.
That's a remarkable achievement from which there is much to learn. But very few Indian political parties have been able to match Modi's politics, like the Aam Aadmi Party, which captured the imagination of Delhi's voters in December 2013 the same way Modi did nationally few months later.
Over the years, Kejriwal and his party have displayed a remarkable ability to learn and adapt. They have their ears firmly to the ground.
Early on in his tenure, CM Kejriwal used to hold almost daily press conferences, attacking PM Modi on each and every issue. It ensured his visibility and that of his party. But after a spate of losses in the state assembly elections and a complete wipe-out in the Delhi Lok Sabha, he toned down his rhetoric against Modi.
Kejriwal realised this Sehwag style of batting was not suitable against Modi, as PM's approval ratings were very high among people. So Kejriwal and AAP adopted a more Dravid like approach to their innings. They stopped commenting on national issues and restricted themselves to local Delhi issues.
Also Read: AAP releases candidate list for Delhi elections, 46 get second chance
Two recent examples stand in sharp contrast to the earlier version of AAP. First is the JNU violence. While other leaders, like Priyanka Gandhi went and met the injured at the hospital, Kejriwal confined his sympathies to his tweets. On the CAA-NRC issue too, the Chief Minister hasn't said much in the public domain except a television interview in which he politely dismantled BJP's arguments by asking – Indians don't have jobs, how then will the BJP provide jobs to Pakistanis and Bangladeshis whom they are inviting by offering citizenship?
On other occasions, he has ducked questions on CAA-NRC. Despite BJP trying its level best to make CAA and JNU election issues in Delhi, AAP has succeeded in staying out of the debate. When BJP talks about national issues, AAP talks about local issues. AAP did not even attend the opposition meet on CAA-NRC which was held on 13th Jan 2020, nor has the top brass of AAP visited Shaheen Bagh, where women in their 90s braved Delhi's coldest December in 100 years to protest against CAA.
Whether AAP's campaign succeeds or fails, depends a lot on how tight the BJP and the Congress can bowl and field. So far, both parties have failed in nabbing the wicket of AAP's pinch-hitting opener – Arvind Kejriwal.
The incumbent CM has made both parties pay for bowling a loose line and length. Bowl him a yorker, test him with a bouncer, do something, or be prepared to sit out for another five years.