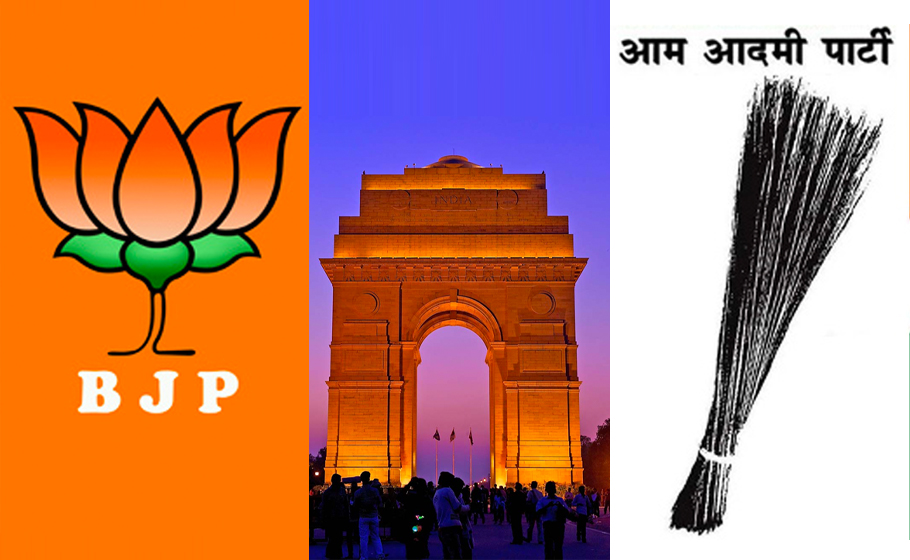 Delhi elections: AAP, BJP and the curious case of Congress
With just six days left for the February 8 polls, the BJP has embarked on a polarisation blitzkrieg with 'Shaheen Bagh', and its sympathisers 'AAP and Congress', as its punching bag.
Yesterday, a friend, who stays near Shaheen Bagh, received a note of caution from his colony's resident's welfare association – a WhatsApp message, which warned of a 'big Aakrosh rally' and advised residents to stay safe.
The message didn't bear names of the rally's political sponsors, but the modus operandi had the BJP's signature all over it. At the proposed rally venue, some youngsters, none of whom were locals, denied BJP's association and said the rally was organised by "Hindus of the area".
This is one amongst many such 'residents driven' protests planned by the BJP using its massive grassroots organisation strength. With just 6 days left for the February 8 polls, the party has embarked on a polarisation blitzkrieg with 'Shaheen Bagh', and its sympathisers 'AAP and Congress', as its punching bag.
Also read: Communal, class narratives hold key to Delhi election
In their manifesto, released on January 31, BJP's master chefs also added "good quality flour for the poor, at ₹2 per kg", to garnish their election offering to the people. The Aam Aadmi Party is trying not to get distracted from its free Bijli Paani campaign, but the party is wary of the damage the BJP could do with its Shaheen Bagh campaign.
Yesterday, AAP held a presser, in which the party MP, Sanjay Singh, issued an appeal, saying, "Today, many protestors took back their protests in Mumbai. I believe that right now organisers should use their calm and intelligence, so the BJP's agenda of gaining profit by violence does not take place. You all should rethink about your protests."
Like AAP, one would have expected even the Congress to respond to BJP's hate campaign. The party should have been on the streets, on the front pages of newspapers, banners, billboards, radio channels and TV advertisements, trying to diffuse AAP and BJP's campaigns and reclaiming the Delhi they once ruled.
Also read: Will the road to Delhi pass through Shaheen Bagh?
But that's not happening. The party reactions are shocking. In an interview to India Today, the Congress's Delhi in-charge, PC Chacko said, "The BJP is desperate and overdoing it while Kejriwal is a marketing guru. He is just marketing lies."
Overdoing it? Is that even an excuse? Modi overdid it in 2014 and became Prime Minister. He overdid it again in 2019 and won an even bigger majority. Chacko, a seasoned politician like you should know that there is no such word as 'overdoing' in an election campaign.
At the moment it looks like, Congress is least interested in a fight, AAP and BJP are equally disinterested in acknowledging Congress, and even the people of Delhi have stopped mentioning Congress. It is noteworthy that AAP came to power in Delhi by targeting only the Congress. And now, five years later does not even mention the party.
Consider this, on one hand, you have Delhi Chief Minister Arvind Kejriwal, who is holding 4-5 roadshows every day with his candidates. They are coming out with innovative campaigns like 'Virtual Door to Door', where a voter can log onto a website and listen to Kejriwal talking about Delhi issues.
Also read: AAP demands campaign ban on Adityanath for 'violating' model code
On the other hand, you have the BJP, where Home Minister Amit Shah is himself leading the charge against Kejriwal. He is holding small public meetings across Delhi in a bid to connect with people. His cabinet ministers are following his example. The party has called 200 of its MPs, including serving CMs, to help the BJP win Delhi. They are not overdoing, as Congress would have us believe. They are doing what is expected of them – to fight the opponent tooth and nail.
Isn't that how battles are supposed to be fought and won? Where is Congress? When the party should be grabbing headlines on its campaign and promises, it is making news for "expelling its former MP and senior leader Mahabal Mishra for anti-party activities". There have been news reports about how there is a lack of coordination and infighting among Delhi Congress office-bearers.
Since the 2013 assembly elections, Delhi Congress has had five presidents. Two resigned because of poor performance in the state, one due to ill-health, and one passed away. It is evident that AAP's rise has thrown the Congress into disarray.
Also read: Will AAP's quirky social media tactics translate into more votes?
Today, the party does not have a vision for Delhi, nor an idea on how it can turn its fortunes around in the capital. They have not been able to build a second rung of leadership. No senior leader in the party has been able to build new cadre.
The Congress leadership has so far not taken any interest in the campaign. Former Delhi Congress President Ajay Maken refused to even contest in these assembly elections and has stayed largely away from the party campaign. Neither Congress President Sonia Gandhi nor former President Rahul Gandhi have held a single rally or roadshow in the city. Rahul's sister Priyanka Gandhi Vadra is expected to hold public rallies in Delhi this week. But it may be too little, too late.