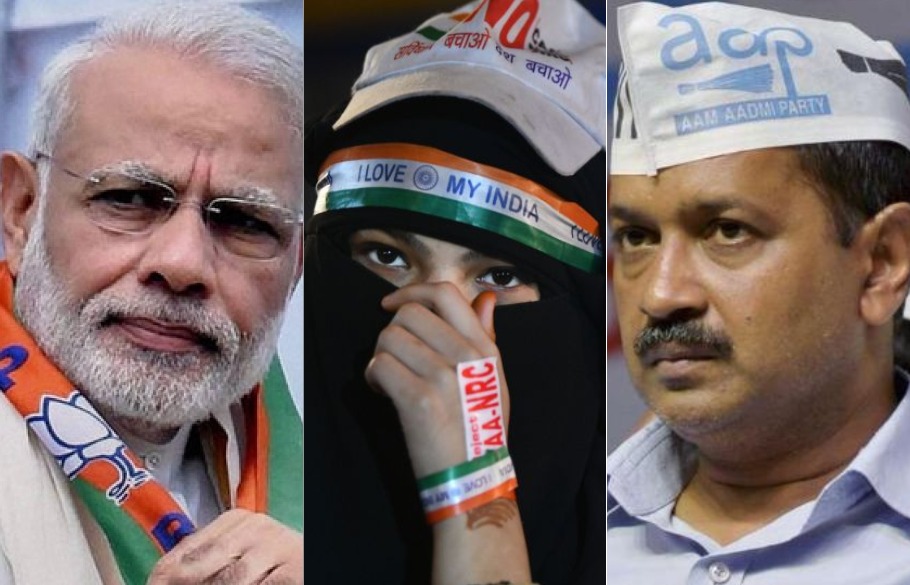 Nothing divides India more than its elections. Even going by this maxim, the cleavage has never been as distinct as it is in the poll-bound Delhi.
The two back-to-back attacks on the unarmed protestors from minority community by Hindu radicals in the capital city aptly mark the growing faultline.
On Saturday (February 1), a shooter who identified himself as Kapil Gujjar, fired two rounds in the air near the anti- Citizenship (Amendment) Act protest at Shaheen Bagh, proclaiming, "Iss desh mein kisi ki nahin chalegi, sirf Hinduon ki chalegi. (In this country, only Hindus can have their say)."
Advertisement
The incident clearly indicates an emerging pattern as it comes within 48 hours of another shocking incident of a youth firing on a peaceful protest by students of Jamia Millia Islamia University against the amended Citizenship law on Thursday (January 30) which left one injured.
Also read: BJP promises ₹2/kg flour, clean drinking water in Delhi poll manifesto
"In light of these incidents, and as we approach the Delhi election on 8th of February, we request Delhi's citizens to join us at Shaheen Bagh tomorrow (February 2) to show solidarity with our cause of defending the Constitution. We are increasingly fearful of the consequences of the politicization of these peaceful protests and maintain that we are a non-partisan gathering," read a statement tweeted from the official Twitter handle of the Shaheen Bagh protestors, hours after they were attacked.
February 2 marks the 50th day of Shaheen Bagh women's protest. In the last few days, the statement said, the protestors were threatened, endangered and subjected to hate speech by senior BJP leaders and other fringe groups, such as the Hindu Sena.
What made the divide appear starker is that a contingent of Delhi police meekly looked on as the Thursday's shooter fired on the unarmed students. Incidentally, the gory site is not very far from Shaheen Bagh, where another group of protestors, mostly women, were singing Mahatma Gandhi's favourite bhajans to mark the 73rd death anniversary of the apostle of peace.
Also read: Delhi Police permit 'shoot traitors' protest, retract after controversy
From the day anti-CAA protest erupted in the national capital, Delhi police is taking a beating for its partisan handling of the situation, allegedly at the behest of the ruling party at the Centre.
Barely a few hours before one of its contingents was caught napping during the Jamia incident, this writer witnessed how Delhi police menacingly swooped on a group of socialists, who had gathered in front of Gandhi Smriti on 30 January, to flag off a nationwide yatra to spread their ideology against the backdrop of the ongoing nationwide anti-CAA-NRC protests.
Loktantrik Janata Dal (LJD) leader Arun Srivastava, Rastra Seva Dal general secretary Shahid Kamal, a trade union leader, Harbhajan Singh Sidhu and around 30 others, mostly senior citizens, were bundled off in a bus to a nearby police station to quell any "uprising."
Notwithstanding, such highhandedness there is no sign of protest ebbing in Delhi. With at least 20 protest sites peppered across the capital, and one outfit or the other hitting the streets every day, India's capital is in a virtual siege just a week ahead of poll.
Never before has the state witnessed such an upheaval before an election, outcome of which many believe would change the contour of Indian politics.
Also read: Shaheen Bagh shooter a simple boy, not radical: Family
"This election is different in many ways. It is being held in a very unprecedented situation. Many voters, who will exercise their franchise in just over a week's time, are now on the streets. Instead of trying to address their concerns and win over their support, they have been stigmatized by the people in responsible positions in the Union government," pointed out Manju Mohan, a renowned social activist.
More alarmingly, this pitting of one community against another is seemingly a deliberate ploy of getting votes. Worse still, this strategy, according to some assessments, is actually helping the BJP to recover its lost ground, particularly among the upper-middle-class Hindus.
"The GST and the demonetization have hit our businesses hard and we expect the BJP to address these issues. Having said this, I must say while voting we must also give the issues of national security a top priority," said Nirmal Gupta, who runs a grocery shop in Govindpuri area of the city.
Also read: Win our confidence to win votes, children of Delhi slums tell poll candidates
According to BJP's internal survey, party leaders in private admit, that the negative perception it succeeded in creating to some extent over the Shaheen Bagh, actually brought it very close to the halfway mark. In their view, as the situation stands today, the BJP is expected to get at least 28 to 30 seats, out of the 70 in total.
Dr Anil Thakur, a professor of political science in the Delhi University, said the wider the communal faultline, the better for the BJP.
That explains Delhi police's soft handling of the lone-wolf gunman, who attacked Jamia students and also the persistent provocative speeches of prominent BJP leaders, even after some of them were reprimanded by the Election Commission of India.
But much to the dismay of the BJP, so far its Shaheen Bagh narrative has not been able to cut ice among the poor and lower middle class Delhites, who are by and large happy with the Aam Aadmi Party (AAP) over the issue of pani (water), bijli (electricity), padhai (education) aur dawai (health).
Also read: Why is Kejriwal not taking a stand on Shaheen Bagh
"Kejriwal ne toh bahot kaam kiye hain, saab. Pani, bijli free kar diyen. Mohallah clinic aur achhe school ke bhi bandobast kar diyen. Hum toh khush hain ji (Kejriwal has done a lot of work for the capital city. Water and electricity are free. Community clinics and good schools have also been arranged. We're happy with him and his works)," said an employee of Delhi Jal Board at Shakur Basti who identified himself only with his first name, Suresh.
Suresh said he is also pleased that the Jal (Water) Board has now introduced mechanised sewer cleaning system to prevent workers like him from going into the sewer to clean it, which led to many deaths in the past.
Similar endorsement of the AAP government's performance was heard in Sanjay Colony, a South Delhi slum, particularly among the women, who said they feel proud to see their children going to good schools.
The AAP government claims to have constructed around 20,000 new classrooms at Delhi government schools in its five-year tenure.
"In five years we have built 20,000 new classrooms which are equivalent to opening 500 new schools," the Delhi Chief Minister Arvind Kejriwal said.
Also read: Unfazed by attack, Shaheen Bagh protestors say they wont leave site
Though BJP is quick to dismiss such claims of the AAP government, Kejriwal apparently has the backing of poorer section of the Delhi voters.
The class divide too is apparent in this election apart from the communal divide, pointed out Anand Kumar, a retired professor of sociology at the Jawaharlal Nehru University.
To cut into the AAP's support base among the poor, who are mostly migrant labours from Bihar and eastern Uttar Pradesh, the BJP along with its Hindutva narrative is also trying to play the Purvanchali (a region dominated by the Bhojpuri-speaking people) card.  The party's state unit president Manoj Tiwari, the singer-actor-turned politician is a prominent Purvanchali face in Delhi politics.
To woo the community, which constitutes almost one-third of the total population of the state, the BJP on February 1 organized a grand Purvanchal sanmelan (gathering for Bhojpuri-speaking people) in the national capital.  It was addressed by prominent Purvanchali leaders of the party like former Union minister Manoj Sinha and general secretary of the BJP's UP unit Govind Shukla among others.
Also read: Shahbag to Shaheen Bagh: Anti-CAA protests have echoes of a secular movement in B'desh
For the AAP an area of concern on the development front is its dismal performance on issues like creating jobs, women security, pollution control, traffic jam, and higher education.
These issues, Kumar said, could influence middle-class voters against the AAP.
To sum up, it can be said that the fate of the contesting parties in Delhi would depend largely on how these class and communal narratives would play out.
"The entire country is eager to see which way the wind will blow in Delhi because the outcome of this election will also decide the political course the country will take in the days to come," said Shahid Kamal, who is a politician from Bihar's Muzaffarpur.
If BJP wins the saffron party will further up its communal ante, while a Jharkhand-like reversal will see the emergence of a moderate voice from within the party, elaborated Kumar.
Also read: CAA-NRC: The 'ploy' to divide masses is actually uniting India