For a bunch of women in Bengaluru, the traditional theatre form of Yakshagana is an instrument of social change. Karnataka Mahila Yakshagana, Bengaluru's first women's troupe comprising professionals from various fields as well as homemakers, performs Yakshagana to spread awareness about temperance and the advantages of quitting cigarettes and tobacco.
The troupe  is led by K. Gowri, a retired bank official. It aims to use  the medium of Yakshagana to create awareness among different sections of society, including youth and women, about abstaining from nicotine and alcohol. The troupe also works towards women empowerment and spreads digital literacy among people working in the banking sector.
A unique theatre form, which has a history dating back to more than five centuries, Yakshagana literally means songs (gana) sung by the demi-gods/spirits (Yakshas) and is mainly found in the coastal districts and the Malenadu region of Karnataka. The art form combines the features of opera as well as drama, the characteristics of moral education and mass entertainment.  There are two types of Yakshagana: Tenku Tittu (in Dakshina Kannada district) and Badagu Tittu (Udupi, North Kanara and Shivamogga districts) in the coastal region.
Yakshagana is a combination of dance, music, and dialogue; involving a colourful costume and make-up with stage techniques,  it forges a unique style and form. Yakshagana is the richest traditional art form of Karnataka known worldwide.
 Reversing the gender roles 
Yakshagana, the coastal form of performing art, has largely been a male-dominated art, wherein even female characters are played by men. But the women's troupe has subverted the gender roles and demonstrated that the equations can be reversed. In their performances, even characters like Dusshasana, Drona, Bhishma, Kamsa and Bhima are performed by women, who have portrayed these characters with dexterity and poise.
Also read: A rose to every smoker: How panchayat women made a Karnataka village tobacco-free
"We have performed a Yakshagana prasanga (episode) recently in Krishnarajapura Government College to bring awareness among the students to stay away from alcohol with the support of Karnataka State Temperance Board. We have prepared a separate script for this Yakshagana prasanga called 'Maya Madaka'," said K. Gowri.
The troupe's Yakshagana performances focus on how the youth get addicted to alcohol, how it affects their lives as well as the advantages of getting rid of addiction. "Along with the students, we took an oath not to consume alcohol, and spread  awareness in the society about the ill effects of alcoholism," Gowri added.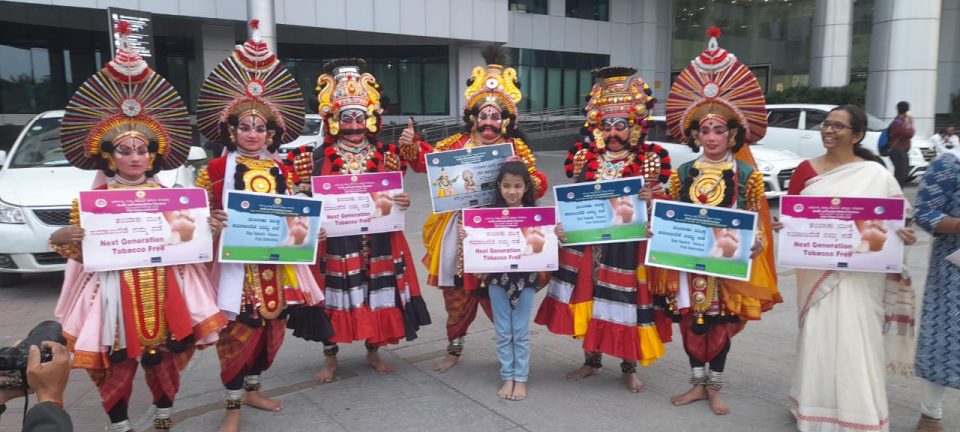 The troupe disseminates information about tobacco and its impact on life and society. "Maya Madaka prasanga was changed a bit, with the focus shifted to the impact of tobacco and related products, which cause different types of cancer and other health hazards. The storyline focused on how we get addicted to tobacco products and how we can extricate ourselves from the habit to make the society tobacco-free," she said. "We have performed a series of awareness programmes in association with the  Karnataka Tobacco Control Cell," added Gowri.
Art in tune with the times
Any art form, said Gowri, can be modified to incorporate issues and themes in accordance with the prevailing social situation. Purana stories normally find their way to Yakshgana prasangas.  "We thought of making use of this beautiful art form to produce prasangas as awareness programmes about tobacco, alcohol, women empowerment, and other social evils like female infanticide, crime against women, etc," Gowri said, adding that her team is planning more such  performances.
The troupe has also performed Yakshagana programmes with a storyline revolving around women empowerment and another around digital banking. While Gowri performs in these awareness programmes, along with her team, her husband, Yakshagana guru Srinivas Sastan, writes socially relevant scripts and helps them enact them, said Gowri. "The support from my husband is immense," she said.
Dr Shridevi, the state consultant of the National Tobacco Control Programme (NTCP), said that the women performing Yakshagana and communicating relevant messages to the common man about the health problems caused due to tobacco is the best example of using arts for social reformation.
About the women's troupe
The Mahila Yakshagana, a non-commercial troupe Gowri founded 20 years ago, is the first women's Yakshagana troupe in Bengaluru. Empanelled with the Indian Council for Cultural Relations (ICCR),  it has women artistes from many walks of life. They include engineers, doctors, bank officials, students, etc. Gowri herself was a senior manager with a nationalised bank till recently.
They have performed hundreds of such programmes apart from the traditional performances, including Lava-Kusha, Bhakta Sudhanva, Krishanrjuna Kalaga, Mayapuri Mahatme, Devi Mahatme, etc — all stories selected from epics like Mahabharata, Ramayana and Bhagavata Purana.
Also read: Women should be entitled to menstrual leave: HR expert
The team has performed Yakshagana not only in Karnataka, but also in other regions of India and abroad. They have presented several programmes on Doordarshan and All India Radio. They have also performed even at the international level, including in the US,  China, Germany and Dubai.
"There was a time when women were not allowed to perform Yakshagana. But the situation is different now and parents support their children performing Yakshagana," said Shwetha Umanath, a homemaker, who sends her daughter to learn and perform the same in the same troupe.
Yakshagana guru Srinivas Sastan said that there are many women and girls students who learn Yakshagana these days. "There are several girl students, who have learnt Yakshagana and are now teaching many students, contributing to the art form," he said.
There are several famous women artists in the field of Yakshagana. While Vidya Kolyur (who runs another women's troupe  called Yaksha Manjusha) and Nagashree have pursued the art form as a hobby, there are a few others like Yakshagana Bhagavata (singer), Leelavathi Baipadithaya and Kavyashree Ajeru, who have taken it up professionally.