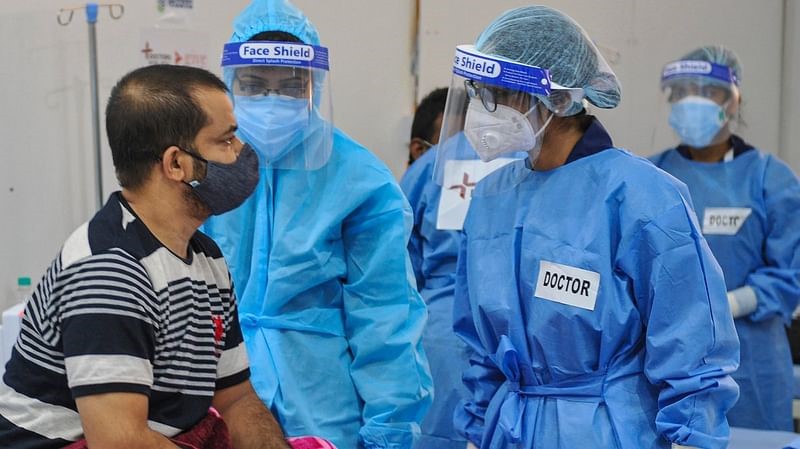 India's single-day tally of COVID-19 cases crossed 800 after 126 days on Saturday, while the number of active cases climbed to 5,389, according to Union health ministry data.
With 843 fresh infections, the country's caseload increased to 4.46 crore. The death toll rose to 5.3 lakh with four fatalities, the data updated at 8 am stated. While Jharkhand and Maharashtra reported one death each, two were reconciled by Kerala. As per the data, Kerala, Maharashtra, Karnataka, and Gujarat have the highest number of the viral infection cases.
Also read: COVID: India logs 796 new cases, active caseload crosses 5,000-mark
At 5,839, the active cases now comprise 0.01 per cent of the total infections. The national COVID-19 recovery rate was recorded at 98.80 per cent, according to the health ministry website. India's daily average new COVID cases are up six times in a month. Average daily new cases a month ago (February 18) was 112 while now (March 18) it's 626.
The number of people who have recuperated from the disease surged to 4.41 crore and the case fatality rate stands at 1.19 per cent. According to the ministry's website, 220.64 crore doses of COVID-19 vaccine have been administered under the nationwide vaccination drive.
Meanwhile, the Centre has written to six states, saying they should focus on controlling the sudden rise in the viral infection. The Union Health Secretary on Wednesday wrote to Maharashtra, Gujarat, Telangana, Tamil Nadu, Kerala, and Karnataka, asking them to stress on testing, treating, tracking, and vaccination.
Also read: India logs 600 new COVID cases, largest single-day spike in 117 days
In its letter to the six states, the health ministry had said there are a few states which are reporting higher number of cases indicating possible localised spread of infection. There is a need to follow a risk assessment-based approach to prevent and contain the infection, without losing the gains made so far in the fight against the pandemic, it added.
Health Secretary Rajesh Bhushan had on Saturday as well written a letter to states and Union Territories flagging a gradual rise in COVID test positivity rates in some states. Calling it a concerning issue, he had said it needs to be promptly addressed.
(With inputs from agencies)