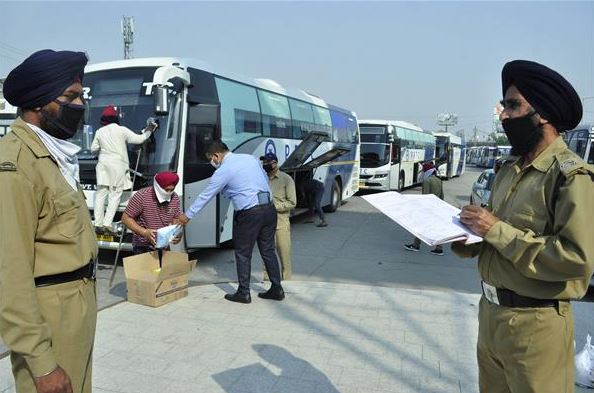 At least 76 of the 300 devotees who were tested for COVID-19 after returning from Sikh pilgrimage site Hazur Sahib in Nanded, Maharashtra, to Amritsar have tested positive, ANI reported.
"We did not imagine that such a large number of people will test positive for COVID-19. Around 300 more devotees will also be tested. We are requesting people not to worry and stay at home. We have to fight COVID-19 and we will win this battle," ANI quoted Om Prakash Soni, Punjab Medical Education and Research minister as saying.
Soni said while one of the five COVID-19 positive patients in Amritsar has recovered, the government hopes that the pilgrims would too recover fast.
Related news: Centre allows inter-state bus travel for migrants stranded due to lockdown
Nearly 3,500 pilgrims from Punjab stranded in Takht Sri Hazur Sahib are being ferried to their home state in batches, in government-arranged buses.
On April 29, more than 20 of the pilgrims had tested positive for the virus.
Punjab health minister Balbir Singh Sidhu had blamed the Maharashtra government for not testing the pilgrims before they started for Punjab.
"The pilgrims returning from Sri Hazur Sahib is a big challenge. The Maharashtra government didn't take steps to prevent the COVID-19 spread by testing those who were embarking upon the journey to Punjab," Health Minister Balbir Singh Sidhu had told IANS.
According to reports, the state health department has decided to quarantine all returnees for 21 days.
The government has instructed all who returned to the state from Takht Sri Hazur Sahib, to report their whereabouts at the nearest police station, failing they will face criminal prosecution.
Related news: States gear up to take in migrants after Centre allows travel
Counted among the five holy seats of Sikhism, Hazur Sahib, located on the banks of Godavari river is a famous pilgrimage site for Sikhs as Guru Gobind Singh, the 10th Sikh Guru was said to have resided there and passed his guruship to the Guru Granth Sahib.
The number of active cases in the state stands at 357 while 90 people have died of COVID-19 so far.