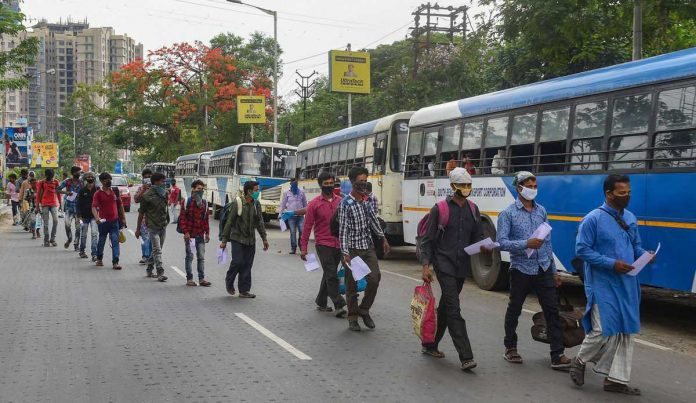 State governments have been making preparations to enable the smooth inflow of migrants, tourists, students, and other people who have been stranded at various places across the country.
The Centre had allowed inter-state bus travel to enable the movement of the affected sections on April 30.
The Union Ministry of Home Affairs (MHA), in its revised guidelines, had said all States/Union Territories should designate nodal authorities and develop standard protocols for receiving and sending such stranded persons while also registering them within their regions.
Advertisement
"In case a group of stranded persons wish to move between one State/UT and another State/UT, the sending and receiving states may consult each other and mutually agree to the movement by road," the MHA guidelines said.
The people who are travelling will be screened and those found asymptomatic would be allowed to proceed, it said, adding that "buses that would be sanitised frequently shall be used for the transport of groups of persons."
Maharashtra designates District Collectors as nodal authorities
The Maharashtra government on Thursday (April 30) issued a notification designating all the district collectors as the nodal authority for the movement of stranded people into or outside the state and also within the state.
The nodal authorities shall register the names of the people stranded within their districts and submit the detailed list to the collectors of the districts, where they desire to travel. The group of stranded persons will have to carry the copy of the letter given by the nodal authority.
For inter-state movement, the sending and receiving states and union territories shall consult each other and mutually agree to their movement by road and its schedule, the notification said.
"No movement shall be permitted into or outside Maharashtra unless the group of stranded persons has obtained a letter from the appropriate district collector or the director of the state disaster management," it said.
All those who wish to travel by making their own arrangement can proceed on the basis of the letter of the sending and receiving states and districts. The vehicles to be used or deployed for transport will carry a transit pass issued by the sending state or the district authority.
The pass will be for a fixed route with specific validity along with names of the travelling persons. The vehicles and buses used for transport shall be sanitized before and after use and social distancing norms shall be followed in the seating arrangements, the notification said.
On the arrival at their destinations, the people shall be assessed by the local health authorities and kept in home quarantine unless they require institutional quarantine. They would be kept under watch with frequent health check-ups.
People can e-mail at controlroom@maharashtra.gov.in and call 022-22027990 and 022-22023039 for assistance.
Karnataka allows one-time movement for stranded people
The Karnataka government on Thursday decided to allow migrant workers, tourists, students and others stranded in different parts of the state due to the ongoing lockdown to return to their native places, a day after the Centre issued guidelines for the process.
This will be a one-time movement and the government would arrange buses for those in need but they should bear the expenses, Law and Parliamentary Affairs Minister J C Madhuswamy said.
A decision on opening of salons and liquor shops will be taken after May 3, he said.
Those operating industry or establishment and want to move from place to place for management purpose will be given passes with strict scrutiny and through checks.
Responding to a question, the minister said, "We don't know yet how many are willing to go, where they will go, if some one asks for permission, we will permit. One family or two or three people want to go, they can use taxi. If too many people want to go, we will provide facility through transport corporation buses," he said.
Uttar Pradesh prepares migrant camps
Uttar Pradesh Chief Minister Yogi Adityanath on Thursday asked officials to keep ready quarantine centres, shelter homes and community kitchens as the state prepares for the return of migrant workers stranded in different parts of the country due to the coronavirus-forced lockdown.
The chief ministers office also put out the names, phone numbers and e-mail addresses of nodal officers appointed by the state government for facilitating the return of the migrant workers.
An official spokesperson said the state government has written letters to different states seeking detailed data on migrant labourers and workers of UP along with their names, mobile numbers and addresses as well as medical reports.
The spokesman said workers stranded in Madhya Pradesh will be brought back on Thursday and those in Gujarat on Friday by buses.
In a meeting with senior officials, the chief minister said an effective work plan should be made to bring back migrants from other states. He instructed officials to seal state borders so that no one can enter the state without permission.
The chief minister also asked officials to prepare quarantine centres, shelter homes, and community kitchens to facilitate 10 lakh people. Adityanath suggested that these quarantine centres and shelter homes could be set up in college buildings and must have a proper facility of community kitchens, toilets and security among other things.
He directed setting up committees to maintain a vigil on those in home quarantine for which help of Nehru Yuva Kendra, NSS and NCC could be taken. Assistance of women self-help groups could be taken for preparing food.
Proper medical examination of these migrant labourers must be conducted before sending the migrant labourers back home from quarantine centres or shelter homes, the chief minister said.
Besides bringing back students from Noida, he said a list of the students returning to different parts of the state from Noida, Ghaziabad and Aligarh must be prepared.
Gujarat to launch web portal to aid travel of stranded people
Gujarat will launch a web portal to allow persons stranded due to the coronavirus-enforced lockdown to apply online to get travel permission from respective district collectors, said secretary in the Chief Minister's Office (CMO), Ashwani Kumar.
"People wanting to move to other states from Gujarat need not rush to respective collectors office for registration. We are launching a web portal for online registration," he said in a video message.
In addition to that, the state appointed nodal officers to coordinate the movement of migrants and took measures similar to the ones taken by other states.
Delhi working on Standard Operating Procedure
The Delhi Police and city government are working on preparing a standard operating procedure on the movement of migrant labourers and other stranded people during the coronavirus-forced lockdown in pursuance of the Union Home Ministry guidelines on the matter, officials said on Thursday.
Chief Minister Arvind Kejriwal on Wednesday (April 29) said the Delhi government was in touch with other states and they would come out with a proper plan in the next one-two days. Taking to Twitter, Kejriwal asked migrant workers to stay indoors and follow the lockdown till the time the plan is executed.
He also said the Delhi government is making arrangements to bring back students of New Delhi, who are stranded in Rajasthan's Kota.
The chief minister tweeted, "Delhi govt is making arrangements to soon bring Del students back home From Kota."
Delhi govt is making arrangements to soon bring Del students back home from Kota

— Arvind Kejriwal (@ArvindKejriwal) April 30, 2020
A list of the stranded Delhi students is being prepared. The estimated number of such students is around 1,000, said the official.
Shyamlal Gola, president of All India Luxury Bus Association claimed that the Delhi government's transport department has asked for buses from them. "We have been asked to get 30 buses ready by Friday morning. The buses are being sanitised but the government needs to ensure that adequate measures are taken for the safety of the bus staff," Gola said.
The government has sought help of private bus operators as all the DTC and Cluster buses in Delhi run on CNG and can not cover long distances without refuelling.
Kerala seeks special non-stop trains for stranded people
The Kerala government on Thursday renewed its demand for special non-stop trains to transport those who are keen to leave for their respective states.
The State Chief Secretary has written a letter in this regard to the Union Home secretary, Chief Minister Pinarayi Vijayan told reporters. The state government had earlier written to Prime Minister Narendra Modi to arrange for special non-stop trains to transport the workers.
There are 3.60 lakh workers in over 20,000 camps in the state and majority of them, hailing from West Bengal, Assam, Odisha, Bihar, and Uttar Pradesh, wanted to return home, Vijayan said.
"The distance they have to traverse from the southern state is very long it would be tiresome journey to transport them by bus and there was a possibility of the virus spreading", Vijayan said.
Social distancing can be maintained in trains which health authorities can monitor, and food and water will be supplied, according to the Chief Minister.
Meanwhile, Uttarakhand, Madhya Pradesh, Rajasthan, Jammu and Kashmir, Telangana, Bihar, and Punjab too made preparations to accommodate the entry of those stranded in other states.
(With inputs from agencies)