"I had to once tell my boss that I deal with the 'tail of China' just to get his attention," a former foreign service official, who looked after Myanmar affairs in the External Affairs ministry's Bangladesh-Myanmar division, said at a recent private gathering in Kolkata.
As witty as it sounds, there, however, was no hint of a jest on his stoic face while narrating his side of the story. But even if he was joking, the underlying message wasn't lost on anyone. Smaller countries in India's immediate neighbourhood do not get serious attention of our policy-makers.
India's pussyfooting around the Rohingya crisis further lends credence to such stories.
More than two years after one of the most devastating humanitarian tragedies that unfolded in its eastern neighbourhood, India is still reluctant to collaborate proactively with stakeholders to resolve the problem which has larger regional ramifications. This, despite appeals from the United Nations as well as Bangladesh, a country that has played Good Samaritan sheltering over half a million Rohingya refugees, who had fled persecution in their homeland.
United Nations Secretary General Antonio Guterres during his visit to India last year, urged New Delhi to "use its influence to bring about reconciliation and create conditions for the safe return of the refugees".
Bangladesh Prime Minister Sheikh Hasina Wazed too communicated to India more than once that Dhaka "expects" New Delhi to play a more active role to convince Myanmar to facilitate safe return of Rohingya refugees. She accuses Myanmar — which is now facing trial in the International Court of Justice (ICJ) for what the UN investigators described as a textbook example of ethnic cleansing — of using delaying tactics to prevent the return of Rohingyas to their homes in Rakhine state.
Notwithstanding the diplomatic nudges, the Indian government led by right-wing BJP refuses to take the bull by the horns largely because of its own hardline stand on the perceived Bengali-speaking illegal Muslim migrants.
Mirror image: 'Hindu' India and 'Buddhist' Myanmar
In BJP's populist Hindutva narrative, Bengali Muslims are viewed by and large as illegal migrants from Bangladesh, almost mirroring the stand of Theravada Buddhist nationalists in Myanmar towards Rohingyas. The Myanmarese ultra-nationalists too identify Rohingyas as illegal-Bingali (distortion of the term Bengali) migrants, though there are enough historical evidence to debunk the description.
"We needed to manage the population. It was the right thing to do. They were migrants. Our objective was to control our border. They were guests from Bangladesh and we didn't want to accept guests. Otherwise, there would be no more Rakhines, just more and more Muslims," General Khin Nyunt, the former head of Burmese military intelligence, was quoted as saying in a recent Al Jazeera documentary.
Nyunt is considered to be the original architect of the ethnic cleansing of Rohingyas.  Incidentally, Nyunt himself is a Burmese of Chinese descent.
Thousands of Bengali-speaking minorities in India are also facing potential statelessness as the BJP government is pushing for a nationwide contentious National Register of Citizens (NRC).
Policy shift: From tolerance to targeting
In 2012, when ethnic clashes broke out between Rakhine Buddhists and Rohingya Muslims in Myanmar's Rakhine State, the then Congress-led UPA government in India quietly allowed Rohingyas to take refuge in the country, drawing appreciation from the UN for adhering to its "age-old tradition of tolerance and understanding" by protecting and assisting refugees.
But the BJP-led dispensation in mid-2017 recalibrated the policy adopted by its predecessors and announced its plan to deport the Rohingyas settled in various parts of India, interestingly terming them as "illegal migrants" from Bangladesh. (Earlier this year, India's Border Security Force (BSF) had a standoff with the Border Guards Bangladesh (BGB) when it tried to push back 31 Rohingyas to that country through India-Bangladesh border in Tripura.)
India's external affairs ministry, however, as expected, in diplomatic parleys always ambiguously terms Rohingya refugees as "displaced people". But the stand of the home ministry, clearly indicates where India stands on this issue.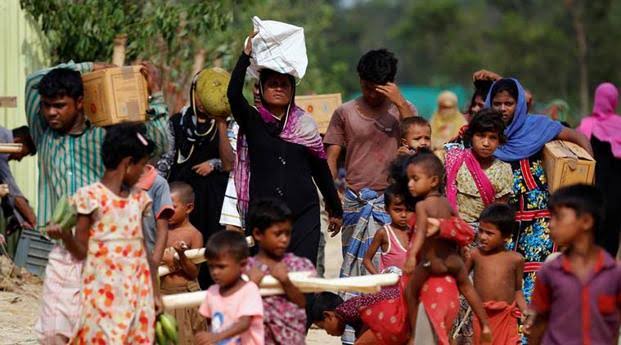 The China factor
Another factor which seems to have moulded India's Rohingya policy is the over-cautiousness to ensure that it does not upset the Myanmar government, lest it further leaned towards China.
India is keen to keep Naypyidaw in good humour as Myanmar is at the centre of  Narendra Modi government's ambitious Act East policy, being pushed through India-Myanmar-Thailand trans-Asian Highway and multi-modal Kaladan project designed to provide a sea-river-land link to India's landlocked Northeast, and also the Bay of Bengal Initiative for Multi-Sectoral Technical and Economic Cooperation (BIMSTEC).
India's Oil and Natural Gas Corporation (ONGC) Videsh and Gas Authority of India also have stakes in Shwe Gas field off the coast of Rakhine state.
Strategic setback
Taking advantage of India's reticence, China has seized the opportunity to create a space for itself in taking a leadership role in the region. China also has equal, if not bigger, stake in Myanmar as that of India. But that did not prevent it from venturing into troubled waters.
In October this year, Beijing activated a joint mechanism among Bangladesh, Myanmar and China, aiming to expedite the repatriation of Rohingya refugees to their homes in Rakhine.
The director-general of the Bangladesh foreign ministry's Southeast Asia wing and ambassadors of Myanmar and China in Bangladesh are the members of the tripartite forum, constituted at the behest of Beijing.
Nearly 700,000 refugees have taken shelter in Bangladesh in the latest Rohingya exodus triggered by the crackdown against them in Rakhine by the Myanmar's army in August 2017.
Genesis of the conflict
The Rohingya crisis, like many other problems in the sub-continent, is the residue of the British colonial legacy. The community is a concoction of diverse ethnic groups, including Arabs, Bengalis and Rakhines, who came into close contact as the Arakan coast was an important trading hub since the 8th century AD. Later, after the Arakan region came under British control after the first Anglo-Burmese War of 1824-26, the new colonial rulers imported cheap Bengali-speaking labourers, mostly Muslims, to the area from Bengal, further expanding the mixture.
The region's Muslim Rohingyas came into direct conflict with majority Buddhist population when they sided with the British in the World War II against the Japanese. Again, in the post-war scenario when the partition of British India became imminent, Rohingya leaders lobbied hard to join the proposed Muslim-majority province of East Pakistan (now Bangladesh). A Rohingya delegation even met Muhammad Ali Jinnah in May 1946 with the proposal, which, however failed to enthuse the architect of Pakistan.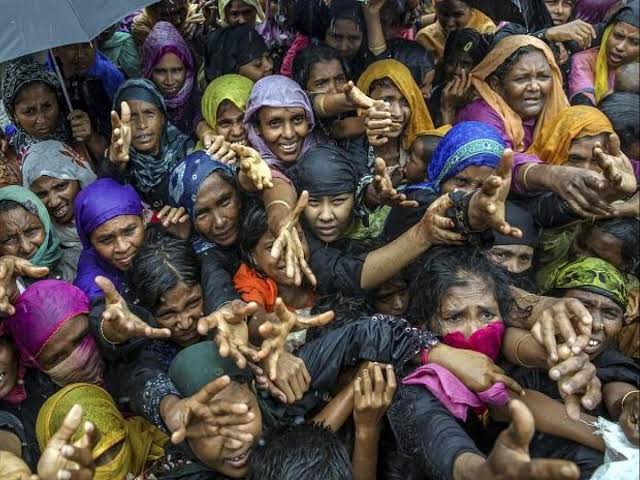 This maneuvering became pointers for those who often question the loyalty of Rohingyas towards pan-Myanmarese nationalism. After Burmese independence in 1948, the Rohingyas started facing discrimination, which led to the rise of ethnic-insurgency in 1950s. The government led by U Nu, the first prime minister of independent Burma, recognised the Rohingyas as an ethnic national group of the country and gave them citizenship. But the subsequent Ne Win regime abrogated the status.
The 1982 Burmese Citizenship Act declared Rohingyas as foreigners and they were given Foreign Registration Certificate, instead of the National registration certificate meant for Burmese nationals, deepening the conflict.
Why India should be concerned
Where there are over a half million desperate people with no place to call home and future to look for, swarming its neighbourhood, India ought to concerned for its own good.
Security establishment in Bangladesh, as media reports suggest, are already getting uncomfortable about the prospect of this persecution-hardened community becoming a fertile breeding ground for radicalism and larger Islamic terror network. Such a development is bound to have a spill-over impact on the security of the entire South-Asian region, particularly in India and Bangladesh.
"If an immediate solution to the Rohingya problem is not hammered out immediately with the intervention of international community, then all the countries in South Asia will have to be prepared for large-scale sabotages and terror attacks," warned Muntasir Mamun, chairperson of the Bangladesh's Genocide and Torture Archive and Museum Trust.
According to intelligence sources, the Rohingya armed rebel groups such as the nascent Aqu-Mul Mujahedeen (AMM), an off-shoot of the Pakistan-based Harkat-ul-Jihad Islami Arakan (HUJI-A), and Arakan Rohingya Salvation Army (ARSA) have established close ties with Hafiz Muhammad Saeed, the co-founder of Lashkar-e-Taiba (LeT). These outfits are reportedly trying to constrict a pan-Islamist narrative for them. Intelligence sources also claimed that Rohingya rebels have also established links with Jamaat-ul-Mujahideen Bangladesh (JMB) and Indonesia's extremist Islamic Defenders Front (FPI).
The JMB, in turn, is also trying to spread its tentacles in India, according to National Investigation Agency chief YC Modi.
"Taking a hard position towards the Rohingya refugees makes India a potential target of radical groups," said Sucharita Sengupta, a doctoral candidate at the Graduate Institute Geneva, who is working on statelessness, agency and camp life of the Rohingya refugees in Bangladesh.
Further escalation of violence in Rakhine state will also increase the threat perception of assets India is building in Myanmar's Rakhine.
Hence, it's in India's interest that it shed its passiveness to facilitate the safe-return of the refugees to Myanmar and ensure community-reconciliation to prevent any renewed conflict. By doing so, it can also hope to regain its regional leadership space that it has ceded to China and avoid being seen as a tailender on a sticky wicket.