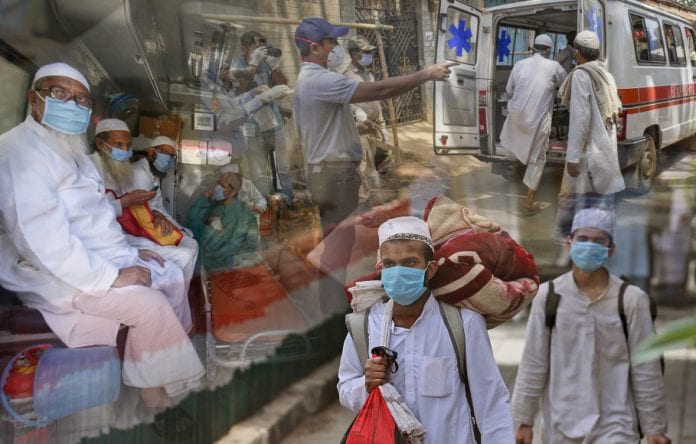 On the afternoon of April 3, Naziya's phone blinked with a WhatsApp notification.
"Jaldi se jaldi apne sabhi groups mei yeh video post kare. kaise in Mulsim logon ne bharat mei corona phailane ka naya tarika nikala. Inke deye huwe saaman ko koi bhi vekti na le (Please post his video on all your groups how these Muslim people invented a way to spread coronavirus in India. Don't touch anything given by these people)," the message read.
Accompanied by a video of a few Muslim men sharing a meal, the message was posted on a WhatsApp group for residents living in a posh apartment in Uttar Pradesh's Noida.
Advertisement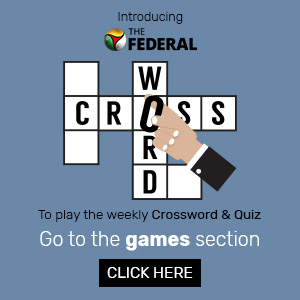 Naziya says the malicious message with an unrelated and misleading video was not deleted despite a few members requesting the sender.
"When I saw the message, I wrote saying 'I am very tempted to report this phone number. I'm sick and tired of all this, even in such a time of huge crisis'," says Naziya.
Islamophobic messages and hashtags accusing Muslims of wilfully spreading the coronavirus started flooding social media after March 30, when news broke that at least six people who attended the gathering of Tablighi Jamaat, an Islamic missionary group, in Delhi's Nizamuddin in mid-March, had died of COVID-19.
Soon, a nationwide manhunt was launched for people who attended the meet and those who came in contact with them. As of April 4, according to the health ministry, over 30% of India's total COVID-19 infections, have been found linked to the mid-March gathering.
Importantly, the World Health Organisation (WHO) has said it's imperative to refrain from religious profiling of COVID-19 cases. Answering an India-specific question during a virtual press conference, WHO Emergency Programme Director Mike Ryan said: "Having COVID-19 is not anybody's fault. Every case is a victim. It is very important that we do not profile the cases on the basis of racial, religious and ethnic lines. This is not helpful."
The government, however, has been regularly giving state-wise break-up of cases linked to the Nizamuddin meet.
With more and more cases linked to the Nizamuddin meet traced to different cities and states, the debate around coronavirus in India has now turned communal, blaming the entire Muslim community in India — 200 million out of 1.32 billion — for spreading COVID-19.
North, South, East, West, Northeast
Many in Delhi, which is still coming to terms with violent anti-Muslim riots that left at least 50 people dead in February and many homeless even now, have been quick in further singling out Muslims and shutting the door on them. Some even fear that it's the lockdown that has prevented the situation from escalating to another riot.
A video that went viral on social media on April 6, shows a group of residents, claiming to be from Shastri Nagar area, urging everyone else to ban the entry of Muslims in their neighbourhoods.
Neeti, who lives in a residential complex, fears the circulation of the video will give ideas to more people in localities across Delhi and other cities to ban entry of Muslims. "I'm scared. What if tomorrow our RWA stops Zafar bhai (a vendor who has been delivering essentials to residents in her housing society in Mayur Vihar) from entering?"
In neighbouring Haryana, a Muslim man and his three brothers in Jind district were attacked by their neighbours for not "honouring PM Modi's appeal to switch off lights at 9pm on Sunday".
In Himachal Pradesh's Una, unable to face taunts, a Muslim youth committed suicide on April 5. He had come in contact with some Nizamuddin returnees but tested negative.
In Karnataka, the family members of Swaraj Abhiyan activist Zareen Taj were attacked while distributing relief material in Bengaluru's Dasarahalli, The Hindu reported. Taj claims the assailants accused them of poisoning the rations.
In Tamil Nadu's Vellore district, a Muslim resident, as reported by The Federal, was harassed by his neighbours even though he did not attend the Nizamuddin conference.
In Arunachal Pradesh, a PTI report said several truckers belonging to the Muslim community were allegedly beaten up, forcing them to flee to neighbouring Assam, leaving their vehicles behind.
In Assam, social media circles are abuzz with unofficial notices restricting Muslims from entering certain roads.
In Assam, #India – where Modi is building China-style internment camps for Muslim immigrants – Muslims are currently restricted from using certain roads.

This sign reads "Muslims No Entry." Source: @jackiezzz19 pic.twitter.com/IAAZFurFph

— Khaled Beydoun (@KhaledBeydoun) April 3, 2020
Media, social media and hashtags
The anti-Muslim 'action' brigade that has now hit the streets followed a barrage of fake news circulated with hate messages by many, including some well-known social media influencers and journalist-supporters of the BJP government, on Twitter and other platforms.
Soon after the crackdown on the Nizamuddin meet and its attendees, right-wing groups started trending on Twitter hashtags like #CoronaJihad, #TablighiJamatVirus etc.,  demanding action against Nizamuddin Markaz.
The video posted by Naziya's neighbour on the WhatsApp group for residents was one such and among the most circulated clips showing a group of men in skullcaps licking plates and spoons. Many on social media have been sharing it with text claiming that they are deliberately infecting the utensils to spread the coronavirus.
According to AltNews, a fact-checking website, the video is an old one and is actually of a sect of Muslims who believe eating leftovers prevents wastage of food.
In faraway Assam, a Twitter handle with nearly 44 thousand followers, lashed out against a few linked to the Nizamuddin meet who are now under quarantine. The user, self-described as a nationalist from Assam who is "proud to be followed by Narendra Modi", appears to be livid with the "good lunch" provided to the COVID-19 suspects/patients at the expense of "taxpayers' money".
BTW……. In #Assam #NizamuddinIdiots having very good Lunch in Quarantine centres at tax payers money, wheras non of them pay any tax to Govt but lives on Govt subsidy after producing 10/12 children's and 3/4 wives. #IndiaFightsCorona pic.twitter.com/P2cSCApwvl

— Oxomiya🇮🇳 (@SouleFacts) April 3, 2020
"My WhatsApp is constantly buzzing with such messages. My daughters have told me to ignore these anti-Muslim messages and rather think rationally. After all, why would anyone spread the coronavirus deliberately risking their own lives?" wonders Guwahati resident 73-year-old Meena Borah, who says she sometimes tries to explain the same to her relatives, but haven't succeeded much so far.
On April 7, WhatsApp decided to impose a new limit on message forwarding, restricting users from sharing forwarded information one chat at a time. The Facebook-owned chat app said it seeks to curtail the dissemination of fake news. The change, however, many in India believe won't prevent much the spread of fake news through forwards.
"Ultimately, one message can be sent to as many as one wishes to as long as the user is happy hitting the forward button. The only thing a user needs is dedication and free time, which is in abundance among Indians, especially during this lockdown," laughs 39-year-old Arjun Thapa, who has recently discovered the joys of "WhatApping" old friends from faraway Arunachal Pradesh.
The ever-growing use and 'misuse' of social media in the nooks and crannies of India has also kept the cyber cells of police across states on their toes.
Following the surge in fake news circulation amid the ongoing lockdown, Assam police claimed to have taken action against many violators.
WARNING! Put your ugly thought behind or be behind the bars by sharing it on social media. Lakhimpur Police has already registered a case and arrested one person in this regard. Any incendiary or fake or malicious post will invite trouble! @Gen_VKSingh @DGPAssamPolice pic.twitter.com/AOZxUyVGI1

— Lakhimpur Police (@lakhimpurpolice) April 7, 2020
But what seems to be keeping the vilification of Muslims afire on social media and on the ground is the coverage of the pandemic from a communal angle by many news media outlets.
If social media is rife with fake videos, some news outlets have been blatantly misreporting and falling for hoaxes on social media.
Zee News on April 6 claimed that a medical team escorting COVID-19 positive members of the Tablighi Jamaat was pelted with stones in Uttar Pradesh. The Firozabad police have refuted the report that was also shared on Twitter and Facebook.
"You are spreading false and misleading news," the police said and asked the outlet to delete it.
An Amar Ujala report on April 5 claimed that members of the Tablighi Jamaat demanded non-vegetarian food inside a quarantine facility in Uttar Pradesh's Saharanpur. And when they did not get non-vegetarian food, the Jamaatis misbehaved and threw away the food and also defecated in the open.
The Saharanpur police have refuted the report and issued a statement.
@Uppolice @adgzonemeerut @igrangemeerut @digsaharanpur @Dineshdcop pic.twitter.com/ZYY6kNirAE

— Saharanpur Police (@saharanpurpol) April 5, 2020
The misreporting is amplified by prime-time anchors on TV debates shouting down at panelists.
"Following the breakout of COVID-19, Indian TV channels were forced to shift all attention to the virus. First, they targeted China, screaming why it should be called Chinese virus and then they found the perfect target — Muslims. They were gasping for breath and finally the Tablighi Jamaat linked coronavirus cases gave back TV news channels their life," says a former journalist who avidly tracks news channels and their "communal, voyeuristic coverage".
For instance, Arnab Goswami on Republic TV called it a "deliberate" attempt to undermine "my country".  Deepak Chaurasia of News Nation introduced Musharaf Ali Khan, the Tablighi Jamaat spokesperson in Delhi, as the spokesperson of the "Talibani Jamaat". When the latter asked him if it was a mistake, Chaurasia refuted saying, "Don't put words in my mouth".
Govt messaging
Syed Sadatullah Hussaini, president of Jamaat-e-Islami Hind, a religious and social organisation, feels the communalisation of a health crisis reflects the shamefully low level of our public discourse.
"Targeting Tablighi Jamaat and ignoring the bigger and more irresponsible gatherings; Playing dirty politics of communal polarisation on such a huge health crisis. It reflects shamefully low level of our public discourse. Let's be more responsible and work unitedly to fight the COVID-19," he tweeted.
Despite a few leaders from the BJP warning against communalisation of the issue, the messaging from the government has left many dissatisfied.
For instance, Karnataka Chief Minister BS Yediyurappa on April 6 warned people that he would take action against anyone blaming the entire Muslim community for isolated incidents. This comes after the CM met Muslim community leaders to seek their assistance to identify and report those who attended the Delhi Tablighi Jamaat congregation.
While his opposition leaders welcomed the move, they seemed sceptical. "The CM's intention may be good, but it should be implemented on ground. The same CM made a public announcement to pay compensation of ₹10 lakh to two Muslim youths killed in Mangalore during the police firing at anti-CAA protesters in December last. But he immediately withdrew due to pressure," says Congress MLA and former minister UT Khader from Mangalore.
Making a mere statement in support, Khader adds, is not enough. "Their own social media groups should be monitored for hate messages."
The reason for his scepticism apparently stems from statements made by other BJP leaders.
BJP MP from Udupi-Chikkamagaluru Shobha Karandlaje recently called the Tablighi Jamaat Delhi event as 'corona jihad'.
When reached out for comment, Karnataka BJP IT cell head Vinod Krishnamurthy refused to say anything about the communalisation and hate messaging on WhatsApp groups with admins and members from the BJP.
This is precisely why the Prime Minister needs to use his influence, says Congress spokesperson Pawan Khera. "When the nation faces a crisis, we must necessarily come together to fight the challenge. The Prime Minister needs to use his influence to make sure nobody tries to polarise and divide the country in this hour of crisis."
*Some names have been changed to protect their privacy.
(With inputs from Prabhu Mallikarjunan, Samir K Purkayastha & Sanghamitra Baruah)