Jansi, a single parent in Perumbakkam resettlement site, has not been to work for more than a year now. One of the thousands of people to be shifted by the Tamil Nadu Slum Clearance Board two years ago from Thideer Nagar in Thousand Lights in the heart of Chennai, she continued to work as a housekeeping staff in an office in Royapettah, about 30 km away from her new home.
"I have not been able to work (since the past one year) because of the distance. I have two young kids, aged seven and nine, and I only have my mother to take care of them. I endured the long commute, switching 2–3 buses for almost a year, but finally gave up because it was too tiring."
Jansi and others were shifted en masse in November 2017 from their homes, as they were blamed for floods and encroachments along water bodies, given their proximity to the Cooum River.
Advertisement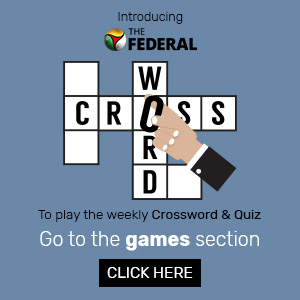 Jansi is still looking for a job. "I am not able to find one in the vicinity. I am considering small-scale entrepreneurship opportunities, but there aren't many options. The Tamil Nadu Slum Clearance Board organised tailoring and jewellery-making classes for women in the locality through an NGO. However, we need help from them for marketing these products."
A large section of the women residing in Thideer Nagar was employed as domestic helps and housekeeping staff in offices. The men were mostly engaged in blue-collar jobs in the vicinity, where they found plenty of job opportunities in the commercial centre of the city—along Mount Road and Royapettah.
"We had our homes in Thideer Nagar for several generations. When we were evicted, they [the government] told us we cannot claim ownership there as it was on poramboke (unassessed) land," says Sujatha, another resident.
Also read | What's a slum? Who knows, but let's get rid of it, is govt policy
For 55-year-old Vasanthi, who fends for herself and her two grandsons, alone, the struggle to make ends meet has become intense in Perumbakkam. "I always had my own small carts and used to sell fish, or fruits, or vegetables. Since I shifted here, it has not been easy to have the stalls. We are cut off from the rest of the locality and there is hardly any business."
Vasanthi, who used to receive her monthly widow pension of ₹1,000 has not received the money ever since she moved into her new home. "The officials in the bank near my old house, from where I was receiving the money, have refused to disburse the money. They say that I have to approach the bank within the district as Perumbakkam is not in Chennai district," she says.
Most of the times, there is a lack of several facilities in the new area. The problems don't end there as many are still unable to figure out whether they are in Kancheepuram or Chengalpattu district. "First they told us we belong to Sholinganallur Taluk and later Kancheepuram and now Chengalpattu. Many women cannot avail benefits like widow pension, old age pension and disability pension because of the complicated paperwork in banks," says M Mercy, who has been representing the problems of the residents in the resettlement site.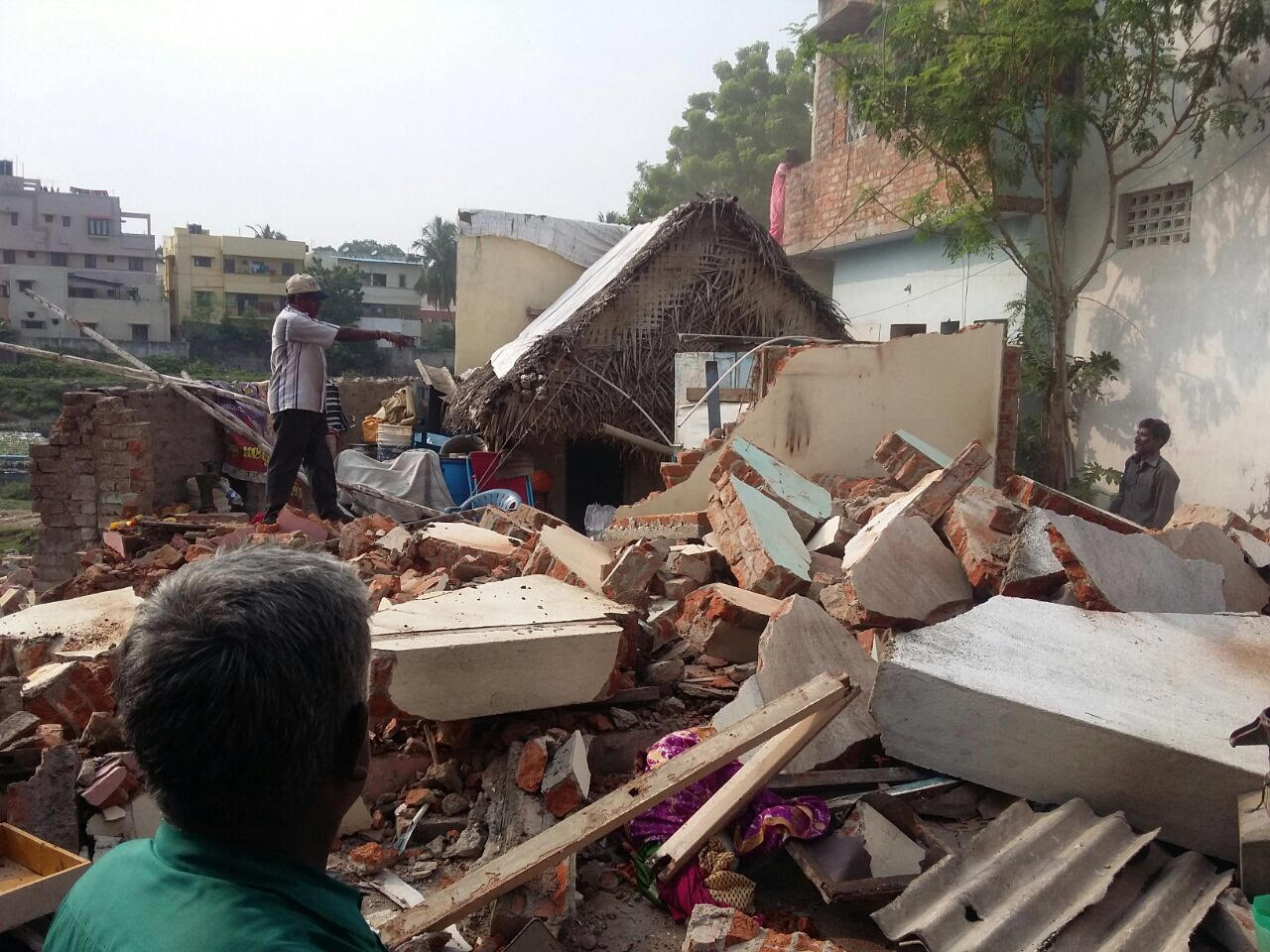 The tyranny of distance 
With just one high school and elementary school for over 20,000 families, a good number of them have chosen to continue sending their children to Thousand Lights.
"My daughter travels 30 kilometres every day to reach her school with my husband who is an auto driver," says Mercy. "He goes all the way to Greams Road in Thousand Lights because he gets steady clientele in that area, as it is close to a bustling Apollo Hospitals. There is just one bus that comes to the site, at irregular intervals. We have to either travel all the way to Chemmenchery, or take share-autos to travel to the city."
Battling between sewage water that spills into their homes and inadequate drinking water supply that comes for 15 minutes on alternate days, the residents are also in the middle of a health and sanitation crisis.
"We have complained several times during the monsoons about leaky roofs. All our complaints have been unattended. We pay ₹750 per month for this space and we still do not know what the break-up for the rent is. They initially told us electricity is free for a period of time, but the bills we pay are exorbitant and arbitrary," Mercy adds.
While there is an urban primary health centre, secondary and tertiary healthcare is a costly affair.
Porur replay
The stories of the residents of the Perumbakkam resettlement site mirror the tales of those shifted from near Porur Lake to Gudapakkam in the neighbouring Thiruvallur district in 2006. The Public Works Department (PWD) and the district administration forcibly evicted these settlements along the water body in November 2006, based on a Madras High Court order that directed the state government to remove all types of encroachments ahead of the monsoon.
Of the approximately 10,700 families evicted, only 4,000 were provided alternative land in two sites in Gudapakkam's Collector Nagar and Nallur in Kancheepuram district—both over 20 kilometres from Porur.
Many like Thavaseelan C who were moved out of Porur to Gudapakkam, are fighting to get a patta (land deed) in their names. Each family was given ₹2,000 per month and a hut on the site.
"They have refused to recognise us as owners, even after the Madras High Court ruled in our favour," he says. "After we shifted here, families of World War veterans claimed ownership of the land, challenging the allotment to us, as they claimed we were taking away the land given to the soldiers who fought in World War II in 1949 for farming."
Even as the government told the court that the land allotted to the resettlers will not affect them and the case was dismissed, Thavaseelan adds, the war veterans' families have approached the courts again. "We residents filed the application for the land deed in 2013, as the HC had directed the officials to grant them to us. Yet, nothing has happened in the last six years."
Thavaseelan claims that they are yet to receive power connection and have begun to draw electricity from nearby areas.
"For the last 13 years and more, our lives have been stagnant. Most of us have been working as masons and painters. We hardly find jobs in Gudapakkam and still have to travel all the way to Porur. We lack basic amenities like water; they [the government] have just begun to lay roads. We will soon have a Public Distribution System outlet and an anganwadi," he says.
While about 1,000 families stayed back and a few have left unable to cope with income and basic needs, a section of the land, the residents claim, has been taken over by encroachers in the last few years.
'Deprivation by design'
A recent assessment by the Delhi-based Housing and Land Rights Network (HLRN) and the Information and Resource Centre for the Deprived Urban Communities (IRCDUC) on the long-term impacts of forced relocation from Porur Lake underlined the key concerns with the state government's move.
According to it, the government has been "unmindful of the fact that people living in these areas are not all encroachers but settlers who have been residing in these habitations for generations. These communities are not homogeneous but belong to different social and economic groups. As residents of India, they are entitled to legal rights and social safeguards, as guaranteed by the Constitution of India, national and state laws, and international laws ratified by India".
The assessment also found out that these evictions have violated a number of rights like the right to adequate housing, right to work and education, right to health, water and sanitation, to name a few.
Vanessa Peter, a policy researcher, IRCDUC, says that in the evictions in the last two decades, there have been different manifestations. "Initially, it was in 'objectionable areas', according to the authorities, and then they were done in the name of city beautification and developmental projects. Now, in the last three years, there have been increasing evictions after disasters, like in the case of Chennai floods of 2015. The residents have been evicted and put in vulnerable situations," she adds.
She points out that in the language of the law, slums have always been looked at as a public health issue or infrastructure deficit. "The predominant solution for them is housing. They are put in concrete homes, even when we are unable to provide socio-economic solutions for them."
Vanessa says that like in the case of residents of Thideer Nagar, who were moved to Perumbakkam, without enough notice, the residents were never given a choice.
"They are blamed for floods or pollution. It has been proved that the pollution that comes from the slums is less compared to untreated sewage that is let into it by the government," she says. The access to legal aid too is cut off, as evictions can only be challenged in the High Court.
"The distance between the resettled site and the court is a deterrent for them in this process," she argues.
A pan-India crisis
A report on forced evictions in 2018 noted that over 2 lakh people were displaced across the country. The report presented cases from New Delhi, Gurugram, Prayagraj, Vadodara, Bhopal, Navi Mumbai, Bhubaneswar, Coimbatore, among other cities in the country.
The evictions can be classified broadly under four categories — slum-clearance or anti-encroachment or city-beautification drives, including for mega-events, and interventions aimed at creating slum-free cities [47% of affected persons]; infrastructure or development projects (26%);  environmental projects, forest protection, and wildlife conservation [20% of affected persons]; and disaster management [8% of affected persons].
The report noted that evictions in 2018 were not carried out for 'exceptional circumstances', as stipulated by the UN Basic Principles and Guidelines on Development-based Evictions and Displacement (2007), which are the global operational human rights standards to be complied with by state and non-state actors before, during, and after any proposed eviction.
According to independent estimates, over 70 million people across the country have been affected by such evictions, since India's independence.
Shivani Chaudhry, executive director, Housing and Land Rights Network, says that in most cases, evicted persons are not resettled. Those who receive rehabilitation from the state, are sent to remote areas that marginalise them further.
"Women and children are the most adversely affected by such displacement. Girls are forced to drop out of school and women lose their livelihoods. They often have to stop working, as they are afraid to leave their children alone in the resettlement sites that are devoid of basic services and security. This also has severe consequences such as early marriage of girls, and increased gender-based violence and sexual abuse."
Shivani says that such evictions have become rampant in smaller cities like Bhopal and Indore as well as in smaller towns.  "The Smart Cities Mission too has resulted in such evictions for various projects," she said.
From gentrification to eviction
Karen Coelho, faculty at Madras Institute of Development Studies (MIDS), says gentrification has typically accompanied state attempts to restructure urban spaces through urban renewal or urban regeneration projects. It is a process where access to improved spaces changes. It is a little different from outright demolition. However, there have been such processes in other parts of the world even two centuries ago.
She cites the example of France in the 19th century when Haussmann's Paris under Emperor Napoleon saw the demolition of many old habitations in order to build the big and beautiful boulevards.
"Gentrification doesn't have to be about demolition. One can revalue a place by putting up shop fronts—when gentrification is led by the market and not by the state. It is typically a market process, where you widen a road or you bring in a park, making the price of the real estate go up. Lower-income people or the renters are out, with owners raising their rents and a different class of people come there," she explains.
However, she adds that one needs to understand the case that the government is making while evicting slum dwellers. "The state says that it is offering alternative accommodation and saving both the ecology and the slum dwellers from flood risk by giving them concrete housing for free or very small payments. But we know that the living conditions in these places are very sub-standard, apart from the disruptions to livelihoods and education caused by the distance."
Coelho, however, is hopeful for the residents, going by the example of Kannagi Nagar off the IT corridor in Chennai. "Over time, things begin to change. Take the case of Kannagi Nagar off OMR, where developments have taken place. It has evolved into a neighbourhood with schools and hospitals in the past 15-20 years."