The block paved lane that leads to the Dalit colony in Tamil Nadu's Narayanapuram village is dotted with shabby mud huts. In one of those huts, where S Chinnathai lives alone, there is a small patch of dry land — all of 64 square feet — which the 55-year-old widow likes to call her courtyard. It is in this courtyard where Chinnathai's husband and four other relatives lay buried.
But it is not just Chinnathai who has buried her family members in front of her house. With no burial ground, the Dalit colony has turned into a virtual graveyard with all 65 families burying their near and dear ones in whatever little patches of land available, sometimes one body atop another.
Located in the foothills of the Eastern Ghats, the village in Vellore district was recently in the news after a video clip showing the body of a Dalit man being lowered from a bridge for cremation went viral. His relatives were forced to do so after the funeral procession was not allowed to pass by local caste Hindus.
Advertisement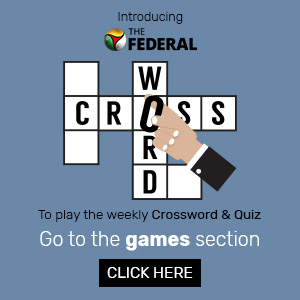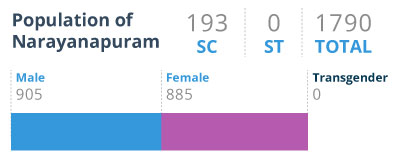 Although Narayanapuram is one village, it is divided into two distinct areas — the main village where about 650 families, mostly Vanniyars (Other Backward Class), live, and the Dalit colony, where all the families belong to the Adi Dravidar community (Scheduled Caste).
"It's been a decade since we cremated a body. We usually do not cremate. If people die of natural causes, we bury them in our premises and cremate them only in case of unnatural death since an autopsy is performed," says C Maniyamma, an elderly Dalit resident.
After the video went viral, the district administration identified a separate place for the Dalits to bury their dead. However, the community is still afraid to use it as they have to carry the bodies through Vanniyar areas.
"Soon after the government identified the land, they [Vanniyars] started threatening us. When we told this to the officials, they said that they will give us an ambulance to carry the bodies and we need not take out funeral processions," says B Kanakaraj.
Following the incident, the Madras High Court took suo-motu cognizance of the issue and sought a report from the state government. On Monday, when the district administration filed a report saying it had allocated a separate burial space for the Dalits, the court expressed its displeasure over the move.
The bench, comprising justices S Manikumar and Subramonium Prasad, said it looked like the government itself was encouraging caste discrimination by allocating separate burial grounds to Scheduled Caste people.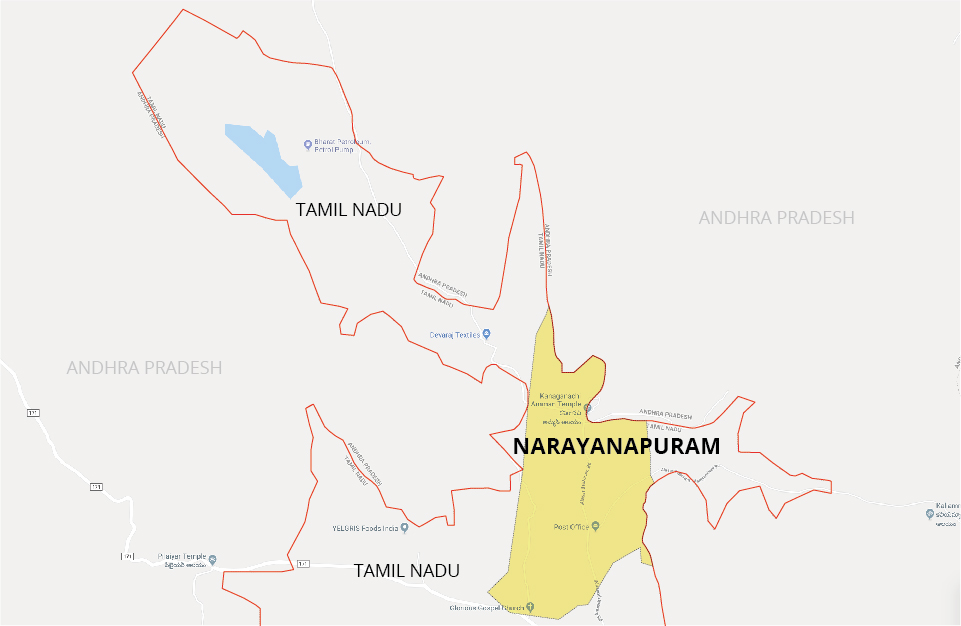 Land, life and dignity
Dalits in Narayanapuram are not only deprived of a place to bury and cremate their dead, they are also not allowed to own any kind of land. This, the Dalit villagers say, makes them remain dependent on the caste Hindus in the village.
"Despite residing here for decades, we don't own this place. How do we go and ask for a place to bury the dead then?" asks 65-year-old K Murugan, a community leader.
"I was told by my grandfather that we all [Dalits and caste Hindus] settled here in the foothills several decades ago. We don't have any record of it. When the government started giving land patta (title deeds), people in the Dalit colony were left out. Only the caste Hindus, mostly Vanniyars, got them," Murugan adds.
According to the villagers, whenever they have requested for land patta, revenue department officials rejected their demand, saying that their area falls under the jurisdiction of the bordering state of Andhra Pradesh.
However, the same villagers hold ration, Aadhaar and voter ID cards issued to them by the Tamil Nadu government, a fact that The Federal has verified.
"How can the Tamil Nadu government issue ration cards, Aadhaar cards and voter IDs to people residing in Andhra Pradesh?" asks B Mullai, a farm worker. "We do not have assets to improve our livelihood except the place we live in. And even that is not in our name," she adds.
In contrast, the caste Hindu families that reside less than 10 feet from the Dalit colony got land pattas decades ago.
Ask village administrative officer Palani and he says, "We are yet to confirm whether the colony falls under Tamil Nadu."
According to the villagers, department officials have been "consulting maps and confirming" the same for decades now.
Palani also declines to comment on how villagers were issued ration and Aadhaar cards by the Tamil Nadu government, saying that he is "looking into the matter".
Most Dalits in the colony are dependent on the Vanniyars for their livelihood. "We work on their farms for meagre wages of ₹120-₹130 per day. The day starts at 10 am and we have to work till 6 pm. For the same work, neighbouring villages pay a minimum of ₹350-₹450 per day," says K Kathirvel, a farm worker.
"We are forced to be dependent on them and the officials are colluding with them," Kathirvel adds.
In an attempt to break free of the caste bondage, a few men left their families behind and went to cities in search of work at construction sites. "If we are treated equally, we can earn whatever we need without leaving our village. But now I am forced to work at construction sites in Chennai. I visit my family only once a week on Sundays," says P Mohan, who now earns more than ₹500 per day.
But the discrimination runs much deeper.
Even when the Dalits can afford to buy land in the village, the caste Hindus don't sell it to them.
A woman, who did not want to be named, says she managed to arrange about ₹3 lakh to buy a piece of farmland that was worth less than ₹3 lakh, but she still couldn't. "I mortgaged my jewellery and got loans from various people. I was confident that I would make money in farming and repay the loans. But, the owner said he would rather give it to a caste Hindu for less money than sell it to me," she says. He even refused to give the land on lease to her.
Over the years, the villagers say, the discrimination has only increased, especially after the Vanniyars realized that Dalits have gradually empowered themselves with education.
"A decade ago, when we didn't question them, they allowed us to take the carcass of their dead cows through the Vanniyar streets. However, for the past four years, they have stopped us passing through their streets and we have to take a detour through various farmlands to get them to our place," says another aggrieved villager, M Arumugam.
The oppression does not stop there.
Even though there is access to drinking water from a pipe less than 500 metre away from the Dalit colony, they are forced to walk over a kilometre to fetch water. "The pipe is on a street where caste Hindus reside. So, we are not allowed to take water from there," says B Murugan, a construction worker who works in Vaniyambadi.
Dalits are also denied entry into the common village temple when caste Hindus are praying. "We rarely sacrifice roosters — a common ritual — at the temple, but even for that, we have to wait until they leave," says M Premkumar.
So, is there light at the end of the tunnel for these Dalit villagers? Seems unlikely, at least in the near future.
Back in the late 1970s, the state government had conducted a survey in order to empower Dalits by ensuring their land rights. Four decades on, that is yet to happen. The government is still in the process of identifying and retrieving panchami land — land assigned during the British era to be distributed to Scheduled Castes. Over the years, a large part of panchami land, which otherwise was non-saleable, has been allegedly taken over by non-Dalits.
According to L Murugan, vice chairman for the National Commission for Scheduled Castes, district collectors have already been instructed to retrieve panchami land. "We have retrieved over 5,000 acres of panchami land across the state so far and will take back more land soon," he says.
But to the Dalit villagers of Narayanapuram such promises are of little comfort.