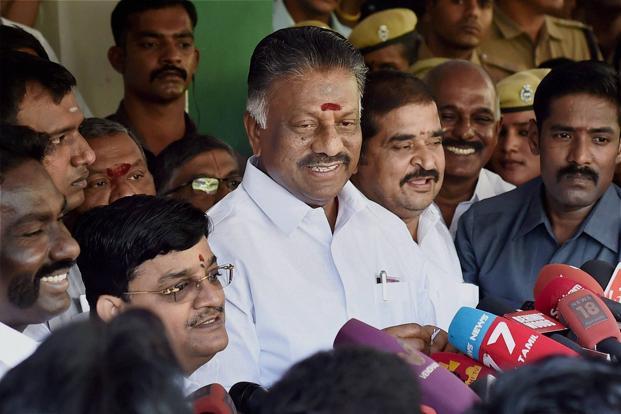 In the Bodinayakanur constituency in Theni district in south Tamil Nadu, O Panneerselvam, the deputy chief minister and AIADMK coordinator, is expected to sail through easily and win this seat, in the upcoming state elections. People are batting more for OPS here rather than his opponent Thanga Tamilselvan, who has been fielded by the DMK.
In Theni, OPS and Tamilselvan have attracted equal amount of respect and each exert a lot of influence in the region. For OPS, it is the third consecutive time he's contesting from Bodi. (he had stood from here twice earlier in 2011 and 2016). This former chief minister of TN, who has reportedly never lost an election, had contested from Periyakulam constituency in 2001 and 2006, where he had won both times as well, with a high margin.
The mood among the people in the Bodinayakanur constituency seems favourable towards him. "In the last two terms, OPS has brought an engineering and a law college and has built four bridges. AIADMK's recent crop loan waiver too has given him a greater edge in this election," said Virumandi, a farmer.
Also read: Posters hailing Panneerselvam as 'CM 2021' trigger tension in TN govt
His opponent in this constituency, ironically, a former close aide of J Jayalalithaa, Tamilselvan, too is popular with the electorate since he has won three consecutive times from the Andipatti constituency.
However, Tamilselvan's win in Andipatti can also be attributed to the fact that the constituency is special for the AIADMK party and is interlinked with its history. It is not just that the AIADMK founder, the late Chief Minister of TN, MGR has contested from this constituency in 1984.
In the 2001 election, due to corruption charges Jayalalithaa was not allowed to contest but she had to become a MLA, to be sworn in as the chief minister. (It was that time, OPS was made chief minister for the first time).
In order to make way for his then leader, AIADMK supremo, Jayalalithaa to get a MLA seat, Tamilselvan who had won from Andipatti constituency, magnanimously resigned his post. The late Jayalalithaa contested the 2002 Assembly bypoll and 2006 Assembly elections from this constituency and won.
Taking caste considerations into account, which always plays a significant role in TN elections, OPS hails from the Maravar background, while Tamilselvan is a Piramalai Kallar, a prominent community in southern TN. Though the district has a sizable Mukkulathor(Kallars are a sub-caste of the Mukkulathor) vote bank, it is Maravars, who have the upper hand here.
After Jayalalithaa's demise in 2016, Tamilselvan started losing his influence in the region. He was one of the 18 MLAs, who were disqualified by the Speaker in the state Assembly because of their anti-party activities. He then joined TTV Dhinakaran's AMMK and contested from the Theni Lok Sabha constituency in 2019, but he was defeated by none other than OP Raveendranath, the son of his current rival, OPS.
Also read:EPS on Sasikala, alliance with BJP, and relationship with O Panneerselvam
The matter of funds
"Andipatti is a region which is thickly populated by Piramalai Kallars, and this was probaby one of the reasons Tamilselvan was able to win from this constituency. He has done nothing for Andipatti. He got votes because of his caste – any Piramalai Kallar who contests from that constituency will win," said a Theni-based writer, who requested anonymity.
Caste and the contestant's contribution in the constituency may play a role in deciding the fate of an election. But, in recent times, people are also swayed by the  candidate who gives more money to them, the writer added.
"OPS is ready to spend the money. The AIADMK is known for distributing good money. But DMK somehow never manages to garner that kind of goodwill because half the money the party spends won't reach the voters. Tamilselvan cannot distribute money from his privy purse. In the 2019 Parliamentary election itself, Tamilselvan's supporters alleged that he did not give money to the voters," he said.
Moreover, even if people vote on the basis of caste, then OPS is slated to emerge victorious. Locals in the area said that Tamilselvan has lost his influence among Thevars because he kept shifting his loyalties by moving from AIADMK to AMMK and then to DMK.
"Tamilselvan has to attract votes from other castes and only then will he end up, at least, in the second place with a good margin," said Arumugam, a load van owner.
However, some locals claimed that both Dravidian parties are gearing up to liberally spend money in this constituency.
"At first, we heard that OPS has planned to distribute money worth ₹2,000 to each household here. But after DMK announced its candidate, he has has become more confident of winning. He has now decided to reduce the amount to ₹1,000," said Virumandi.
Also read: Infra push, sops for women in Stalin's vision document for Tamil Nadu
The Shift in Pallar votes
There is another reason that the AIADMK will win here. A teacher and writer Year Maharasan said that besides Thevars, the constituency has a considerable vote bank of Pallars. "Generally, the Pallars vote for DMK. When Thevars vote for AIADMK, it is not surprising to have Dalits vote for DMK. But, the wave has shifted in the opposite direction in the last two years," he added.
The Pallars' demand to acknowledge them as 'Devendra Kula Vellalars' has been pending for many years. "The DMK has not heeded their request but the AIADMK however is working towards it. Though the Pallars are only too aware that AIADMK is considering their demand to attract their vote bank, they are upset that DMK never bothered to accede to their demands even as part of vote bank politics," he said.
The Dhinakaran factor
Interestingly, the majority of residents here told The Federal that if Dhinakaran had contested from here, they would have voted for him.
"I am a hardcore DMK supporter. But my wife and her side of the extended family are all AIADMK supporters. They are not even able to spell the party's name properly. They call it as 'Amma katchi' and they know 'rettai ilai' (two leaves) symbol. If Dhinakaran had contested from here, he could have easily got all the women's votes," said Arumugam.
This is the general trend witnessed by The Federal across the southern Tamil Nadu. There is a big vote bank consisting of women that still believes Dhinakaran is in the AIADMK and his symbol is the 'two leaves'.
OPS not a son of the soil
However, there is the anti-incumbency factor that may work in the DMK's favour.
"Whether it is OPS or Tamilselvan, whoever wins this constituency, should set up a mango juice and ginning factory since unemployment is a major problem here. It can generate employment opportunities to 500 to 1,000 youth both directly and indirectly," said Chelladurai, a resident.
According to him, OPS will be defeated either by DMK or AMMK.
"A decade is enough. People desperately want a change. Some of us here feel that if OPS is elected again, he would be subservient to BJP in the Centre. It is true that OPS is affable and has a huge influence here. But, he never used that influence for the development of this region," Chelladurai added.
And, OPS, who hails from Periyakulam, has shown that he has ignored his native place as well and not done anything to develop that area as well.
"That constituency is a century-old municipality, where he was elected from twice. Yet, he turned a blind eye to that constituency. After Periyakulam was made into a reserved constituency, he didn't shown any interest to develop it. He took all the schemes and colleges to Bodi, so, he cannot be considered as a 'son of soil'. The 'Tamil Chemmal' award given to Tamil scholars has gone to scholars from Theni region for the past six years. And this has created displeasure among many Tamil scholars from other districts," said the Theni-based writer.