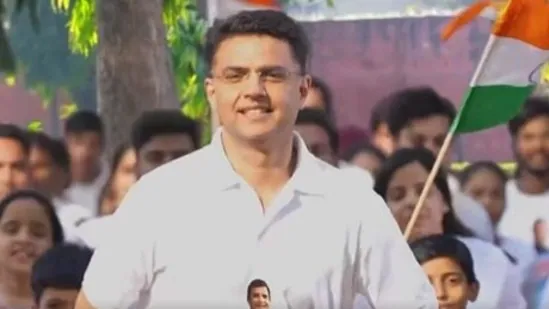 As the assembly polls draw near, Rajasthan Chief Minister Ashok Gehlot and the Congress central leadership face increasing pressure. To address concerns of corruption and paper leaks, party leader Sachin Pilot will commence his "Jan Sangharsh Yatra" from Ajmer on Thursday (May 11). The yatra will span approximately 125 km over the course of five days.
Last month, the Tonk MLA and former deputy of Gehlot held a day-long fast, targeting his own party's government in Rajasthan for "inaction" in alleged cases of corruption when the BJP ran the state.
Also Read: Sachin Pilot: Seems Gehlot's leader is Vasundhara Raje, not Sonia Gandhi
Pilot will address a gathering near Ashok Udyan on Jaipur Road around noon on Thursday before commencing the march towards the state capital. He will halt for the night at Tolamal village in Kishangarh.
The former Rajasthan Congress chief has asserted that his march was not against anyone, but against corruption and over issues such as paper leaks.
Gehlot and Pilot have been at loggerheads publicly for more than two years. In 2020, Pilot had led a rebellion in the party for a change of leadership in the state. However, Gehlot managed to survive and Pilot and some of his loyalists were later ousted from the state cabinet.
Also Read: 'Big conspiracy': Vasundhara Raje's sharp rebuttal after Gehlot says 'she helped save his govt'
The chief minister, while addressing a public programme in Dholpur on Sunday, had claimed that he survived a revolt in 2020 by some Congress MLAs because BJP leaders Vasundhara Raje and Kailash Meghwal refused to support a conspiracy to topple an elected government through money power.
A couple of days later, Pilot targeted Gehlot over his comments, saying it appeared that the veteran Congressman's leader was Vasundhara Raje Scindia and not Sonia Gandhi. He had also rejected the charge that the dissidents whom he had led — took any money from the BJP.
(With agency inputs)