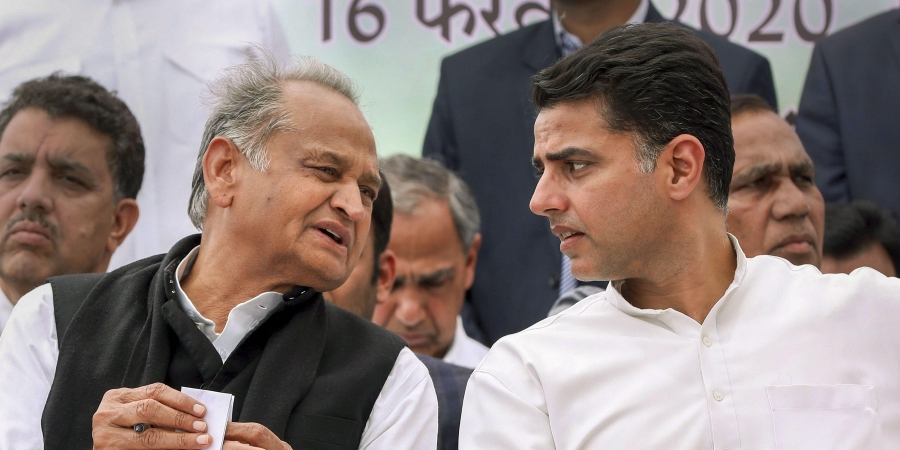 Gehlot vs Pilot: Sonia may leave it to new Cong prez to solve Rajasthan crisis
Has Ashok Gehlot's uncharacteristically rebellious stance forced the Congress high command to defer its plans of foisting Tonk MLA Sachin Pilot as Rajasthan's new chief minister?
On September 29, Congress organisational general secretary KC Venugopal declared that interim party chief Sonia Gandhi would take a call "in one or two days" on whether Gehlot stays Rajasthan's CM, makes way for bête noir Pilot or for some other colleague. That deadline came and went without any change in the status quo of power equations in Rajasthan Congress or its government.
Also read: Congress polls: Gehlot backs Kharge, says Tharoor belongs to elite class
Congress insiders told The Federal that with Gehlot now out of the party's presidential contest the high command "does not wish to act in haste" in elevating Pilot. A senior party leader said that with Gandhi family loyalist Mallikarjun Kharge expected to win the party's presidential election against Shashi Tharoor, Sonia may even leave the task of solving the Rajasthan power riddle to her successor, who will be announced on October 19.
Congress high command in a bind
The intervening period would allow tempers to cool in Jaipur, give Pilot the time he clearly needs to win support among Rajasthan Congress MLAs and simultaneously let the Gandhi family's emissaries reach out to individual MLAs as well as Gehlot to prevent any reprisal against a prospective change of leadership. A party functionary said that if Gehlot and the over 90 MLAs still loyal to him remain adamant on their 'anybody but Pilot for CM' stand, the possibility of a compromise candidate – Rajasthan Assembly Speaker CP Joshi, in all likelihood – may be explored.
Meanwhile, Gehlot, who remains the choice of a majority of the party's 108 MLAs for the role of the state's top executive, has returned to Rajasthan. He has sought the public's suggestions for drafting next year's state budget, taken veiled potshots at Pilot and repeatedly asserted that there is a continuing conspiracy by the BJP to destabilise his government.
Also read: Congress govt to complete full term in Rajasthan: Gehlot
The 71-year-old has also made a terse observation for the Congress high command to take note of – that observers sent by the party to Jaipur to discuss the possibility of a transition of leadership must "be neutral and convey to the Congress president the real wishes of the MLAs".
Pilot is back in Jaipur too. The Tonk MLA has refrained from making any disclosures about what assurances, if any, he got from Sonia when he met her at 10, Janpath last week.
Interestingly though, aside from meeting MLAs, party leaders and workers loyal to him, Pilot also had an over hour-long meeting on October 3 with senior Rajasthan Cabinet minister Pratap Singh Khachariyawas. Once a confidant of Pilot, Khachariyawas is now viewed in Rajasthan's political circles as one of Gehlot's staunchest supporters.
Congress insiders claim that Gehlot's resistance to simply give up his chief ministerial chair in Jaipur, even if doing so could have made him the party's national president, and Pilot's inability to make his leadership acceptable to a majority of party MLAs has put the Congress high command in a bind.
Also read: Rajasthan mutiny exposes flaws fundamental to Congress leadership
Gehlot won't betray his MLAs
The haste that Sonia showed on September 25 by dispatching Kharge and Ajay Maken to Jaipur to get the Congress Legislative Party pass a one-line resolution authorising her to name the new head of government had triggered an unexpected rebellion by Gehlot's supporters. Though Gehlot has apologised for his failure in discharging the moral responsibility of getting such a resolution passed, it is widely believed that the CM is in no mood to make way for Pilot. Upon his return to Rajasthan last week, Gehlot made it clear that he could not betray the over 100 MLAs who stood strongly with him two years ago when "the BJP and these people (a veiled reference to Pilot and his 18 'rebel' MLAs) were conspiring to topple our government".
Sources say in her meeting with Pilot, Sonia had conveyed to him that though he remains the high command's choice for eventually succeeding Gehlot, the party can't afford to imperil the stability of its government in one of the only two states it presently rules. Pilot, Congress leaders close to the high command say, was told to personally reach out to party MLAs, particularly those loyal to Gehlot, and dispel any misgivings they may have about him. Pilot's meeting with Khachariyawas is being viewed as a follow-up on this advice.
Gehlot, sources said, has told Sonia and her interlocutors that he has no desire for a confrontation with the high command and would "remain loyal to the Congress irrespective of whether I remain CM or not". Party leaders privy to these discussions told The Federal that woven within these assurances is also Gehlot's sole condition for relinquishing the chief ministership – that the throne must not pass to Pilot.
Also read: Over 90 Gehlot loyalists threaten to quit if Pilot is named Rajasthan CM
Party leaders who claim proximity to the Gandhis have conceded that Sonia "never expected" Gehlot to disobey her given the Rajasthan CM's ad nauseam boasts of a being a wafadaar (loyalist) of the Congress for nearly 50 years and his claim that his resignation from Jaipur's hot seat "is always with Sonia Gandhi".
The Rajasthan fiasco, however, made it clear that Sonia had not factored in just how much Gehlot has come to detest Pilot ever since that failed rebellion of July 2020.
'Traitor Pilot'
When the political drama in Jaipur was still unfolding, a party veteran had tried to intercede with Gehlot on Sonia's behalf. The veteran told The Federal that Gehlot was unambiguous: "he told me bluntly – mujhe party se nikalna chahein toh nikal dein lekin iss gaddar ko toh CM kabhi nahi banne dunga (they can expel me from the party but I will never let this traitor become CM)". The leader added, "I have known Gehlot since 1980 and in all these years, I have never seen him this angry; he was always famous for his composure and ability to outmanoeuvre intra-party rivals, including stalwarts such as Parasram Maderna or Shiv Charan Mathur, without an ugly confrontation but the mere mention of Pilot's name makes him burst into a fit of rage".
Sources close to the Rajasthan CM told The Federal that when he met Sonia last week, Gehlot impressed upon her that appointing Pilot in his place "would be a blunder" as the MLAs who had ensured his government's survival against Pilot's failed coup would "be demoralised and feel that their loyalty to the party is taken for granted while those who tried to destabilise our government were getting rewarded".
Also read: Can Gandhis replace Gehlot with Pilot without replaying Punjab in Rajasthan?
Despite Gehlot's prophecies of doom under a government piloted by his bête noir, the Tonk MLA's loyalists are hopeful of a transition of power in Jaipur soon. A party MLA from the Pilot camp told The Federal, "anti-incumbency against our government has been building for some time now on issues ranging from social unrest, deteriorating law and order to unfulfilled poll promises but the CM is busy running down Pilot and his supporters." The Pilot loyalist added, "we will retain power in Rajasthan only if Gehlot is replaced and only party leader who has a legitimate claim to the CM's chair and the ability to reverse the current anti-incumbency is Pilot but the high command must give him enough time to do that or else we will face the same fate that we faced in Punjab earlier this year."
Pilot's challenge remains that a substantial chunk of party MLAs, even if not all who had stayed loyal to Gehlot two years ago, are still unwilling to accept him as their CM. Many of these MLAs also believe that claims of Pilot's mass appeal are inflated.
Then there is the impression of Pilot's lack of political savvy that bears out every now and then. Congress insiders say that the reason why Gehlot was pivoted to the CM's chair in 2018 despite Pilot leading the campaign as the state Congress chief was because he fielded official candidates of his choice in nearly two dozen constituencies where Gehlot was lobbying for tickets for his loyalists. Gehlot, say sources, gave his confidants his blessings to contest as independents on many such seats.
When the results came out, the Congress had stopped two seats shy of a simple majority of 101 in the 200-member Rajasthan assembly. A dozen independents close to Gehlot, who were denied Congress tickets at Pilot's behest, had won. Gehlot also succeeded in quickly getting six BSP MLAs to endorse his candidature as CM and, with the assured support of 12 independents, got the Congress a comfortable majority.
Also read: Ashok Gehlot: Trying to strike a chord with masses ahead of Rajasthan Assembly polls
This ability to pre-empt a post-poll scenario well before votes were even cast for an election, sources say, had also worked in getting Gehlot his second chief ministerial tenure back in 2008 when he had outsmarted his then protégé-turned-rival and state Congress chief CP Joshi. Joshi had famously lost that election by one vote and the Congress had, again, stopped four seats shy of a simple majority – a deficiency that was later covered by confidants of Gehlot who had won as independent candidates.
'Magician' of Rajasthan politics
Pilot's failed rebellion of mid-2020 too proved his inability to outsmart Gehlot, often hailed as the jaadugar (magician) of Rajasthan politics (his father was a professional magician and Gehlot, in his teenage years, had also dabbled with the craft). When Gehlot bowed out of the Congress presidential poll on September 29 taking moral responsibility for the revolt by his loyalists against the high command, many believed he had intended to do so to prevent Pilot from taking over as CM even if it meant drawing the wrath of the Gandhis who he publicly holds in high reverence.
Also read: As history shows, intra-party election can be make or break for Congress
Whether this perceived Machiavellian scheming by Gehlot during the past fortnight ultimately proves to be his undoing will be known only when Sonia – or her successor – sits as the final arbiter on the Gehlot-Pilot turf war later this month. What is evident though is that Pilot, even if he does succeed in taking the CM's throne, has much to learn about the wily machinations of statecraft – and he won't find a guide in Gehlot.
Also read: Ideal conditions created for investment in Rajasthan: CM Gehlot