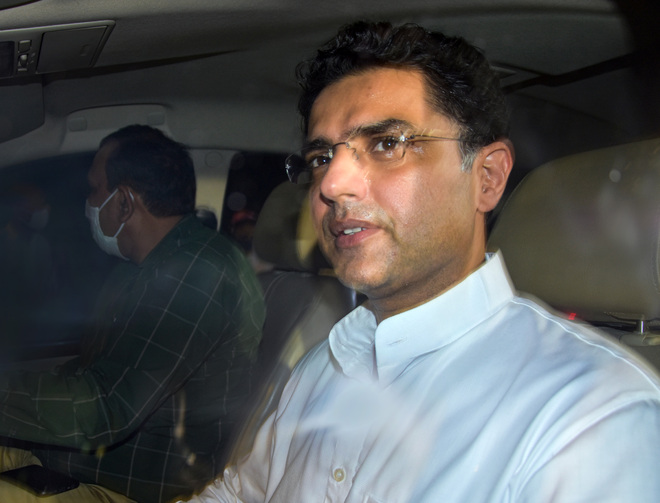 Sachin Pilot is expected to return to Jaipur on Tuesday, a day after arriving at a truce with the Congress following a meeting with Rahul Gandhi and Priyanak Gandhi Vadra in New Delhi on Monday.
Pilot had rebelled against the party on July 12 for not appointing him as Rajasthan chief minister by removing Ashok Gehlot. He had walked away with 18 supporting MLAs.
The young leader agreed to return to the Congress after the Gandhi's assured him that they would look into his complaints, mainly about the functioning of Gehlot, NDTV reported.
Advertisement
Rahul and Priyanka are said to have met the rebelling MLAs to listen to their grievances.
Gehlot, however, is said to be unhappy that Pilot has been allowed to return without facing any action for the rebellion.
He is likely to travel to Jaisalmer to be with his supporting MLAs ahead of a likely trust vote on Friday.
According to Congress leaders, the MLAs in the Gehlot camp did not want Pilot and his group to be allowed to return. They are now feeling "let down" because the rebels were not punished for their betrayal, NDTV quoted the leaders as saying.
Gehlot has been openly criticising Pilot for breaking away. NDTV, quoting sources, said he had got in touch with the party leadership on knowing that it was looking to patch up with Pilot.
He was, however, told not to create an issue as the high command did not want Rajasthan to go the Madhya Pradesh way, where the Congress government led by Kamal Nath fell after Jyotiraditya Scindia left the party with his supporters to join the BJP.
Talking to media persons after meeting the Gandhi's on Monday, Pilot said he had some "ideological issues" and they were now sorted.
Sources said during the discussions with Rahul and Priyanka, Pilot agreed to drop his main demand of removing Gehlot as chief minister.