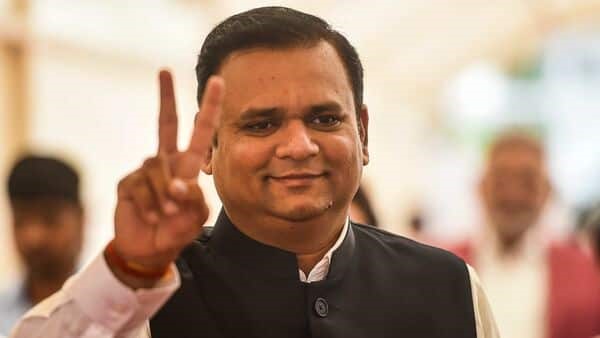 Maharashtra assembly Speaker Rahul Narwekar on Friday (May 12) maintained that he will not succumb to any pressure while taking a decision on the disqualification of 16 MLAs of the ruling Shiv Sena. And reiterated that whatever time is required to complete the process will be taken.
Narwekar's comments comes close after Supreme Court gave its verdict on the 2022 political crisis in the state. In an interview to Marathi news channel Zee 24, Narwekar who is in London said that as a Speaker, he will not succumb to any pressure.
"Whatever time is required to dispose of the petition will be taken and there will be no compromise on it," he said, adding that those who believe in democracy and the Constitution should not put extra constitutional pressure.
He said the Speaker's post does not belong to any party, but it is of the entire House and any person occupying the position takes decisions in accordance with norms enshrined in the Constitution.
Also read: Maharashtra: Uddhav asks Speaker to decide on disqualification of 16 MLAs
His comments came in the backdrop of Shiv Sena (UBT) leader Uddhav Thackeray's statement earlier in the day that the assembly Speaker should take a decision on the disqualification of 16 rebel MLAs, including Chief Minister Eknath Shinde, at the earliest.
Narwekar said the disqualification issue will be decided by taking into account all relevant legal, political and legislature aspects.
It will be seen who controlled the political party and which group represented the political party. All the details will be taken as per Supreme Court's directions and will work accordingly, he pointed out.
There are many petitions and all the rules of the CPC (Code of Civil Procedure) are applicable to the petitions and all aspects like leading the evidence, cross-examination, examination-in-chief, giving hearing to everyone and all points will be followed religiously and only then a decision will be taken, the Speaker said.
Also read: Uddhav Thackeray calls for Eknath Shinde's resignation following court order
A decision in the matter will be taken on the basis of law and in accordance with constitutional provisions, he said.
The Supreme Court on Thursday held that it cannot restore the MVA government led by Thackeray as he resigned as CM without facing a floor test in June last year. However, the SC passed critical remarks against then-governor B S Koshyari in context of the political crisis triggered by a rebellion in the Shiv Sena.
It asked the Assembly Speaker to decide on the disqualification of 16 MLAs of the Shinde camp within a "reasonable period".