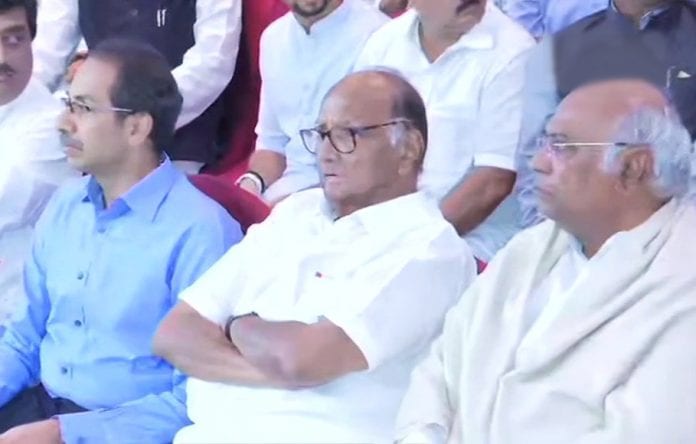 The Congress-NCP-Shiv Sena combine paraded 162 MLAs at the Grand Hyatt hotel in Mumbai on Monday (November 25), to show that it has the majority numbers to form a stable government in Maharashtra.
NCP chief Sharad Pawar, Congress leader Mallikarjun Kharge and Sena supremo Uddhav Thackeray were present at the hotel during the show of strength. "Long live Maha Vikas Aghadi" slogans were raised at the hall the MLAs assembled, media reports said.
Earlier, Sena leader Sanjay Raut had said that it would be a proof of the combined strength of the three parties. Any party or combine needs the support of at least 145 MLAs to prove majority in the 288-member assembly.
#WATCH Mumbai: Shiv Sena-NCP-Congress MLAs assemble at Hotel Grand Hyatt. #Maharashtra pic.twitter.com/7dmViA6uXF

— ANI (@ANI) November 25, 2019
Announcing the move on his tweeter handle, Raut had appealed to Governor Bhagat Singh Koshyari to witness the "parading" of the legislators of the three parties.
"We are all one and together, watch our 162 together for the first time at grand Hyatt at 7 pm, come and watch yourself @maha_governor," he tweeted. He also tagged the official twitter handle @maha_governor of the Governor.
Also read: Ajit Pawar's revenge leaves uncle Sharad Pawar reeling in Maharashtra
"The idea is to turn the public perception towards us. Once we parade 162 MLAs in one hall, entire nation will come to know that BJP is playing a dirty game in Maharashtra by misusing office of the governor," said an NCP leader.
The MLAs of the Sena, the NCP and the Congress were kept at different hotels in Mumbai to prevent any "attempts of poaching by the BJP".
The three-party combine had earlier in the day handed over a letter to the governor requesting him to call the coalition to form government, asserting that the BJP government does not have the numbers to survive.
Also read: Maharashtra's midnight coup reminiscent of TDP family drama
This comes after in a dramatic development, BJP's Devendra Fadnavis and NCP's Ajit Pawar were sworn in as the chief minister and his deputy on Saturday morning. The government had claimed the support of the NCP MLAs, a claim which was turned down by Sharad Pawar.
The issue was subsequently taken to the Supreme Court which is expected to announce its verdict on Tuesday (November 26).
(With inputs from agencies)