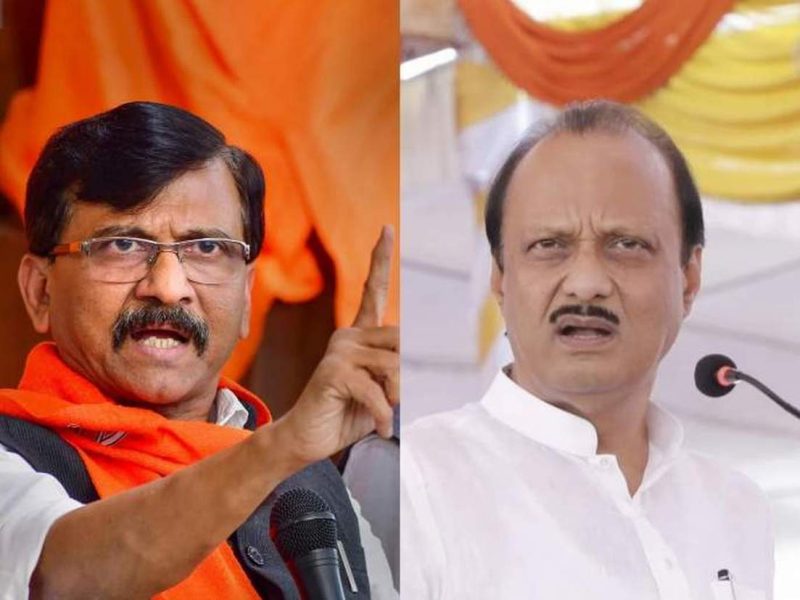 Sanjay Raut at loggerheads with Ajit Pawar, again, this time over 'spitting row'
Shiv Sena (UBT) MP Sanjay Raut and senior NCP leader Ajit Pawar are at loggerheads once again, this time over a controversial statement given by the former apparently targeting Pawar.
The repeated war of words between the two leaders doesn't augur well for the Maha Vikas Aghadi (MVA), comprising the Uddhav Thackeray-led Shiv Sena faction, NCP, and Congress, as the three parties are gearing up to contest the Lok Sabha election 2024 in alliance.
Also read: Sanjay Raut to Ajit Pawar: I only listen to Sharad Pawar
It all started with Raut spitting on the ground in front of cameras when reporters sought his reaction to Shiv Sena MP Shrikant' Shinde's jibe targeting Thackeray during a press conference on Friday. Shrikant, a Lok Sabha MP from Kalyan, had flayed Thackeray, saying that he might have gone abroad as he could not tolerate Mumbai's harsh summers. Raut paused for a few seconds and asked, "Who is saying this?" When a journalist named Shrikant Shinde, he spat on the ground and then spoke with the journalist. The incident was caught on camera and got viral on social media. However, Raut on Saturday claimed that spitting was accidental and not intentional as he was having a problem with his teeth.
Meanwhile, responding to media queries regarding the incident, Ajit Pawar said, "Political leaders should refrain from making any objectionable statement and conduct. We have the right culture, tradition and history that goes from the days of the first chief minister of Maharashtra Yashwantrao Chavan. I have come to know that Sanjay Raut was suffering from some ailment and therefore had to spit." However, Pawar's remarks didn't go down well with Raut who immediately hit back at him, stating, "It is better to spit than urinate in the dam."
Also read: Ajit Pawar: People voted for Modi's charisma over degree
Ajit Pawar had sparked a controversy in 2013 with his comments ridiculing the acute water scarcity in the state. Referring to the hunger strike of a drought-hit farmer, Pawar had said, "He is on fast for the last 55 days. If there is no water in the dam, how can we release it? Should we urinate into it? If there is no water to drink, even urination is not possible." He had later apologised for his remarks.
Later, Raut regretted that he should not have made the statement that soured the relationship between the two leaders. Political observers feel that senior leaders like Raut and Pawar should restrain from making such statements, as it may damage the MVA's poll prospects in the coming elections.