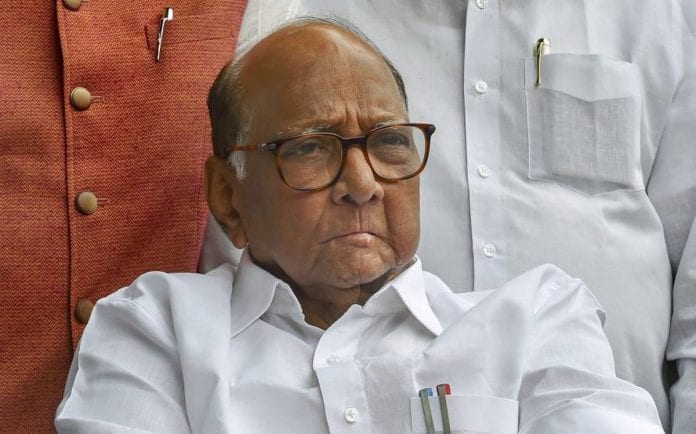 Veteran leader Sharad Pawar on Friday said he has decided to rescind his decision to step down as Nationalist Congress Party (NCP) president, owing to pressure from party leaders and workers.
"I can't disrespect your sentiments. Due to your love, I am accepting the demand that was made to me to withdraw my resignation, Pawar, 82, told reporters, hours after the NCP panel selected by him to pick his successor passed a resolution that he continue as the party president.
Senior NCP leader Ajit Pawar, who was seen backing his uncle's decision to step down when he made that announcement on May 2, was not seen at the NCP chief's press conference.
Opinion | Sharad 'Sonia' Pawar: Party unification via provoked emotional upsurge
Asked about Ajit Pawar's absence at Fridays press briefing, Sharad Pawar told reporters, "Not all people can be at all places."
He asked the media not to read too much in his nephew's absence.
Pawar said his daughter and MP Supriya Sule declined a suggestion by party leaders to become NCP working president. Pawar's resignation announcement on Tuesday had sent shockwaves among the party cadre.
After pressure from party workers and leaders mounted, Pawar said he would take two-three days to rethink his decision. Pawar said he could not disrespect the sentiments of his colleagues and party workers who insisted that he withdraw his decision.
Pawar said. "I will also work vigorously for the growth of the organisation and take our ideology and goals of the party to the people," he said. "During the publication of my autobiography, I announced my retirement from the NCP chief's post. After 63 years in public life, I wanted to be free from all responsibilities. However, my decision did not go down well with the people and a strong reaction was seen. NCP workers, office bearers, and people were unhappy."
"They asked me to reconsider my decision. They appealed to me for the same. Also, leaders from various political parties across the state and the country requested me to continue as the president of the party," Sharad Pawar said.
On his role ahead of the 2024 Lok Sabha polls, Pawar said, "Bringing all parties together is important when it comes to the elections. I enjoy personal relations with many who said that I was required for this. They include Rahul Gandhi, Sitaram Yechury and many more. The rumours about some of our MLAs joining the BJP are completely false."
On the absence of Ajit Pawar from the press conference where Sharad Pawar withdrew his resignation, state NCP chief Jayant Patil said Ajit Pawar was there to urge him to withdraw the resignation.
(With Agency inputs)