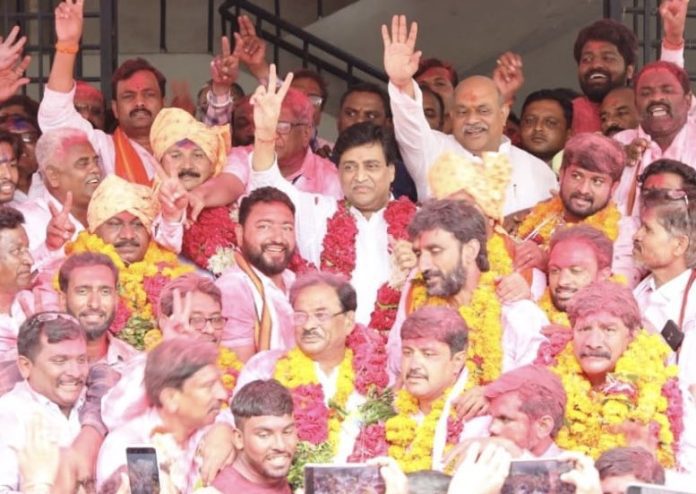 In a major jolt to the BJP-Shiv Sena (Shinde) government in Maharashtra, the Maha Vikas Aghadi (MVA) has scored it big in the Agriculture Produce Marketing Committees (APMCs), for which elections were held in Maharashtra on April 28.
The MVA, comprising Shiv Sena (UBT), Congress and NCP has won a majority of the seats in the APMC elections, bagging around 80 seats out of 131, while the ruling alliance had to be content with around 40. Incidentally, party symbols are not used for APMC polls, but political outfits make every effort to ensure that their "panels" win. The MVA displayed great coordination and its constituents resorted to micro and macro adjustments to keep their flock together in the polls.
Also read: Sharad Pawar steps downs as NCP chief; won't retire from active politics
NCP retains hold amid setbacks
The NCP seems to have managed to keep its hold on Western Maharashtra, parts of North Maharashtra, and Marathwada largely intact, while the BJP appears to have swept Vidarbha along with parts of North Maharashtra and Marathwada and also made some inroads in Western Maharashtra.
In Sharad Pawar's home turf of Baramati, the NCP emerged victorious on all 18 seats. In Parli too, NCP won all 18 seats. In Nanded, the Congress led by former Chief Minister Ashok Chavan won 13 of 18 seats. In Latur, the Congress made a clean sweep under former minister Amit Deshmukh. NCP won the Phaltan APMC in Satara district while CM Eknath Shinde's Shiv Sena faction won in Paithan. The BJP dominated Yavatmal-Ghatji Bazar. In Nashik, NCP won nine out of 15. BJP scored victories in Pune, Chhatrapati Sambhajinagar, Ahmednagar and Karjat.
All eyes were on the Pune election as it was being held after two decades. The BJP handed a shock defeat to the NCP in the latter's stronghold Pune, winning 13 of the 18 director posts. In another blow to the NCP, the BJP won the APMC polls in Karjat. NCP leader Rohit Pawar, grandnephew of Sharad Pawar, is the MLA from Karjat Jamkhed constituency.
The BJP suffered a major setback in Vidarbha as its state unit chief Chandrashekhar Bawankule failed to retain the APMC in Kamptee Maudha. The ruling party also lost important APMCs in Buldhana, Yavatmal and Akola. In Sangli, BJP MLA and Labour Minister Suresh Khade saw the APMC directorship go to an MVA-led panel. Similarly, Shiv Sena (Shinde faction) ministers Dadasaheb Bhuse and Sanjay Rathod could not ensure victory of panels in their areas – Malegaon (Nashik) and Digras (Yavatmal), respectively.
Also read: Will Maha Vikas Aghadi beat the odds to stop BJP juggernaut in 2024?
BJP joins hands with Congress!
While the MVA allies won in most of the mandis, there were a few exceptions, with the NCP and BJP joining hands to keep the Congress out, and even the Congress and BJP uniting against the NCP at some places. In Karad, where the NCP and BJP joined hands, the Congress-backed panel still managed to win 12 of the 18 seats. In Varud market committee in Amravati district, the Congress got together with the BJP to score a win. However, the complete party-wise breakup of the election results was not available immediately since these elections are contested in individual capacity and not as political parties.
APMCs are cooperative bodies responsible for regulating trade of agricultural produce in their area of operation, and hold a lot of clout in Maharashtra rural areas. It can be gauged from the fact that many say an APMC director's post is coveted next only to being an MLA of the area. APMC elections hold great significance as they indicate as to which the winds are blowing in rural areas. Farmers in Maharashtra are associated with 255 APMCs.