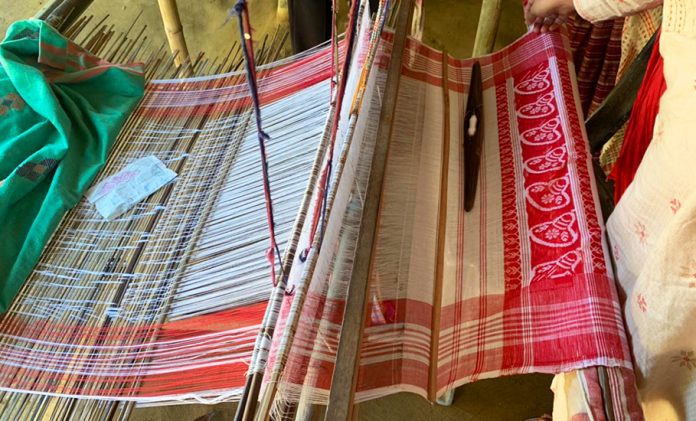 The Assam government's sudden ban on the sale of machine-made varieties of traditional garments, such as mekhela-sador and gamusa, has come as a bolt from the blue for Surat textile traders.  
The mekhela sador is a traditional sarong traditionally worn by Assamese women. A gamusa is a thin, coarse cotton towel that mostly features a checked design.
The port city in Gujarat accounted for the production and supply of almost 60% of the two traditional textiles to Assam. However, Assam Chief Minister Himanta Biswas on February 28 issued a notification banning the sale of mekhela-sador and gamusa made on power looms, with effect from March 1. The move came after these traditional textiles got the Geographical Indication (GI) tag in December 2022.
The Federal Premium: How Kaithun women weave together Kota Doria saree's delicate legacy on their looms
The power loom-made mekhela-sador and gamusa came primarily from Surat, and also from Varanasi. The sudden ban has left hundreds of weavers and traders in Surat in the lurch. The textile traders have made several representations to the BJP government in Gujarat, seeking help in at least clearing the huge stocks of the garments lying in their godowns, but to no avail.
Interestingly, Assam, Gujarat, and Uttar Pradesh are all ruled by the BJP.
Future of weavers at stake
According to the Surat Weavers' Association, the future of more than 1,200 small- and large-scale weavers is at stake, with trade worth ₹500 crore in jeopardy. Adding to that, deals of over ₹200 crore and stocks worth more than ₹150 crore are stuck, thanks to the sudden ban.
"The trade has an annual turnover of around ₹3,000 crore. The sudden ban will impact around 700-800 traders and 300-400 weavers along with the migrant labourers working at the looms that produce mekhela-sador and gamusa in Surat," said Champalal Bothra, general secretary of the Federation Of Surat Textile Traders' Association.
The Federal Premium: How wrapping in traditional art of gamocha-making is infusing life in an Assam village
The mekhela-sadors produced in Surat are made from polyester, cotton, nylon, and kota yarns, while those in Assam are made from silk and khadi. Due to bulk production on power looms, the mekhela-sadors made in Surat are cheaper.
Industry groups up in arms
"Apart from the ready-made mekhela-sador and gamusa, the zari used in the handloom-made mekhela in Assam is also sent in bulk from Surat. The entire business has been shut for more than a week now. The sudden ban may prove catastrophic for the Surat textile industry," said Ashok Jirawala, president of the Federation of Gujarat Weavers' Association.
"Industry representatives have raised the issue with Union Minister of State for Textiles Darshana Jardosh. A meeting with Commerce and Industry Minister Piyush Goyal in Delhi is also being planned," he added.
"The handloom-made mekhela-sador produced locally in Assam is expensive, whereas our machine-made products are cheaper, made quicker, and have a better finish," Jirawala argued. "While a handloom mekhela-sador sells for ₹7,000-8,000, the machine-made variety produced in Surat costs only around ₹500-700."
Watch: India's opportunity to dominate textile market disrupted by cotton price hike
"Besides, Surat-made products meet more than 50% of Assam's market demand. The manufacturing time of the handloom-made mekhela-sador is quite long. They won't be able to meet the market demand," he added.
The timing of the ban has also shocked traders in Surat. They had been stocking up on the garments and zari in view of the upcoming Bihu festival that causes a surge in demand around March-April every year. Now, they are staring at huge losses.
Assam's notification
The gamusa and mekhela-sador of Assam got the GI tag in December 2022, following which the Assam government decided to ban power-loom-made products.
The notification issued on February 28 stated: "You are all aware that the Registrar of Geographical Indication, Chennai, has granted the GI application to the Gamusa of Assam in favour of Directorate of Handloom & Textiles of Assam on 13th December, 2022. Hence, … Assam's gamusa is prohibited from being produced outside of the state.
"According to the Handloom (Reservation of Articles for Production) Act, 1985, the…Gamusa, Mekhela Sador, Danka, Khamlet, and Dokhana, etc., are reserved for exclusive production by handloom only. It has been observed that some unscrupulous traders are importing and selling cheap Gamusa and other traditional items made in power looms.
"For better enforcement of the provision of the GI and Handloom (Reservation of Articles for Production) Act, 1985, the special drive is being conducted to prevent the production, import and sale of Gamusa, Mekhela Sador, and Dokhana and other traditional attires made in power loom. The enforcement squad is being constituted for this purpose with the help of District/Sub-Divisional administration."