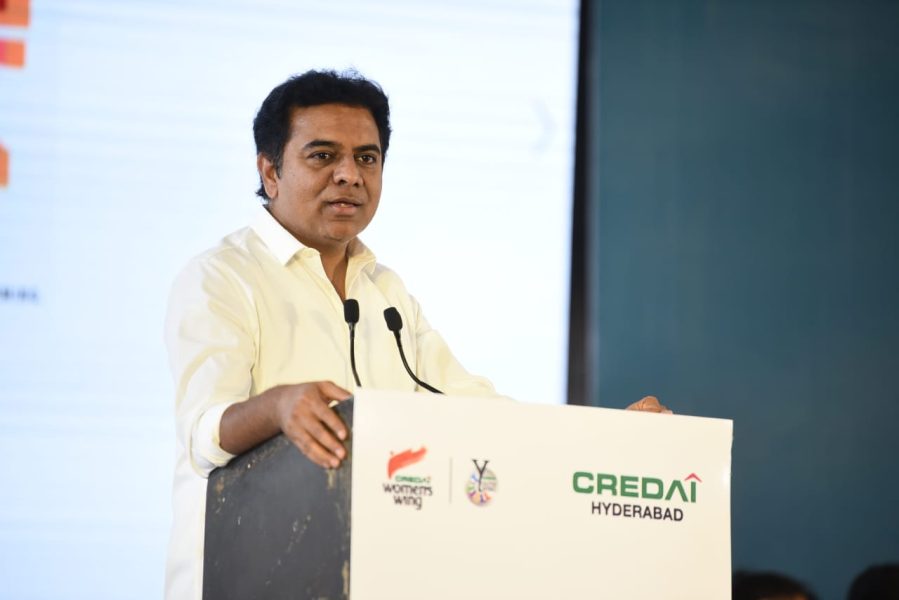 Ahead of Union Budget 2023-24, Telangana Minister for IT, Industries and Municipal Administration, KT Rama Rao (KTR), in a letter to Railway Minister Ashwini Vaishnaw, had alleged "discrimination" against the state in the railway sector.
After Union Finance Minister Nirmala Sitharaman presented the Budget on February 1, Vaishnaw visited Telangana and slammed the K Chandrasekhar Rao-led Bharat Rashtra Samithi (BRS) government for not cooperating with the Railways for several projects over the last two to three years.
Also read: Budget 2023-24: FM's big push for railways, infra and connectivity
However, the minister did not elaborate on what projects the state government was not cooperating with the Centre.
₹4,418 crore allocated
According to Vaishnaw, the outstanding amount that Telangana owes to the Railway Ministry as state share is more than ₹500 crore. In Hyderabad, Vaishnaw explained the budgetary allocation for 2023-24 in the railway sector for Telangana and said the state was allocated ₹4,418 crore this year and the value of the total projects allocated to the state stood at ₹29,581 crore.
"There was a record allocation of funds in Budget for Railways in Telangana. While it was ₹886 crore allocation for combined Andhra Pradesh for Railways in 2014, the amount allotted for Telangana alone this year stands at ₹4,418 crore, five times the past allocation," he said.
Hon'ble Minister of Railways @AshwiniVaishnaw briefing about Rail Budget allocation to #Telangana#Budget2023 #AmritKaalBudget pic.twitter.com/ULDjW1HL5B

— DRM Vijayawada (@drmvijayawada) February 3, 2023
"We are ready to cooperate with State government provided they are ready to extend required assistance like land acquisition, paying their share and according permissions. We are ready to examine if they send the proposals on the new metro line between Rayadurg and Shamshabad," he added.
Also read: Budget 2023-24: A year's extension for 50-year interest-free loans for states
Vaishnaw said there was "very little movement" from the state government over land acquisition for a railway coach factory in Kazipet. The railway coach factory in Kazipet was upgraded to a wagon manufacturing factory for ₹521 crore, he added. The project requires 160 acres land and the state government had handed over only 150 acres, according to the minister.
"It is very unfortunate that in Telangana the focus is not on development of infrastructure but on something else. Despite so much push from the Central government for creating a strong foundation for long-term growth of the state and the people of Telangana there is very little support from the state government," he said.
Also read: India's first hydrogen train on Kalka-Shimla route by December: Vaishnaw
He also said that Hyderabad is getting developed as a major hub for developing two major technologies, first being 6G and the second, railway technologies for AI, machine learning, IOT and train protection system. Centres of Excellence are being developed within Hyderabad, he added.
'Centre should clarify'
Telangana State Planning Board vice-chairman and former MP B Vinod Kumar, responding to Vaishnaw, was quoted as saying by Times of India, "Before asking for the land, the Centre should clarify how much fund is being allocated to the wagon manufacturing unit and also how many jobs are being created to the locals."
Kumar said gross injustice was done to the state in the railway budget as no new railway lines have been sanctioned and no funds granted, the report added.
Also read: Budget 2023-24: Telangana calls it 'anti-farmer'
According to South Central Railway (SCR), Telangana received almost two times more rail budget allocation in 2023-24 compared to 2021-22. This time it was 45 per cent more from ₹3,048 crore in 2022-23.
Record Budget Allocation for Railway Expansion & Modernization

Telangana receives almost 2 times more Rail Budget allocation in 2023-24 compared to 2021-22. A staggering Rs.4,418 Crores have been allocated for Infrastructure & Safety Projects.#AmritKaalBudget #Budget2023 pic.twitter.com/Uch3Bn30UL

— South Central Railway (@SCRailwayIndia) February 3, 2023
"There has been a consistent increase in the funds allocation to Telangana in successive Budgets in recent times," SCR said.
SCR has been sanctioned a gross amount of ₹13,786.19 crore for 2023-24 compared to ₹8,349.75 crore for 2022-23, nearly 65 per cent increase from the last budget. The allocation for Andhra Pradesh is of ₹8,406 crore, which is 20% more than last year.
While the Centre says there has been an increase in funds allocation to Telangana, the state government is singing a different tune.
Telangana got 'raw deal'
Before the budget, minister KTR, son of CM KCR, had written to Vaishnaw alleging that the state was getting a "raw deal" in every budget.
Also read: Telangana one of the top performers in the country, says Governor Tamilisai
"The discrimination in the railway sector is more blatant and visible and the state has been getting a raw deal in every budget presented by the NDA government", he said.
"The 13th Schedule of the AP State Reorganisation Act clearly states that 'The Indian Railways shall, within six months from the appointed day, examine the feasibility of establishing a Rail Coach Factory in the successor state of Telangana and improve rail connectivity in the state and take an expeditious decision thereon'. However, despite repeated appeals from the state government, the Centre has neither initiated any measure to establish a Rail Coach Factory in Kazipet nor granted any new major infrastructure project," he added.
Further, he said it is "appalling" to note that in the past eight years, just a little over 100 km of railway track has been laid in Telangana. "The State has a paltry 3 per cent of the total railway lines in our country, out of which about 57 per cent are single lanes. This lack of critical infra is depriving Telangana of any new trains. It is disheartening to note that in the past eight years, the South Central Railway has launched only one new train from the capital city – Lingampally-Vijayawada Intercity Express."
State government 'spent ₹1,904 crore'
Rama Rao said the Modi government did not grant a single new railway line in Telangana in the past eight years.
While Vaishnaw said the state government was not co-operating with Railways, Rama Rao claimed several projects cleared by previous governments were shelved by Modi government.
"Even the progress of joint venture railway projects taken up with the state government is painfully slow. While the Centre has spent just ₹1,100 crore on ongoing railway projects in the state, the state government has spent ₹1,904 crore as its share. This clearly shows the lack of interest of the Centre in developing railway infrastructure in Telangana. Several projects, which were cleared by earlier governments were shelved by the present government. Many other projects for which survey reports were submitted long back have also not moved an inch," he claimed.
While more routes for Vande Bharat are on the cards in Telangana, the Railways have allocated ₹600 crore for MMTS, a lifeline for Hyderabad city. Around 39 stations were developed in the state under Amrit Bharat stations schemes including Secunderabad, Begumpet, Adilabad, Bhadrachalam, Hyderabad and so on.
Inspected the Centre of Excellence for KAVACH in Hyderabad.#MakeInIndia pic.twitter.com/ChkxHUY1S0

— Ashwini Vaishnaw (@AshwiniVaishnaw) February 4, 2023
'12 new major railway projects in Telangana'
Last year, Union Minister of Tourism G Kishan Reddy said the NDA government at the Centre had spent nearly ₹9,494 crore during the past eight years on 12 new major railway projects in Telangana.
"During the past eight years, 12 new (major) projects have been taken up in Telangana… ₹9,494 crore was spent during the past eight years for development in Telangana. As many as 43 railway stations in the state were modernised under Kavach (A state-of-the-art electronic system which was designed to help the Indian Railways achieve zero accidents), he said.
According to reports, Telangana is waiting for Railway Ministry's approval for 11 projects and there are 24 sanctioned new railway projects that are pending.