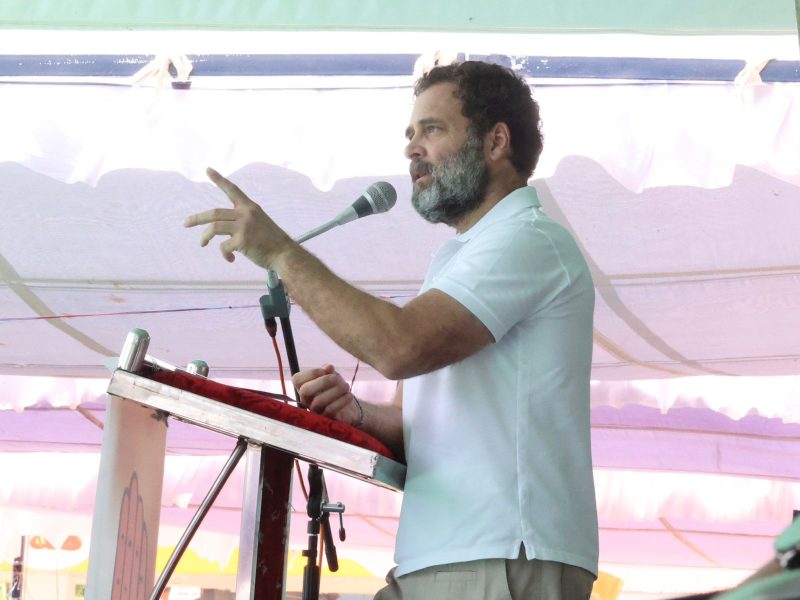 Telangana: BRS, BJP hit back at Rahul for his 'BJP's B team' remark
Taking exception to Congress leader Rahul Gandhi's attack against the BRS, Telangana Finance Minister T Harish Rao has said that the BRS is not the B Team of anybody.
Describing BRS as the "A Team" for the poor, he said BRS was born to protect the country from the "clutches of the BJP" as the Congress has been unable to take on the country's ruling party.
Referring to Rahul Gandhi's corruption allegations against the BRS, Harish Rao claimed that people of the country dislodged the Congress from power as it had become synonymous with corruption.
"Your party's name itself has become scamgress," he said in a release on Sunday night (July 2).
Also read: Telangana: Congress to sound poll bugle at Rahul Gandhi's July 2 Khammam rally
"It is a "joke" to allege corruption to the tune of ₹ one lakh crore in Kaleswaram project as the total cost of the project is ₹ 80,321.57 crore," said Harish Rao, a nephew of Chief Minister K Chandrasekhar Rao.
Recalling the death of eight people in police firing in Khammam when the Congress was in power in 2007 in undivided Andhra Pradesh during a bandh called by the Left parties as part of the land-for-landless-poor agitation, Harish Rao said people would not believe the glib talk of Congress.
BRS leader Dasoju Sravan called Rahul Gandhi's allegations in his speech at Khammam as "baseless".
"Rahul Gandhi's speech in the Khammam meeting was a bundle of lies, and he made baseless allegations, probably based on the script prepared by the Congress workers in Telangana. This is very unfortunate," he said.
Rahul has gone overboard after Karnataka's success: BJP's Kishan Reddy
Union Minister G Kishan Reddy on Sunday (July 2) hit back at Rahul Gandhi, and said that he had "gone overboard" after electoral success in Karnataka.
Reddy also said that the BJP would not form an alliance with either the BRS or Congress to compete in the upcoming elections in Telangana.
Also read: BJP's Telangana dilemma: How to placate Reddys ahead of Assembly polls
"Congress fought the election in Telangana by compromising with BRS. We will not ally with BRS or Congress. He is going overboard and speaking, just because they won one election in Karnataka," said the union minister.
KCR's remote control is with PM Modi: Rahul
Launching a scathing attack on Telangana Chief Minister K Chandrashekar Rao, Congress leader Rahul Gandhi on Sunday (July 2) said his remote control was with Prime Minister Narendra Modi and described the state's ruling party as "BJP's B-Team" and its new nomenclature, BRS, as BJP Rishtedar Samithi.
Gandhi alleged that the corruption charges against Rao and his party's leaders have made them subservient to the BJP, and asserted that he told all other opposition leaders that the Congress would not join any bloc where the BRS (Bharat Rashtra Samithi) was involved.
Also read: Rahul in Telangana: Congress won't join any Opposition bloc having BJP's 'B-team' BRS
Elaborating on how the BRS had partnered with the BJP, Rahul said, "In the Parliament, Congress stood against BJP, but TRS and CM KCR became BJP's B team. TRS extended its support to BJP for the Farmers' Bill. PM Modi has CM KCR's remote control, therefore he does whatever is asked from him."
Gandhi addressed a public meeting at Khammam in Telangana on Sunday (July 2).
(With inputs from agencies)