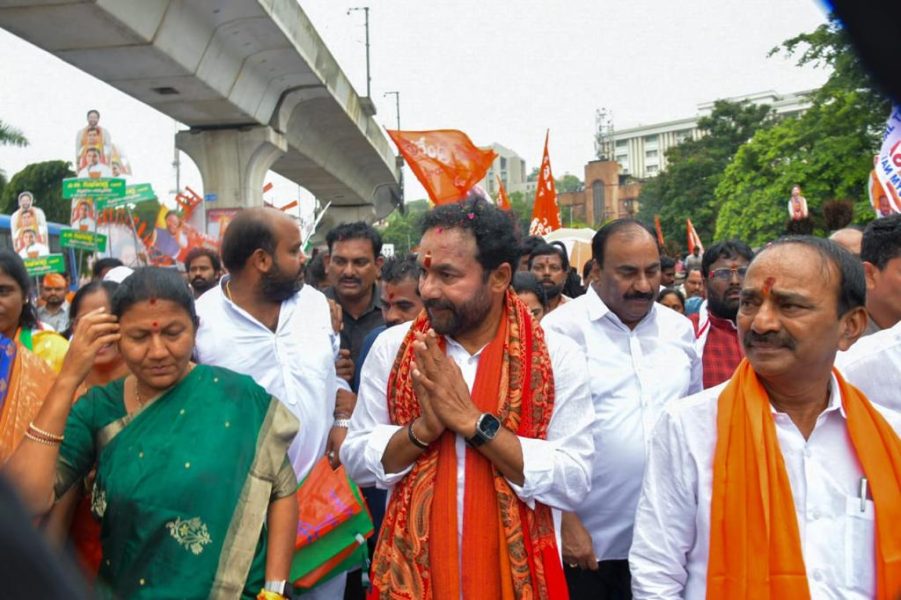 Telangana BJP chief Kishan Reddy vows to electorally bury BRS govt
G Kishan Reddy, the Union Minister for Tourism and Culture, who officially assumed the position of Telangana BJP President on Friday (July 21), declared that the party will relentlessly strive until the ruling BRS government is electorally defeated.
Speaking at a party meeting after taking charge, Reddy said there is a need to work unitedly with the aim of defeating the BRS in the state, as the BJP senior leadership believes Telangana is one of the southern states after Karnataka and Puducherry where the saffron party can potentially come to power.
Referring to Chief Minister K Chandrasekhar Rao, Reddy said the "Naya Nizam" and his family think that they are the owners and kings of Telangana and think that the state should be loyal to his offspring as well.
I along with Sanjay and other leaders will work together and not rest until the BRS government is buried in Abids crossroads (Hyderabad), he said.
Also Read: KCR's 24-hour free power to farmers: Is it real or just a claim?
Questioning the Chandrasekhar Rao government on various poll promises, the union minister said the game has begun and the people of Telangana will fight under the leadership of BJP to defeat the BRS.
Attacking the opposition parties attempts to forge an alliance, he said it is inevitable that Prime Minister Narendra Modi will triumph once again in 2024 general elections and become PM again.
He said that not just one KCR but numerous individuals like him, not just one Owaisi but even a large number of Owaisis, even if they come sacrificing themselves, not just one Rahul Gandhi but many Rahul Gandhis, if they come, none can prevent Narendra Modi from coming to power in 2024.
He said the party would undertake a series of programmes to expose the BRS government's failures.
BJP senior leader and former union minister who is also the party's Telangana in charge Tarun Chugh and former Telangana BJP chief Bandi Sanjay Kumar also spoke at the meeting.
Also Read: UCC a trick to divide people, will oppose Bill: Telangana CM KCR
Sanjay Kumar, without naming anyone, requested the party leaders to allow Kishan Reddy to work peacefully.
Before taking charge at the party's office, Reddy offered prayers at Sri Bhagyalakshmi temple adjacent to Charminar.
Along with other senior leaders, he garlanded the statues of Dr B R Ambedkar and others.
Earlier this month, seeking to put an end to internal wrangling and protracted media speculation on the developments in the BJP, the party's central leadership appointed Kishan Reddy as the state party chief in place of Sanjay Kumar.