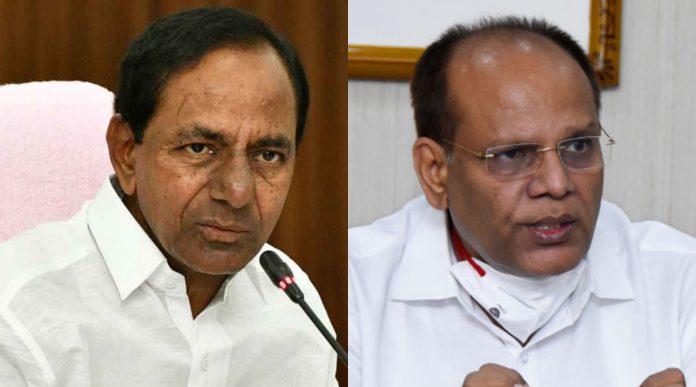 The appointment of ex-chief secretary Somesh Kumar (IAS, Andhra Pradesh), who took voluntary retirement in February, as chief advisor to Telangana chief minister K Chandrasekhar Rao has raised the hackles in political circles.
The 1989 batch officer from Andhra Pradesh on May 9 was appointed for a term of three years in the rank of a cabinet minister. Given his proximity to the chief minister and his proclivity to be in the limelight, many feel he will overshadow senior officials in the government.
The chief minister's office (CMO) is full of retired officers from IAS, IPS and other all India services. As per the website of the CMO, there are about a dozen advisors and eight of them are ex-babus, who, while in service, reportedly worked in a manner that pleased the chief minister.
Also read: Why ruling parties in AP, Telangana are not cheering Cong's thumping win in Karnataka
Kumar is the ninth advisor and the second chief advisor. The fact that he was given office accommodation on the sixth floor, which is earmarked for the chief minister in the new secretariat, is indicative of the proximity he enjoys with KCR.
The 1982 batch IAS officer Rajiv Sharma became the first chief advisor to the chief minister soon after his superannuation in December 2016. In a record of sorts, he still holds the position with the cabinet rank.
New bosses
Among others, SK Joshi (IAS, former chief secretary), Anurag Sharma (IPS, former DGP) and R Shobha (IFS, former principal chief conservator of forests) were appointed immediately after their superannuation.
The criticism against these appointments is that the rule of mandatory cooling off period to reappoint a retired bureaucrat was thrown to the winds. All were appointed within days of their retirement.
Normally, an IAS officer has to serve one year's cooling off period before he or she joins another job after retirement. Kumar was appointed as the chief advisor barely two months after he took voluntary retirement from Andhra Pradesh.
He was shunted back to Andhra Pradesh following a High Court order that set aside the CAT order which allowed him to stay in Telangana. At the time of division of civil servants between Andhra and Telangana, he was allotted to Andhra Pradesh.
Also read: Despite Gowda bonhomie, why is KCR not campaigning for JD(S) in Karnataka?
But Somesh Kumar challenged his allotment to Andhra in CAT and got an order in his favour. But the Centre challenged it in the High Court of Telangana.
The question being asked is when there are experienced officials such as the chief secretary, many special chief secretaries, a number of principal secretaries and secretaries available to advise the chief minister, where is the need to have retired babus as advisors? Would this retinue of advisors really help improve the quality of administration?
Valid criticism
According to Md Shafiquzzaman, a 1977 batch IAS officer, rehabilitation of retired babus is a bad trend and doesn't augur well for the administration.
"These are political appointments. The chief minister is rewarding those IAS officers who silently implemented his agenda ditching political neutrality, the core value of the all India services," he said.
He said this would send the wrong signal to young officials that they should also follow these former babus if they want fame and fortune.
In his view, no officer should be appointed after retirement before the cooling off period.
"The chief secretaries especially should be barred from reappointment," felt Shafiquzzaman, who retired as special chief secretary in united Andhra Pradesh.
The tradition of appointing advisors was institutionalised during YS Rajasekhar Reddy's regime in united Andhra Pradesh between 2004 and 2009 when he had appointed half a dozen advisors. Barring a former IRTS officer, all advisors were his political friends.
In 2010, chief minister N Kiran Kumar removed them and he was content with the serving officers.
PMO, CMO
Similarly, N Chandrababu Naidu, while rehabilitating a few retired babus, did not fill his CMO with retired babus in 2014. His only advisor was Dr Parakala Prabhakar.
His CMO consisted of three principal secretaries sans a coterie of advisors. Many said Naidu loves to take advice from agencies rather than officers and politicians.
A retired IAS officer who doesn't want to be quoted said the consolidation of regional parties in Andhra Pradesh coincided with emergence of a PMO-like CMO.
Also read: KCR, Jagan react in radically different ways as probe agencies zero in on kin
"The CMO was unheard of during the NTR regime. The term CMO became popular during Naidu's regime between 1995-2004. But it was YSR, who ruled the state more like an independent regional leader rather than a representative of a national party, institutionalised the CMO commensurately with his autonomy by appointing half a dozen advisors, a few of whom were more influential than any official in the government," he said.
In his view, after 2014, with the virtual disappearance of the Congress and BJP, the regional parties' bosses have acquired imperial hubris.
"The CMO with more than half a dozen officers and a dozen advisors has become a most powerful wing diminishing the importance of other senior IAS officers heading various departments," he said.
IAS vs IAS
This atmosphere of such chief ministers has produced a new crop of IAS officers who do not hesitate even to touch the feet of or sit at the feet of the chief minister to become influential when in service and get rehabilitated after retirement.
Veteran political scientist professor G Haragopal termed the appointment of retired officers as pernicious. He said it's often done with a message that servile officers would continue to enjoy the power and glory after retirement as well.
"A few officers are haunted by fear of becoming irrelevant after retirement. Having enjoyed power and pelf for decades, they don't want to go out of sight overnight. So, during their tenure they dedicate themselves to please the political master, who in turn like a medieval king reappoints them with gratitude," said Prof Haragopal , who retired as a political science professor from HCU.
Chief ministers taking advice from IAS officers is not new. NT Ramarao used to consult officers like BPR Vittal and SR Sankaran even though they were outside the state. He never appointed retired officers as advisors.
Also read: Why KCR government is crossing swords with Centre over medical colleges now
Hyderabad's Forum for Good Governance (FGG) also denounced these appointments.
Criticising the recent appointment of former chief secretary as advisor, FGG secretary M Padmanabha Reddy said the despicable practice would not only put a huge burden on the exchequer in the form of their salaries, support staff and other perks, it would also send a wrong signal to serving officers especially at the top.
Reddy, a former IFS officer, urged the government to do away with the practice.