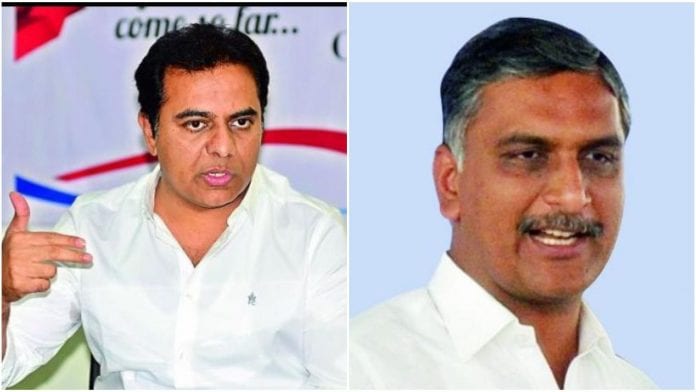 With his plans for Federal Front failing to take off and his dreams of playing a key role at the Centre lay shattered, Telangana Chief Minister K Chandrashekhar Rao is all set to induct his son K T Rama Rao and nephew T Harish Rao into his cabinet. The cabinet expansion is likely anytime after June 19.
Hoping to play a crucial role at the Centre in the event of non-BJP and non-Congress parties forming the government, KCR had not constituted a full-fledged cabinet after Telangana Rashtra Samithi (TRS) retained power in December last year.
He wanted to move to the Centre and thus pave the way for his son to take over the mantle. During the campaign for Lok Sabha elections, the TRS leaders were rooting for KCR as the prime minister.
KTR, as KT Rama Rao is popularly known, had not ruled out his father emerging as the prime ministerial candidate in the event of regional parties emerging as the biggest block in Lok Sabha.
In fact, KCR's idea of Federal Front first mooted in March last year, his naming KTR as TRS working president after the victory in Assembly elections, the delay in constituting the cabinet and non-allocation of key portfolios were all seen as the preparations for KTR's ascension.
For many in TRS it was only a matter of time before KTR succeeding KCR as the chief minister. TRS chief's move to keep out his nephew T Harish Rao also triggered speculations that this was done to avert any tussle over succession. Harish Rao, a mass leader and strong contender for the top post, was sidelined to ensure smooth transition. There was also a talk that he will be assigned some role in Delhi.
KCR, who took oath as the chief minister for the second term on December 13, inducted 10 ministers on February 19. The delay in constituting the cabinet came under criticism from all quarters. He kept out KTR, who was the number two in the previous cabinet and was representing the chief minister at many key events.
The young suave minister was handling key portfolios of industry, commerce, information technology, mines and geology, public enterprise, NRI affairs, municipal administration and urban development. His cousin was the minister for irrigation in the previous cabinet.
This time KCR did not allocate important portfolios like finance, irrigation, industry and information technology, apparently with an eye on the possible post-Lok Sabha polls scenario.
However, BJP-led NDA retaining power at the Centre with a massive majority has upset all the calculations of KCR.
TRS was aiming for a clean sweep in Lok Sabha elections in Telangana so that with 17 seats (including one of its ally AIMIM), it could be on firm footing to seek the prime minister's post in the event of a hung Parliament.  Despite being the target of ridicule by the opposition, TRS remained confident as only four months ago it had retained power in the state with a landslide majority, winning 88 seats in 119-member Assembly. The series of defections by Congress MLAs had helped TRS to take its tally to over 100 and further boosted its prospects.
With the BJP making surprising inroads in the state to win four Lok Sabha seats and Congress too bagging three seats, the TRS plans for a clean sweep lay shattered. In an embarrassment for KCR, his daughter K Kavitha also failed to retain the Nizamabad seat.
KTR's wait to get longer
Political analysts say KCR now has no option but to wait for an appropriate time to hand over the mantle to KTR. "He will have to drop his plans for now. Any such move at this juncture may open a Pandora's box in the party," said analyst P Raghavendra Reddy.
Coming to terms with the post-poll situation, KCR has started focusing on governance as series of elections including polls to district and village level local bodies during last five to six months had their impact on the administration. The entire official machinery was busy with the conduct of one election after the other.
Making a beginning, KCR started visiting sites of ongoing irrigation projects to review the works. The inauguration of prestigious Kaleshwaram project across Godavari river on June 21, for which he has invited his Maharashtra and Andhra Pradesh counterparts, is part of the efforts to bring back focus on development and welfare .
An unfinished Task
Filling the cabinet vacancies and bringing back KTR and Harish is next on KCR's agenda to restore 'normalcy' in the aftermath of the drubbing. While Harish may get back the irrigation portfolio, KTR is likely to once again look after industry and information technology. With attracting new investments in all sectors including information technology remaining vital to keep the state growing, many believe that KTR is best suited to again handle the job. The US educated leader with IT background did a good job in restoring investors' confidence in Hyderabad after creation of Telangana state in 2014. Known for good oratory skills and the command over different languages, he hogged the limelight at various national and international events and had successful negotiations with top honchos of national and international multi-national companies.
After the induction of 10 ministers in February, the size of KCR cabinet grew to 12. He can have six more ministers. A TRS leader said KCR will distribute all the major portfolios he was keeping with himself.
The TRS chief, who is expected to expand the cabinet early next month, is likely to use the exercise to also fine tune governance.
Woman minister
KCR had no woman in his previous cabinet and this came under flak from all. He once again ignored women in the first expansion of his new cabinet. During previous term, he had made Padma Devender Reddy the Deputy Speaker of Assembly. This time, neither the Speaker nor the Deputy Speaker is a woman.
TRS chief, however, has promised two ministerial berths to women. Sabitha Indra Reddy, who is one of the 12 Congress MLAs defected to TRS, may find a place. The merger of the 12 MLAs with the ruling party was recognized by Assembly Speaker P Srinivas Reddy last week.
Sabitha, who was first woman to hold the key portfolio of home affairs in undivided Andhra Pradesh, is a key leader from Ranga Reddy district abutting Hyderabad. She switched loyalties to TRS in March after she was reportedly assured a cabinet berth.
TRS leaders say representation to women will bring a balance to the cabinet. However, unlike in the previous term, TRS now has more aspirants for cabinet berths. The defections from Congress, TDP and two independents have already taken TRS tally in the Assembly to 103.
In 2014, when TRS had bagged 63 seats in the Assembly, KCR had to woo senior leaders from TDP and Congress to have experienced hands in the cabinet. This time, the number of aspirants is huge.
However, analysts say KCR, with an iron-like grip over the party, may not face any problem in expanding the cabinet. He may reward the party loyalists and the defectors from other parties with a large number of nominated posts, which will be filled up after the cabinet expansion.