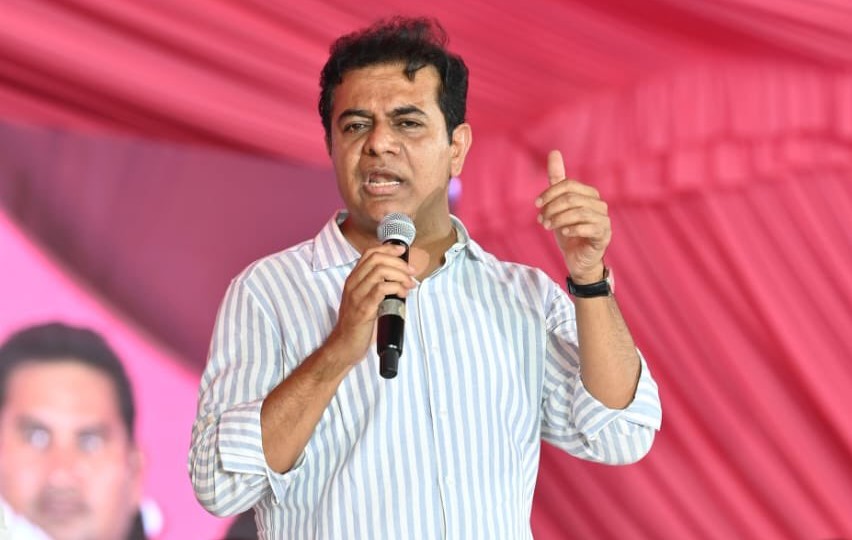 NDA govt 'anti-Telangana', will 'boycott' Modi visit to Warangal: KCR son Rama Rao
Alleging that the NDA government at the Centre has been 'anti-Telangana' in the last nine years, ruling BRS working president KT Rama Rao on Friday (July 6) said that his party will 'boycott' Prime Minister Narendra Modi's Saturday visit to the state.
Rama Rao, son of Chief Minister K Chandrasekhar Rao, claimed that Modi had an anti-Telangana attitude ever since he became prime minister in 2014. No promise made to Telangana in the Andhra Pradesh Reorganisation Act has been implemented by the Centre, he alleged.
Also Read: Modi rolls out projects in poll-bound Chhattisgarh; blasts Congress in CM's presence
Modi had laid the foundation stone for a ₹20,000 crore locomotive coach factory at Dahod in Gujarat one year ago, but announced a wagon manufacturing unit with ₹521 crore at Warangal in Telangana, he said. A railway coach factory was supposed to be set up in Telangana as per the AP Reorganisation Act, he said.
"For Gujarat, ₹20,000 crore coach factory. But for Telangana, ₹521 crore. As if alms are being given," Rama Rao told reporters in Hyderabad on the eve of Modi's visit to Telangana.
As a private company has set up a coach factory in Telangana with an investment of ₹1,000 crore, the Telangana people would not accept if Modi government establishes a factory with ₹521 crore, pointed out Rama Rao, minister for municipal administration in the Telangana government.
Though the state government has provided over 300 acres of land for setting up a tribal university near Warangal, the Centre has not sanctioned the same so far, he said. Establishing a tribal university is an assurance mentioned in the AP Reorganisation Act.
Rama Rao claimed that Modi had insulted the 'birth of Telangana' by saying earlier that Congress gave birth to a child (Telangana) but killed its mother (Andhra Pradesh).
He also talked about communal trouble during Modi's prime ministership. "We have all decided. Definitely, none of us will attend his (Modi) visit tomorrow. Because, his move to give ₹520 crore, as if giving alms, is an insult to Telangana society. Definitely, we will boycott. We will not attend his programme," he said.
Asked about Congress leader Rahul Gandhi's attack on BRS at a recent public meeting at Khammam in Telangana, Rama Rao asked in what capacity Rahul Gandhi is making policy announcements. "Rahul Gandhi comes here and makes policy statements. In what capacity, is he making the statements? Is he the president of Congress party? Is he the president of Congress in Telangana? Is he even a member of Parliament?" he asked.
Gandhi had recently dubbed the BRS of being the 'B Team of BJP'.
Also Read: G Kishan Reddy is new Telangana BJP chief, Sunil Jakhar appointed Punjab head
The prime minister will lay the foundation stone for several crucial infrastructure development projects worth around ₹6,100 crore in Warangal on Saturday. Modi will also visit the famous Bhadrakali temple in the district before attending the events and address a public meeting.
As part of the programme, the Modi will also lay the foundation stone of the railway wagon manufacturing unit at Kazipet to be developed at a cost of over ₹500 crore. The modern manufacturing unit will have enhanced wagon manufacturing capacity. It will help in local employment generation and development of ancillary units in nearby areas, an official release had earlier said.
(With agency inputs)