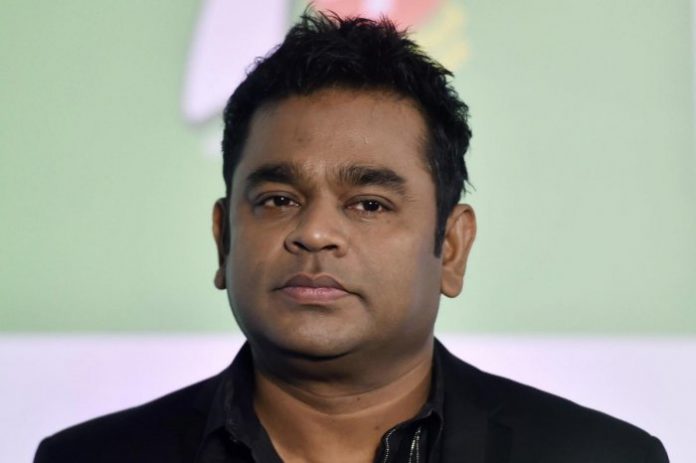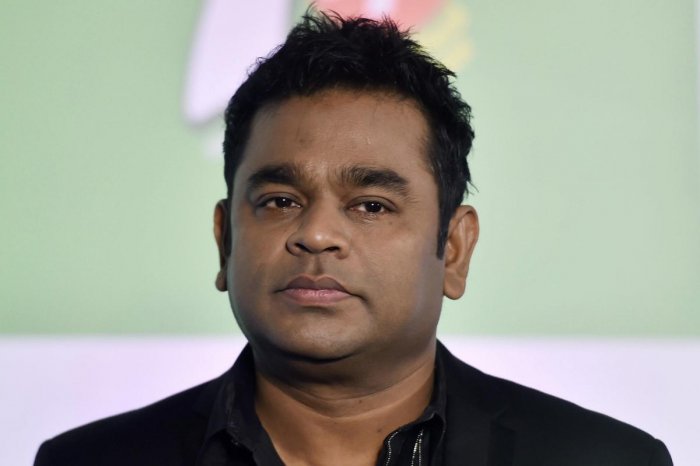 Union minister Amit Shah's recent remark that Hindi should be used as an alternative to English in India, has not only riled up non-Hindi speakers, but also pushed the reserved of celebrities to speak up in favour of their mother tongue. Among them is Oscar-winning musician AR Rahman, who has expressed his displeasure at Shah's comment through a strong imagery – of 'Mother Tamil'.
During the 37th Parliamentary official language committee meeting on April 7, Home Minister Shah said that Hindi should be accepted as an alternative to English in states where people speak in their own regional language.
While politicians and celebrities from South Indian states condemned Shah's proposal, Rahman shared an image of 'Tamil Annai' (Mother Tamil) on his social media pages. Dark in complexion and clad in a white saree against a red backdrop, the figure wields a spear whose end is capped with the Tamil letter 'zha'. Donning traditional ornaments like silambu (anklet), nose-ring, mangal sutra, bracelet and manimekalai (waist ring), the lady is drawn in a dancing pose with her hair flying wildly in the air.
— A.R.Rahman (@arrahman) April 8, 2022
The word Tamilanangu is written in bold below the image and is followed by a verse by Dravidian poet Bharathidasan. It goes: Inbath Thamizh Engal Urimaichchem Payirukku Vaer (This sweet Tamil is the root that holds together our rights).
Who is Mother Tamil?
The image was created by well-known artist Santhosh Narayan. Narayan, who also shared the image on his social media handle after Rahman, has been at the receiving end of criticism for painting 'Mother Tamil' as a dark-complexioned woman.
"This is not the first time Rahman shared my work. I drew it two years ago when a similar issue came up. Sangam texts refer to a goddess called 'Kotravai'. She has been worshipped by the people of the desert and considered a goddess of war and victory. She became the inspiration for the image of Mother Tamil," Narayanan told The Federal.
Since Mother Tamil has Dravidian roots, he painted her in black skin tone, Narayanan added.
"Many consider black as ugly and associate it with negative things. I wanted to change that perception and hence used black. Moreover, black is a Dravidian colour. When it comes to words, anangu means an angel or a celestial damsel in Tamil. So Tamilanangu means a 'Tamil angel'," Narayanan added.
Debate on Tamillanangu
It is interesting to note that though the word anangu has been used in ancient Tamil works like Tholkaappiyam and Thirukkural, it has not been in use for a long time in modern Tamil literature. This is why many Tamils are still unaware of the word or its meaning.
On the other hand, well-educated Tamils have been using the word for many years without knowing its meaning. Take 'Tamil Thaai Vaazhthu,' the state anthem for example. The word anangu has been used in one of the lines which goes like: Eththisayum Pugazh Manakka Irundha Perum Thamizhanangey, Thamizhanangey (Your fervour spread in all the directions, oh Goddess Thamizh). But most vernacular speakers misunderstand the word Tamillanagu (or Thamizhanangey) for 'Tamilan Angey' (Tamil there).
Amid the criticism against Rahman, many Tamil scholars have jumped in and started interpreting the word Tamilanangu in different ways.
Dr Kannabiran Ravishankar, adjunct professor, Comparative Literature (Tamil), University of Paris interprets the word anangu as beautiful, god-like, spirit and claims that Tamilanangu means not 'Mother Tamil' but a leader (thalaivi).
"In Tamil we have the term anangu aaduthal which means dancing in such a way as if one is possessed by spirit," he wrote on his Twitter handle.
Contrastingly, writer Ananthakrishnan Pakshirajan, quoting Tamil lexicon, said anangu not only means deity or celestial damsel but also means pain, affliction, suffering, disease, fear, lust and killing.
'Charges' against Rahman
On Sunday, Rahman complemented his visual protest against Shah's comment by stating that Tamil is a "link language" and cannot be written off.
Speaking at a CII event in Chennai, the music director reminisced his encounter with a Chinese man seven years ago and said the latter was all praise for north Indians and about their "charming movies".
Rahman said the Chinese man's remarks "deeply disturbed" him.
"South India-North India (divide)… I think India is India. For me, it doesn't matter. Somebody does good here, North Indians benefit, somebody does good there, we benefit, the borders are broken. It is very easy to divide people through art, movies. This is the time to unite, celebrate differences…this is the time to show more unity so that we can be more powerful and we can lead the world," he said.
Also read: 'We love our mother tongue…we love our identities': Prakash Raj
Stepping up for Tamil
For Rahman, who is usually reserved and wary of controversies, this is not the first time when he has stepped up to defend his mother tongue. In 2021, he had left the stage when the anchor, during the promotion of one of his films, started speaking to him in Hindi.
Now, the music director is being targeted by pro-BJP groups for not embracing Hindi as a common language despite working in several Bollywood films.
Film critic Suresh Kannan said criticism against Rahman for speaking in favour of Tamil and not Hindi because of his Bollywood connect is unfair.
"The argument that Rahman shot to fame after working in Hindi films is baseless. He had his own market and Bollywood exploited it well. He became a brand in himself and the Hindi film industry used it for its business. He could have also experienced some kind of discrimination in Bollywood because he is a Tamil. That could have made him to support the Tamil cause," Suresh Kannan said.
Narayanan Thirupathy, one of the spokespersons of Tamil Nadu BJP, said that Rahman has a right to freedom of expression and he acted accordingly.
"He (Rahman) could have his own opinions. But one should understand and accept what the majority is thinking. He wants Tamil to be the link language. There is nothing wrong in it. But he should know what the Constitution says on this matter," Thirupathy said.
Mob culture
Poet and literary researcher Kadarkarai said that many believe that just because Rahman shared an image of Mother Tamil, the language Tamil would be saved, but the reality is different.
"This is one of the examples of how mob culture works in the country today. If Rahman gives Bharathidasan's books to people instead of sharing an image with the poet's lines, it would create more impact. The fact is the Dravidian parties in the last 50 years, have not brought a good edition of Bharathidasan's works, but they live using his words only in stages of public meetings," he said.