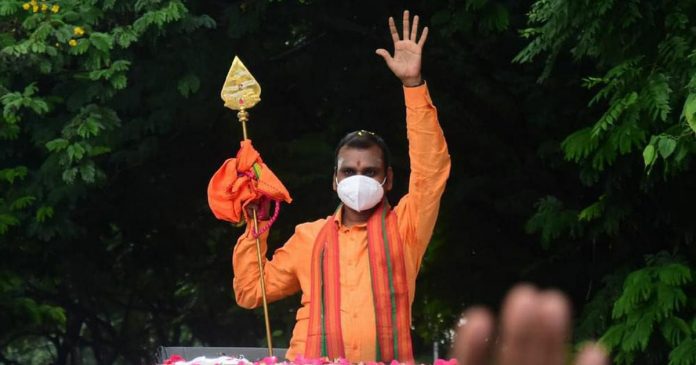 The Tamil Nadu police on Friday (November 6) arrested L Murugan, the state BJP chief and about 100 party workers for embarking on the 'Vetri Vel Yatra' despite being denied permission due to the COVID-19 pandemic.
The state government had on Thursday informed the Madras High Court that it will not allow the BJP to hold the state-wide rally, planned from November 6 to December 6, in view of the pandemic.
Related News: AIADMK checkmates BJP's attempts to consolidate Hindu votes in TN
The BJP had planned to conclude the yatra, which was slated to end at Thiruchendur Murugan Temple in Tuticorin, on the anniversary of the demolition of the Babri Masjid in 1992.
While the Tamil Nadu police had refused to give permission for the event, the BJP went ahead, starting it from the Thiruttani Murugan temple in Thiruvallur district.
"I have a right to offer prayers at the temple. To worship is my constitutional right," Murugan had said earlier in the day while heading to the venue with a spear in his hand.
H Raja, the former national secretary of BJP, opposing the government's curb on the event, had threatened to hold a statewide protest if they were stopped.
Related News: After Bihar BJP, AIADMK govt in Tamil Nadu promises free COVID vaccine
The yatra was dedicated to Lord Murugan known for his spear, called 'vel' in Tamil.
The police intercepted the BJP's rally at Nazarathpettai near Chennai, allowing only five vehicles, including that of Murugan, to pass.
As many as 500 police personnel were deployed at Thiruttani to monitor law and order.