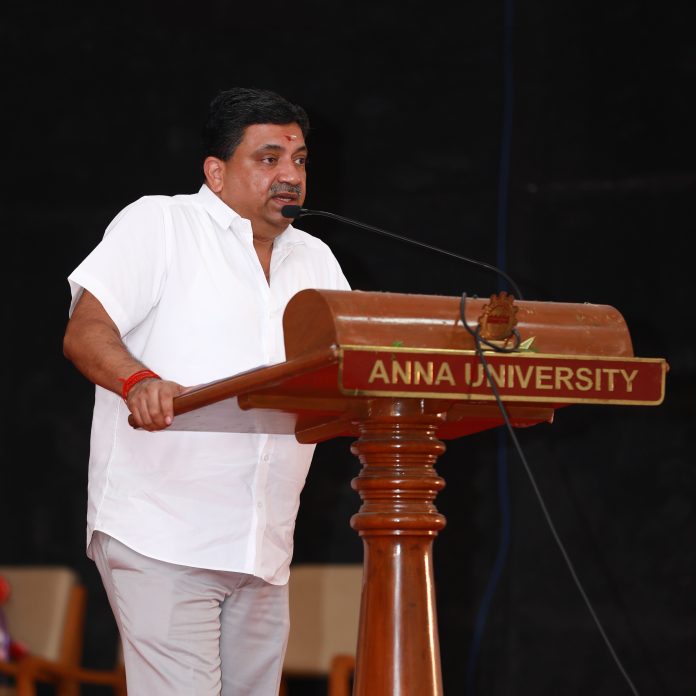 Finance Minister Palanivel Thiaga Rajan said the DMK government is pushing towards zero fiscal deficit without compromising on social welfare schemes | Pic: Twitter/@ptrmadurai
After 23 months in power, the DMK government in Tamil Nadu is implementing its promised scheme of paying ₹1,000 per month to homemakers in the state.
Presenting the Budget for 2023-24, state Finance Minister Palanivel Thiaga Rajan (PTR) announced that ₹7,000 crore has been allocated for the scheme, which is slated to begin on September 15. The scheme comes with a rider that it will reach only "eligible" homemakers. Yet, it will reach around 80 lakh women in the state, and has naturally become the biggest talking point of the Budget. 
How the MK Stalin government is handling the state's finances — hit hard by the COVID pandemic and, before that, alleged financial mismanagement — is the other key talking point. Successive Tamil Nadu governments have been criticised for being "populist" at the cost of fiscal health. But the fact that the fiscal deficit and debt percentage have come down over the financial year 2022-23 is a plus for the present government.
Debt-to-GDP ratio down
According to the Budget announcement, Tamil Nadu's debt-to-GDP ratio has come down from 32% last fiscal to 25.63% in the current fiscal. "The debt-to-GDP ratio is well within the 29.19% limit set by the 16th Finance Commission," said PTR in his Budget speech.
Also read: TN Budget: Rs 1,000 monthly aid for women family heads from Sept 15
Any political party has the right to implement its poll promises, economist and chairman of the All India Congress Committee (AICC) data cell, Praveen Chakravarthy, told The Federal. "It should be a concern only if the debt and fiscal deficit are high or when they aren't coming down. That's not the case with Tamil Nadu now," he said.
Apart from the debt-to-GDP ratio, the fiscal deficit is also coming down — from 3.8% last year to 3.25% this year. It's on its way to recovery, though "the fiscal deficit hasn't reached the levels of 2011-12, when it was at 2.7%", noted Chakravarthy. 
"We have to look at it from a historical perspective. By 2011, Tamil Nadu's debt-to-GDP ratio was 19%. It was one of the best managed states in the country, finding a place in the top five of India. In 2021, it was 32%, listed among the worst managed five states. It was very vital to bring it back to control. The government has managed to bring the debt-to-GDP ratio to 25%, which is significant in this context. Yet, it should ideally reach 16%," he observed.
"We are pushing towards a zero fiscal deficit without compromising on social welfare schemes," said PTR. 
State revenue rises
Tamil Nadu is also witnessing a rise in its own revenue. For every rupee earned by the state, a revenue of 44 paise comes from its own sources, say state budget estimates. The state's exchequer depends on the Centre only for 17 paise of each rupee earned.
Plugging in the leakages in revenue generation has helped in the increase of the state's own revenue, said DMK spokesperson Salem Dharaneedharan. "The Tamil Nadu government has received investments worth ₹3 lakh-crore in two years, providing employment to 4 lakh people," he said.
Watch: Top 5 schemes announced in Tamil Nadu Budget
For the first time in 10 years, Tamil Nadu's own tax revenue is at 67% of the overall revenue, said Chakravarthy. "It was only 60% when AIADMK demitted office (in 2021). It is a very clear statement of independence from the Central government in revenues," he said.
PTR, who has repeatedly said Tamil Nadu's finance is far better managed than the national one, shared data on Monday (March 20) on how the state's own revenue has increased of late. 
"Tamil Nadu faced a tax-revenue fall between 2006-2011. Before 2006, the state's own tax revenue was 8% when compared to the GDP. It came down further to 5.58% in 2021. This placed the government in a precarious financial position. With the efforts of the (current) government, it has improved to 6.11%," he said.
The total outstanding debt pegged at ₹7.26 lakh-crore this year is higher than 2022-23 (₹6.53 lakh-crore). But it should not be a matter of concern, said Chakravarthy. "When an economy grows, debt will also add up. If the debt-to-GDP ratio is good, then it should not be a matter of concern. In the case of Tamil Nadu, it is improving and well within limits," he said.
Flagship schemes get focus
Better economic health has encouraged the government to invest more in its flagship schemes. The nutritious breakfast scheme, which helped improve attendance percentage, is being extended from 1,543 to 30,122 government schools, benefiting students of classes I–V. Eighteen lakh students will be benefited, and ₹500 crore has been allocated for the scheme.
But economists are rather looking at the hike in capital expenditure, which could lead to more employment opportunities and have a trickle-down effect. "As an economist, I look at how well it is managed fiscally and makes good expenditure (capital expenditure), leading to new jobs. This Budget has achieved both," said Chakravarthy. Capital expenditure has gone up to 16% this fiscal from 12% in 2021. In 2011, it was 14%, which shows a clear growth trajectory.
Opposition party AIADMK was on the defensive, saying the fiscal deficit was bad during its tenure because of the impact of COVID. "On one hand, we lost revenue due to lockdowns; on the other, expenses were high," said former Chief Minister Edappadi K Palaniswami. He took a jibe at the DMK for restricting ₹1,000 to "eligible" homemakers, instead of all homemakers as promised in the election manifesto. "Given that the DMK government had a comparatively COVID-free rule and an increase in revenue, they could have reached zero fiscal deficit," he said.
Also read: Tamil Nadu's new breakfast scheme pushing up school attendance: Report
DMK leaders pointed out that the fiscal deficit was more than ₹45,000 crore even before the COVID pandemic, under AIADMK rule. The party ruled the state back to back from 2011. "Tamil Nadu was a revenue-surplus state before 2011," said Dharaneetharan.