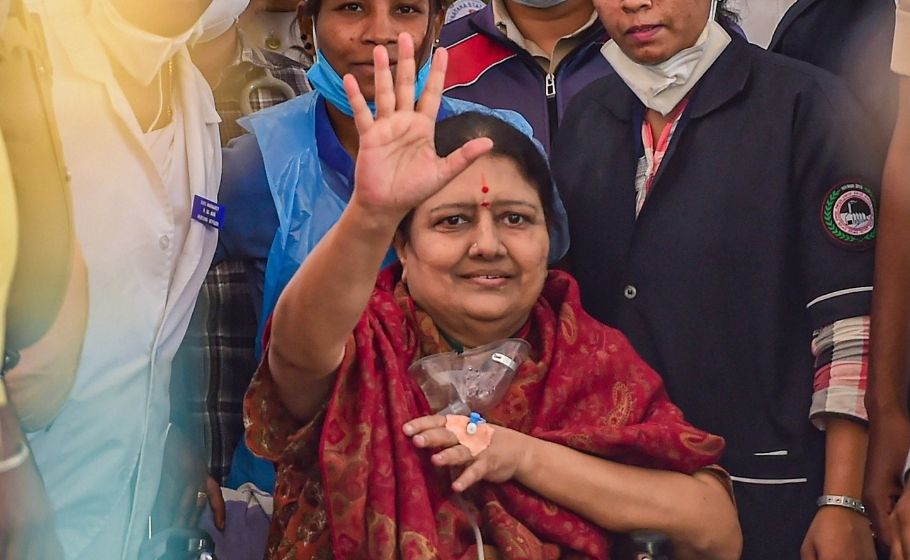 In an act that seemed like a symbolical challenge to the Edappadi Palaniswami-led AIADMK, former aide of Jayalalithaa and expelled party leader VK Sasikala flaunted the party flag on her car as she drove into Chennai to a massive welcome by supporters on Monday (February 8).
The AIADMK expelled seven party functionaries who are said to be behind the reception Sasikala got during her return to Chennai from Bengaluru. It is being said that one of them, S R Sambangi, an office-bearer of the party in Krishnagiri district, was the one who gave her car when the police wanted Sasikala to change hers with the flag.
Speaking to media, the 66-year-old Sasikala said she will enter politics soon. "Will meet you all soon; will enter full-fledged politics," she said.
Sasikala returned to Chennai for the first time since her release from jail on January 27, after serving a four-year sentence in a ₹66.65 crore disproportionate assets case. She was expelled from the AIADMK by Edappadi K Palaniswami while she was in jail.
Related news: As Sasikala returns, OPS makes his move, dons the 'loyal Bharata' role
Sasikala has been reportedly using the AIADMK flag on her car since her release from jail and has drove into Chennai bearing the same on her vehicle despite warnings by the ruling party and the police.
Taking exception to the use of the AIADMK flag by Sasikala, the ruling party earlier had complained to the police, who in turn had issued a warning to the expelled AIADMK leader's team a few days ago.
Commenting on the same, Sasikala said, "I will never surrender to oppression. The complaints against me for using the AIADMK flag only show party leaders' fear," she told the media.
She said her allegiance to former chief minister J Jayalalithaa remains intact, and wished that "everyone can work together to defeat our common enemy".
Even though the expelled AIADMK leader cannot contest polls for six years due to her conviction, her arrival into Tamil Nadu and bold gesture, just ahead of the Assembly polls, is bound to change political equations in the state.
Reports say a few members of AIADMK have planned a grand reception to mark Sasikala's return.