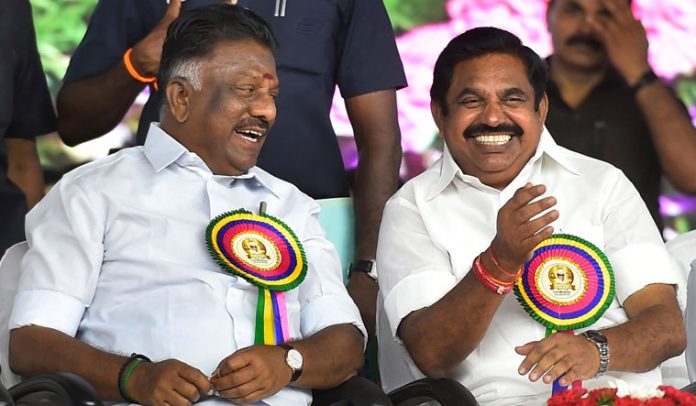 The great Indian epics, the Mahabharata and the Ramayana, have become a canvas for the drama unfolding in the AIADMK in recent times, it seems. At a time when chief minister Edappadi K Palaniswami's faction is against the expelled leader VK Sasikala, even filing police complaints against her, his deputy and party coordinator O Panneerselvam seems to be making his own moves to gain political mileage.
In 2017, he staged 'Dharma Yuddham', a sequence found in Mahabharata, close on the heels of Jayalalithaa's demise. Now, an advertorial showing him as the faithful brother Bharata from Ramayana has been published in a Tamil daily.
The advertorial portrays OPS as a steadfast loyalist to the party and to the erstwhile leader Jayalalithaa. Though he was appointed as chief minister twice due to Jayalalithaa's inability to hold the post following court cases, OPS had vacated the CM's seat as quickly when Jayalalithaa returned without a murmur. This loyalty has been equated with Bharata, who respectfully handed over the kingdom to his brother Rama on his return from 14 years in the forest. The advertorial also claimed that he bowed out and gave up the chief minister's post for the third time on the request of senior leaders in the AIADMK.
Also read: Sasikala en route to Chennai amid heavy security, celebrations
Political observers are trying to analyse what OPS is trying to convey by portraying himself as Bharata. Bharata had a government to hand over to Rama, but given that the current government is under the control of EPS, who was handpicked by Sasikala, what does OPS have to give to Sasikala? Is it the fact that he has managed to keep the party united despite frequent disputes now and then? Or, is he requesting Sasikala to hand over the government to him from EPS, who has now become a traitor to her. And, will he just be a puppet CM and remain entirely subservient to Sasikala?
South pours support for Sasikala
Meanwhile, what is adding more fuel to these speculations is a recent statement made by Theni Karnan, a supporter of Sasikala. Recently, he disclosed that the cadres and party functionaries in the southern region have demanded OPS to join Sasikala. And, that was the reason behind the advertorial.
"It is true that when he was ripped off the post, he was angry. That's a natural human tendency. But, now he has realised his fault," said Karnan during a discussion on a TV channel.
Also read: Sasikala returns to Chennai, AIADMK restless
Also, KP Munusamy, AIADMK deputy coordinator and an OPS supporter, recently admitted that the party will consider taking back TTV Dhinakaran if he tenders an unconditional apology. According to political commentator Aiyyanathan, the advertorial reveals that the leadership vacuum has still not been settled in the AIADMK. If they had a strong leadership and decided to contest alone, this advertorial would not have been released, he pointed out.
"Even after four years, they are unable to choose a single leader for the party. But OPS thinks that Sasikala's leadership can put an end to this controversy. That's why a couple of days ago, he said the party functionaries must work as brothers in a family and made his second son Jayapradeep wish Sasikala a quick recovery in the hospital. The majority of party leaders fear for its survival in future. They already know the result of this election," Aiyyanathan said.
Aiyyanathan also believed that since the BJP's main objective is to destroy both the Dravidian parties in Tamil Nadu, they are trying to break the AIADMK through OPS since Sasikala will not cooperate with the BJP while the DMK is unbreakable at this point.
Caste plays a role
Caste is also another factor, which seems to be playing a role here. In Tamil Nadu, Thevars, Gounders and Vanniyars are the three major caste groups that dominate the political stage in the state. While Vanniyars are highly politicised, they lack money; the Gounders have money but they are not political heavyweights. Whereas, it is the Thevars, who have both the money and political power and continue to dominate governance of the state.
Given that Sasikala and OPS are from the same community, they have sway over the southern, western and central region. But some political observers do not subscribe to this claim. Pongalur Manikandan, a political commentator, said that the caste factor cannot be taken at face value.
"Instead the leaders must be kept in check. At first, OPS has been directed by the BJP. Of late, he is hinting that he may align with Sasikala. Due to his latest stance, now the BJP has shifted their focus to EPS, who has showed reluctance to cooperate with the Centre in some issues. An image has slowly gained ground about EPS as a leader who has a separate following. But that cannot give him a political win over Sasikala or OPS," he said.
Also read: Reclaiming AIADMK will be Sasikala's main aim once she is back in Chennai
However, EPS' administrative skills are considerable. And, he neither started a new party nor left AIADMK. Contrary to expectations in some quarters, the AMMK-led alliance, a third front under Sasikala, cannot materialise since she may have to legally fight for her rights over the AIADMK.
"The only choice for the EPS faction now has is to accept Sasikala as the party's general secretary. Then there are chances that EPS may become a chief ministerial candidate. If it happens, the party will sweep the upcoming assembly election. If Sasikala is not included now, it may definitely happen after the elections," said Manikandan.
However, fisheries minister D Jayakumar squashed all speculations, reiterating that there is no space for Jayalalithaa's former aide and confidante Sasikala in the party.
"There are no sleeper cells in the party. We are all working together," he said while briefing the media on the police complaints filed by the AIADMK against Sasikala.