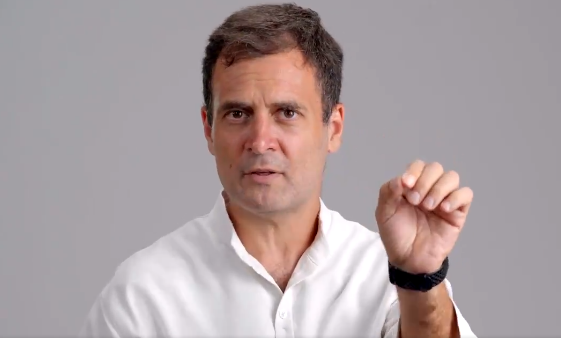 Congress leader Rahul Gandhi termed 'jallikattu' held on Pongal day in Tamil Nadu on Thursday (January 14) a "lovely experience", drawing accusations of double standard as the party had sought a ban on the bull-taming event ahead of the assembly elections in 2016.
It is "quite a lovely experience to see Tamil culture, history in action," he said after witnessing 'jallikattu' at Avaniyapuram in Madurai.
He, however, stressed that he came to watch the event to give out a strong message. "I have come here to give a message to those who think that they can run roughshod over Tamil people, can push aside Tamil language and Tamil culture."
Gandhi appreciated the "systematic and safe way" in which the event was organised.
Gandhi had flown down to Madurai from New Delhi to witness the event. He was accompanied by senior party leaders K C Venugopal, Tamil Nadu Congress Committee chief K S Alagiri, and Puducherry Chief Minister V Narayansamy at the venue.
A few a days before Gandhi's visit, Alagiri had said that the Congress leader will be attending the bull taming event as a gesture to lend moral support to farmers protesting against the new farm laws. The event, in fact, saw protests by five bull tamers who entered the arena with black flags and raised slogans against the controversial farm laws. All five men have been detained by the police. The police said they are "investigating the case."
Even as the event was organised with COVID-19 protocols in place, including allowing only 150 participants and 50 per cent visitors, and participants producing COVID-19 negative certificates, it did not go without incident — 17 injuries among bull tamers, owners and spectators were reported on day one.
The Congress, however, was criticised on social media for its double standard regarding 'jallikattu' as the party's manifesto for the 2016 Tamil Nadu election had promised a ban on the annual event if it came to power.
The Supreme Court in 2014 had banned the event  in response to petitions by the Animal Welfare Board of India and the People for the Ethical Treatment of Animals (PETA).
The state government, however, argued that 'jallikattu' was crucial to Tamil Nadu's culture and identity and lifted the ban in 2017 with an amendment to law.
Also read: Hindus in TN are not communal, BJP's polarisation plan won't work: Kanimozhi
BJP too celebrated Pongal. BJP Chief JP Nadda and  RSS chief Mohan Bhagwat, who is on a two-day visit till Friday, participated in Pongal celebrations in Chennai.
Bhagwat had offered prayers at Sri Kadumbadi Chinnamman Temple in Ponniammanmedu and participated in community Pongal celebrations.
He also made a surprise visit to the house of a functionary, where he recited a couplet from the Tamil Classic, 'Tirukkural', written by Tamil savant Tiruvalluvar. Bhagwat also performed 'gau puja' (cow worship).
The state government and opposition also commemorated the harvest festival.
Tamil Nadu Governor Banwarilal Purohit, Chief Minister Edappadi K Palaniswami, Deputy Chief Minister O Panneerselvam and DMK president M K Stalin wished everyone in the state.
Also read: Rude shock for AIADMK as PMK acts tough on alliance for 2021 polls
Chief Minister Edappadi K Palaniswami attended the celebrations at St Thomas Mount, held on behalf of the Tamil Nadu Police.
(With inputs from agencies)