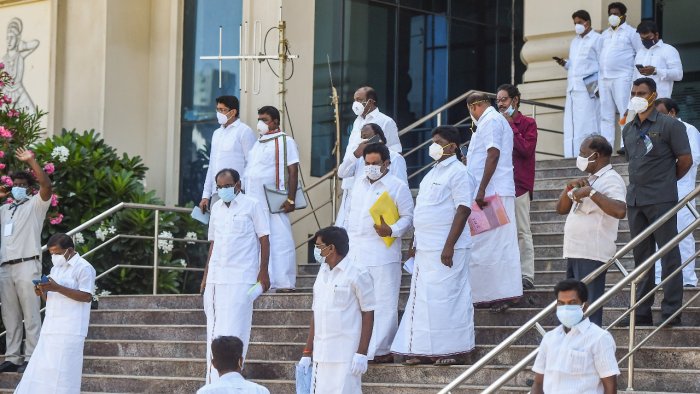 Presidential poll: Brute majority of DMK+ in TN likely to hurt NDA candidate
It is after a long time that a majority in Tamil Nadu will be voting against the candidate of the party which is in power at the Centre
With the race for the new President commencing, Tamil Nadu will be among the few states where the majority of the votes will be against the NDA candidate.
As per the electoral formula, the total value of votes from Tamil Nadu is 76,378; of this, DMK and its alliance parties will have a lion's share of 62,984 votes. The DMK alone has a total of 47,208 votes as the party has 133 MLAs (including the Speaker) and 34 MPs across the two Houses of Parliament.
The value of an MLA's vote in Tamil Nadu is 176 and that of an MP, 700.
Also read: Presidential poll on July 18; here's how India elects Ram Nath Kovind's successor
It is after a long time that a majority in Tamil Nadu will be voting against the candidate of a party which is in power at the Centre.
A weak AIADMK to hurt NDA
Unlike in 2017, the AIADMK is not in a position to help the NDA candidate now. The party is down to 66 MLAs and just six MPs across the two Houses of Parliament. Its total votes are 15,116.
The Congress, which had only eight MLAs and no MP from Tamil Nadu in the Lok Sabha in 2017, now has 18 MLAs and eight MPs in the Lok Sabha and one MP in the Rajya Sabha. Thus, the total value of its votes is 9,468.
The Left parties are also being wooed by the Congress. In the Tamil Nadu Assembly, the CPI-M and CPI have a total of four MLAs and two MPs each in the Lok Sabha. The total value of the Left parties' votes in thus 3,504.
The Viduthalai Chiruthaigal Katchi (VCK) also is in a better position compared to the 2017 presidential election. The party has four MLAs and two MPs in the Lok Sabha, bringing the  value of its total votes to 2,104.
Among other parties, the PMK with five MLAs and a lone MP in the Rajya Sabha has total votes of 1,580 and the lone Tamil Maanila Congress MP's value is 700.
Presidential poll voting in 2017
In 2017, the AIADMK was a divided house with former chief minister O Panneerselvam along with 10 other party MLAs rebelling against Sasikala. They were made to sit separately in the Assembly. But during voting, all the AIADMK MLAs, including Panneerselvam and his supporters in the Assembly, voted for NDA candidate Ram Nath Kovind. The DMK, Congress and the lone IUML MLA voted for Congress candidate Meira Kumar.
Also read: Mamata convenes meeting of opposition leaders, CMs on upcoming presidential poll
Out of the 234 MLAs, 232 voted. Former DMK chief M Karunanidhi could not vote as he was not well and the RK Nagar constituency was vacant. Apart from MLAs, former Union minister P Radhakrishnan and  Kerala MLA Parikkal Abdullah also voted in Chennai then.