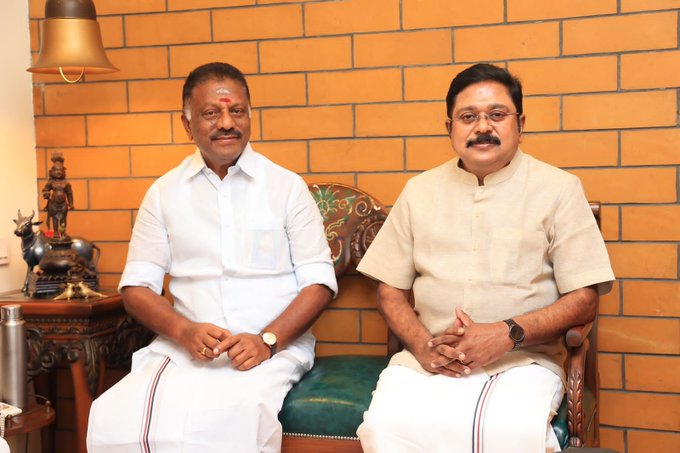 After failing in courts and the Election Commission to gain control of the party, ousted AIADMK leader O Panneerselvam (OPS) joined hands with TTV Dhinakaran on Tuesday, in what appeared as a last-ditch attempt to redeem his political future. The lack of options has made him bury the hatchet with VK Sasikala, former aide of AIADMK supremo J Jayalalithaa, against whom he sat on a hunger strike in 2017 as she preferred Edappadi Palaniswami (EPS) over him for the chief minister's post.
Even though OPS was part of the AIADMK that expelled 18 MLAs owing allegiance to Dhinakaran, the increasing hold of EPS on the party has compelled them to join hands. Both OPS and Dhinakaran belong to the Thevar community and they might be hoping that this might give them political sustenance. But the ground reality does not seem to support this.
Thevar community
The Thevar community, which has generally been anti-DMK, is likely to put its weight behind a political force that it thinks would be able to dislodge the DMK and thus help them regain a significant share in power. This will not be decided merely on caste affinity, said Thirunavukarasu, professor of Sociology at the University of Hyderabad.
Also read: SC verdict on AIADMK: Is it political wilderness for Panneerselvam?
Sasikala or Pannerselvam are not mass leaders and haven't positioned themselves well to inherit the legacy of MG Ramachandran and Jayalalithaa, he said. "The fact that Palanaiswami was able to get 66 seats in 2021 despite the anti-incumbency factor speaks volumes of his support across the state, including the votes of Thevars. He is a force to reckon with, even if not an undisputed leader. The trend shows that whatever gain Panneerselvam or Dhinakaran can get from the Thevar community vote base would be miniscule, as of now," he told The Federal.
"Except for two full terms, Tamil Nadu was ruled by AIADMK after the rise of MG Ramachandran. This has helped Thevar community, the mainstay of AIADMK vote bank, enjoy a significant share in political power all these years. When they look at how to regain it, they won't experiment with people like Pannerselvam or Dhinakaran who haven't proved that they can capture power. Instead, there are many significant Thevar leaders in AIADMK and DMK who offer them a continuum of power share. So, Pannerselvam and Dhinakaran's attempt to consolidate power through Thevar vote bank will fizzle out," he said.
Lack of options
But OPS does not have many options. Except for a few leaders like Manoj Pandian, not many support him and also he does not seem to enjoy much support from the party cadre. Unlike EPS, Panneerselvam hasn't proved his strength electorally yet.
This is an alliance of leaders who have lost their relevance, said Jagadheeswaran D, a political analyst and former leader of the Lok Satta party. "The fact that all of them belong to Thevar community will work against them… Also, none of them, except TTV Dhinakaran, have proved their electoral strength. Their feeble chances rest on the wishful thinking that certain BJP leaders might need them in the 2024 Lok Sabha elections," he said.
Even though Dhinakaran had proved his credentials with a win in the RK Ragar elections in 2017, the vote share of AMMK has seen a constant decline. A leader like Thanga Tamil Selvan, who once hailed him (Dhinakaran) as the next chief minister, has left the party and joined DMK. Dhinakaran also doesn't enjoy the full support of Sasikala as she has distanced herself from him and AMMK.
The BJP's hand?
Many political observers feel that the BJP – which believes that it can enter Tamil Nadu politically either through the Gounder belt in West Tamil Nadu or Thevar belt in south and East Tamil Nadu because of their religious affinity – is behind OPS and Dhinakaran coming together.
Also read: DMK could be staring at tough times as BJP, AIADMK mend fences
"It is obvious that BJP is providing a backup for such a consolidation. To grow, it (BJP) wants leaders and parties who abide by their diktats as BJP's organic growth is almost impossible in the state. Most probably, BJP is looking at a long-term alliance with parties that they can gobble up later. Their confidence with Thevar vote bank comes from the fact that the tall leader from the community, Muthuramalinga Thevar, had nationalism and divinity as the party's slogan and fiercely opposed both the Congress and DMK," said Thirunavukarasu.
It is not surprising that BJP is eyeing the Ramanathapuram Lok Sabha constituency in the upcoming elections, as it has a large chunk of Thevar voters. But BJP's plan to use Hindu religious identity of Thevars may not work, he said.
"Ramanathapuram has one of the highest concentrations of converted Dalit Muslims. BJP may not reap benefits using divisive politics because of the inclusive nature of the community. The Thevars and Muslims address each other as mama and machan (uncle and brother-in-law). The communities have been close since the time period of Alauddin Khilji. Many of the Muslim rulers' dependable chieftains were from the Thevar community," he said.
Unsure OPS
Jagadeeswaran feels that joining hands with Dhinakaran, instead of strengthening OPS seems to weaken his case. "Even now he (Pannerselvam) looks unsure of how to go about his political future," said.
"He (Panneerselvam) hasn't yet decided on launching his own party. He is hesitant as this may show that he has lost his battle to take over AIADMK. But all his legal wars to take over AIADMK have failed till date. The next stage of the civil case would drag on for years…It is not clear whether he will launch his own party, when he will do it or whether he will join AMMK. One thing is clear that the political move is based on BJP's need for Thevar votes in Lok Sabha elections," he said.
OPS-Dhinakaran combine seems to be standing on a weak wicket and BJP is unlikely to offer them seats just for the sake of Thevar votes. Also, there are some well-known names from Thevar community in AIADMK like RB Udayakumar. Moreover, EPS is strengthening himself further by organising a grand conference in Madurai, a strong base of Thevar community.
Also read: EC accepts Edappadi Palaniswami's elevation as AIADMK General Secretary
"On the contrary Panneerselvam hasn't lined up any conference or public meeting after the one conducted in Trichy. Only by meeting the public on a constant basis can he build himself. Even Sasikala is going to take a spiritual tour and not a political tour. Because, if you have to organise grand political meetings, you need a party structure on the ground apart from money. Nothing is happening on this front which shows poorly on them politically," said Jagadeeswaran.
Past precedence
History also seems to go against the hopes of OPS and Dhinakaran. Chief ministers in Tamil Nadu have seldom been elected on basis of overt caste identity. Kamaraj was seen as a national leader who took part in the freedom struggle and not a leader of the Nadar community, at least during his lifetime. EPS might represent the dominant Gounders caste, but he wasn't an elected CM; he became CM after Jayalalithaa's demise. DMK founder CN Annadurai is more known for his ideology and less for his caste. MG Ramachandran was from Kerala with no caste affiliation in Tamil Nadu and both Karunanidhi and Jayalalithaa hailed from non-dominant communities.
AC Shanmugam, who launched a caste-based political party, Puthiya Neethi Katchi, failed while parties like Pattali Makkal Katchi (PMK) of the Vanniyar caste don't seem to fare well in the long run.
There are clear signs that OPS is a spent force, said Jagadeeswaran. "I don't believe that the Election Commission on its own yielded to Edappadi Palaniswami's plea for popular two-leaves symbol. This is a sign that even BJP's top leadership favours Palaniswami and not Panneerselvam," said Jagadeeswaran adding, "Pannerselvam has the freedom to harbour the hope that BJP top leadership will still stand for unification of AIADMK. But chances for that are bleak."
But some political observers feel that the BJP's stand will get clear only when elections approach. BJP and RSS, which always had an eye for Thevar votes, might think this is their moment of reckoning, said Thirunavukarasu.
"Take the incident of RSS ideologue Golwalkar's visit to Madurai's Meenakshi Amman temple. Muthuramalinga Thevar headed the reception committee. The right-wing politics failed at that time because of larger-than-life image of MG Ramachandran. Later, Subramanian Swamy called them (Thevar community) a fiercely Hindu community. If the BJP wants to fish in this vote bank today, Panneerselvam and others may want to take advantage of it," he said.