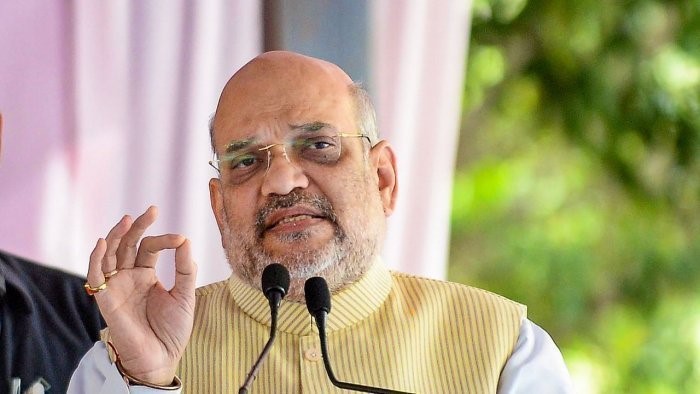 Amit Shah labels Congress, DMK '2G, 3G, 4G' parties
Union home minister Amit Shah took a dig at the Congress and DMK over dynasty politics and alleged corruption by calling them "2G, 3G, 4G" parties at a public meeting in Vellore on Sunday (June 11).
"Congress and DMK are 2G, 3G, 4G parties. I am not talking about the 2G (spectrum allocation scam). 2G means two generations, 3G means three generations and 4G means four generations," he said.
"The Maran family (of the DMK) is doing corruption for two generations. The Karunanidhi family is doing corruption for three generations. The Gandhi family is 4G. Rahul Gandhi is fourth generation and for four generations they are enjoying power," Shah said attacking the two parties.
He said the time has come to "throw out 2G, 3G, 4G and give the power in Tamil Nadu to a son of the soil."
Also read: Amit Shah pitches for a Tamil PM in the future
Abrogation of Article 370
Addressing a public meeting in Vellore to highlight nine years of the BJP-led NDA government's achievements, he also lashed out at the two Opposition parties at the Centre for opposing the abrogation of Article 370. He lauded Prime Minister Narendra Modi for "uniting Kashmir" with India by a stroke of the pen.
Asking the crowd if Article 370 should have been removed or not and "if Kashmir is ours or not," he said both Congress and DMK opposed the abrogation of the Article which gave Jammu and Kashmir a special status.
"Both these parties – Congress and DMK – were against its abrogation. With one stroke of pen on August 5, 2019, Prime Minister Narendra Modi ended Article 370 and united Kashmir with India," Shah added.
Earlier in the day, Shah attended a meeting of the BJP's Tamil Nadu leaders, including its state president K Annamalai, in Chennai.