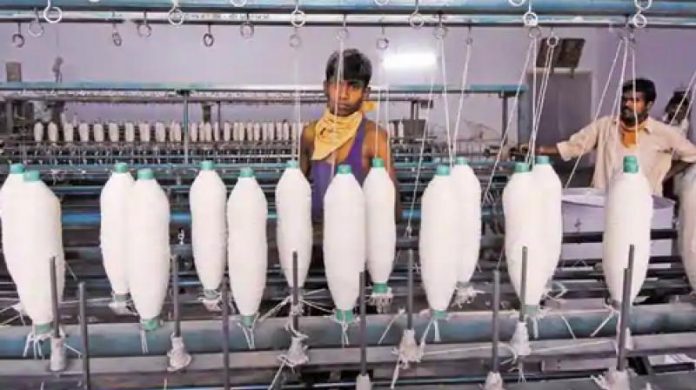 At a time when lakhs of migrant workers stranded across the country have been rendered jobless due to the lockdown due to COVID-19 and are staring at a bleak future, the administration of the textile city of Tirupur in Tamil Nadu has successfully managed to retain a workforce of 1.3 lakh migrant labourers by engaging them in alternate sources of livelihood and looking after their daily needs.
According to sources, around 3 lakh migrant workers from Odisha, Bihar, Assam, Uttar Pradesh, Jharkhand and other parts of the country, work in various garments and textile units of Tirupur city. Of them, a lakh workers who had gone home to celebrate Holi, couldn't return due to the lockdown, while a few thousand managed to go home after the lockdown was announced on March 24.
"After the lockdown, we traced around 1.3 lakh migrant workers stranded in the city. Of them 68,000 people were living in hostels provided by their respective employers, while rest of the 62,000 people were residing outside their workplace," said Tirupur District Collector K Vijayakarthikeyan.
Medical textile comes to the rescue
Textile industry owners were in a fix when the Centre urged businesses not to sack employees due to the lockdown and pay them wages. It was then that they stumbled upon the idea to engage workers in producing medical textiles.
After getting due permission from the district administration and asking workers to follow all safety instructions – wearing masks, frequent washing of hands and use of hand sanitizer among others – factories started producing masks and PPEs.
Related news: COVID-19 impact: Tirupur exporters seek financial bailout
"So far over a million face masks and thousands of personal protective equipment (PPE) kits have been supplied to various states including Telangana and Maharashtra. During the crisis, we at least had this opportunity to recover the cost," says Tirupur Exporters Association president Raja M Shanmugam.
"We insist the industries to regularly check the body temperature of workers and district administration officials inspect the industries once a week to ensure that they are maintaining social distancing and other guidelines. We also ensure that the migrant workers get their essentials and wages," said Vijayakarthikeyan.
Relief for jobless migrants
City industrialists, however, say that they have been able to employ only 68,000 migrant workers who stay in their hostels, while there are 62,000 staying outside. Of the latter, who are now eking out a livelihood by doing odd jobs, 30,000 are not even on the payroll of any companies.
"Since they are working in job order companies, they do not work permanently in one concern. So, it is not possible to stress any employer to pay the wages of these 30,000 workers. In order to help these migrant workers, we have opened a control room manned by six people, who can speak different languages," said Vijayakarthikeyan.
The district administration with the help of NGOs provides food and groceries to migrant workers who call on the helpline number. It has also created a forum called Tirupur Corono Fighters in collaboration with the volunteers and NGOs to feed migrant workers.
"We have never left any call unattended and are taking every step to see that workers get essentials," the collector said.
Vijayakarthikeyan says such initiatives of the administration has discouraged migrants to walk to their native places, as seen in many other states after the lockdown was imposed.
"There was only one incident in Avinashi, where a migrant worker was adamant to walk to his native place. But, we explained him the situation, counselled him with the help of a psychologist and made him realise the gravity of the situation. We have also deployed psychologists to counsel distressed migrant workers," Vijayakarthieyan added.
Related news: Knot an easy job for textile weave revivalists
But, despite all the work, field officials say returning home is the only thought that is eating up migrant workers.
"Initially, they accepted the food and essentials that we provided. But since we have started meeting them regularly, their only demand has been to arrange transportation for them to reach home as they have not met their family for a long time and want to see how they are doing," a revenue official, deployed in taking care of the migrant worker said on condition of anonymity.