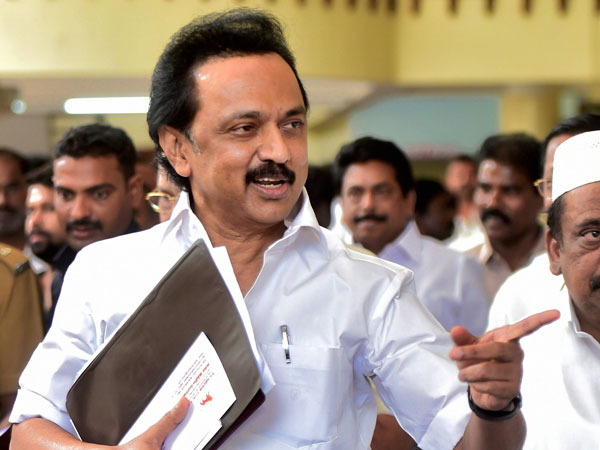 Dravida Munnetra Kazhagam (DMK) leader MK Stalin is unlikely to meet Telangana Chief Minister K Chandrashekhar Rao who is on a mission-mode visit of various states to create a non-BJP, non-Congress front after the elections.
The DMK leader may not give KCR an audience as he is reportedly busy with his campaign tour. KCR had called on Kerala Chief Minister Pinarayi Vijayan on Monday and held an hour-long discussion.
Sources said KCR had initially planned to meet Stalin in Tamil Nadu on May 13. However, DMK ruled out any imminent meeting. The DMK has strongly backed its alliance partner, the Congress, in recent times. Stalin was one of the first non-Congress leaders to declare his support for Rahul as Prime Minister. A meeting with KCR at this point may be taken as a sign of wobbliness on the DMK's part as far as its relationship with Congress show.
DMK leaders played down any political significance though. "The four assembly by-polls are more important than the Lok Sabha polls. As the campaign schedule has already been planned, it is difficult to change the plan. So, no appointment has been given to KCR on May 13," a DMK leader, who functions out of the party headquarters, said.
Advertisement
Stalin was not available even when the Andhra Pradesh Chief Minister Chandrababu Naidu had come to Chennai, he added. "The DMK leader was busy campaigning then too. So, only the other leaders could meet him," sources said.
Viduthalai Chiruthaigal Katchi (VCK) leader Thol Thirumavalavan, who is part of the DMK-Congress front, welcomed Stalin's decision of 'not giving KCR an appointment.' Thirumavalavan said a move to form the third front would only favour the BJP.
CPM State secretary K Balakrishnan echoed Thirumavalavan and endorsed Stalin's decision. Balakrishnan told The Federal that KCR had initiated a third front idea before polls which was seen as favouring the BJP at that time. Any third front proposal now would amount to the same. "We cannot put the BJP and the Congress on an equal footing," he said.
KCR has been meeting the leaders of various parties in south India. He also has plans to meet West Bengal Chief Minister Mamata Banerjee.