In late 2016, Vimala*, who had been working as a housekeeper in a private company in Chennai, was relocated to high-rise tenements in Perumbakkam along with her family of husband and daughter and hundreds of others dwelling in the slums in the centre of the city to the outskirts, around 25 km away.
The reasons for relocation were given as removal of unhygienic and insanitary conditions prevailing in slums, for improved living conditions of slum dwellers and for the promotion of public health, according to the Tamil Nadu Slum Areas (Improvement and Clearance) Act. However, bad turned worse as many dwellers in the resettlement sites across the city lost their jobs, like Vimala, or were forced to travel long distances every day to the city to earn a living.
Now the COVID-19 lockdown has exposed bigger problems with the relocation. Besides going broke and surviving on rice gruel, Vimala is gripped with fear. Despite being disabled, she avoids taking the elevator if there are more than two people. "We clean the elevator in our block with neem leaves and turmeric water twice a week as our complaints (to authorities) have gone in vain," she says. Each block with eight floors and 192 houses has an elevator that can carry a maximum of five people.
Not only is the elevator cramped, but also the houses. "We three can manage in a 300-square-foot tiny house. But there are families of 7-8 persons," says Vimala.
Only a few days ago, a sanitation worker was infected with the coronavirus in Perumbakkam. Authorities sealed the block in which he had been staying. However, with 24 cramped houses in a floor, social distancing is hardly achievable.
Also read: Displaced and denied, slum dwellers are socially, economically quarantined
A few kilometres far is Kannagi Nagar, to where the first phase of relocation took place. "Kannagi Nagar's case is worse as many houses there are as tiny as 100 square feet," says Vanessa Peter, policy researcher at the Information and Resource Centre for the Deprived Urban Communities. Even a family of four cannot keep sitting inside the house throughout the day, she says. "This forces them to step out of their homes, breaking social distancing norms."
Even if the residents manage to stay indoors, the dampness of the walls due to leakages in water pipelines is intolerable. Padma* is another resident of the Perumbakkam tenement. Besides being distressed about sitting or sleeping on the floor that is often wet, getting an electric shock from the switchboard has become a cause of agitation for her.
"The switchboard is installed on the wall against the washroom, where the dampness is high. Whenever we touch it, we get an electric shock," she says. The issue has been existing since they moved in, but authorities have not taken any action for a permanent solution in the last four years, says Padma.
Another major problem in the high-rise tenements is accessibility to essentials. For over 20,000 families with more than 80,000 members, there are five fair price shops in Perumbakkam.
A package of 15 kg rice, 1 kg each of pulses and sugar, and a litre of cooking oil sufficed only for the first 10 days of April, says Vimala. "The struggle we faced in the remaining 20 days cannot be expressed in words," she laments.
The lockdown has forced residents of Tamil Nadu Slum Clearance Board (TNSCB) tenements to throng fair price shops for essentials and financial aid. Baskar, residing in a tenement in Chemmenchery, which is a stone's throw away from Perumbakkam, says, "For rations, at least, people wait a day or two. But kerosene is given only once a month. A litre of the fuel is sold at ₹25 and people having gas stoves sell it to others for ₹100."
A profit of ₹75 will help a person run the family for two days. So people stand in long queues throughout the day, bearing the scorching heat, says Baskar. "In this scenario, how will social distancing be possible?" he asks.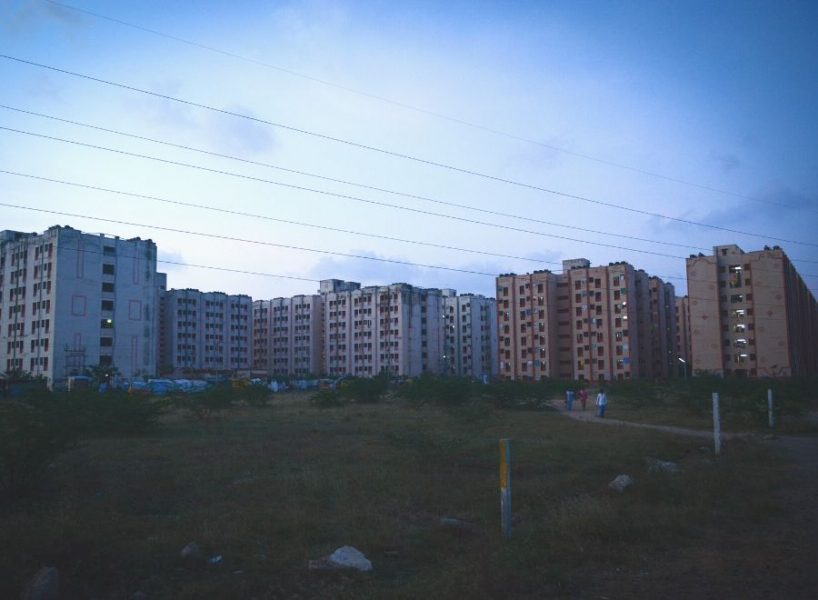 From getting rations to receiving the aid, officials have begun to give tokens to people to contain the rush. But this has created chaos and people have been bustling around the tenements, says Baskar. Finally, police resorted to lathi-charge to disperse the crowd.
Far worse are the cases of people without ration cards. Due to this, around 20 per cent of families in Perumbakkam have had to depend on others for rations. One such family is Padma's. For the last one-and-a-half months, Padma has been jobless. She had been working at a private company nearby and was the sole breadwinner of her family. "My employer paid me only for the first 15 days of March, though I worked until March 22," she says. Since then, she has not received any salary.
Adding to her woes, people only offer rice for ₹5 a kg and not other essentials. Lack of a ration card also restrained her from getting the state government's aid of ₹1,000. With some money she had obtained from a trust, Padma has bought some pulses to make sambar. "But I don't know how long will they last," she says. Idliy and koozh (a porridge made of ragi) are their routine meals. However, one cannot thrive on rice alone, says Vanessa.
"Supplementary nutrition is essential for children and old persons. That is the premise of the noon-meal programme for children in government schools," she says.
Watch: School is afar for these resettled children of Chennai slums
Most children in the tenements had been having eggs and vegetables at schools. But now they are deprived of protein diet as their parents cannot afford these food items, says Vanessa. "So, the government must have door-delivered the nutritious food to children through anganwadis."
However, government schools in Perumbakkam had already been catering to only a small proportion of the children there. Even if the food is delivered, it will reach only a few, says Vanessa. The children had been travelling around 50 km every day to go to their schools and return home as the only government school in Perumbakkam could not even accommodate one-fifth of them. "So, existing vulnerability must be a parameter for the government to reach the people first," she says.
However, a TNSCB official says people have begun wearing masks and washing hands regularly after the spike in the number of positive cases in Chennai recently. "Compared to earlier days, they have been practising social distancing more vigorously," he says.
(*Names have been changed to protect the privacy of individuals)