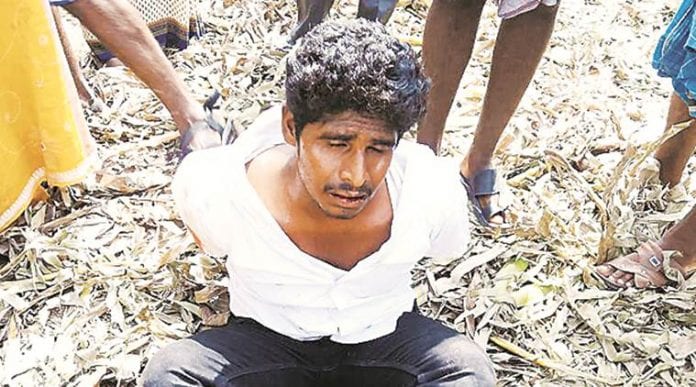 A Dalit youth, who worked at a petrol pump near Viluppuram, was lynched when he allegedly squatted on the side of a road to defecate.
The incident, which took place on Wednesday (February 12), came to light when videos of the youth being thrashed began circulating on social media.
Police arrested seven people — three women and four men — on Friday (February 14) for inquiry and said they were further investigating the role of other people.
Advertisement
The 24-year-old youth was identified as R. Sakthivel and lived at Karai village. He had stopped at the village of S Pudhur to defecate. According to a senior police officer investigating the case, Sakthivel had been wearing a tight pair of jeans which had caused him to remove it fully to defecate.
Related news | Denied houses on rent, Dalit sanitary workers build temporary shelters
A woman in the area had seen this and called out to other people, alleging that he was trying to flash at her. People immediately gathered around, tied up his arms and legs, and beat him up severely.
According to a senior police officer who was investigating the case, the village where Sakthivel had been thrashed was dominated by Vanniyars, a socially powerful community whose members were known to be explicitly hostile with Dalits. On the other hand, Sakthivel belonged to the Scheduled Caste under the Adi Dravida community, which was considered to be at the "bottom of the social hierarchy".
One of the people who had beat him up called up Sakthivel's sister, R Theivanai (26) from his phone and asked her to come to Boothur Hills, where they said they had tied up her brother.
When she reached the spot with her six-month-old child, the crowd beat up her brother some more. She allegedly tried to stop them, but they kicked her and her child fell on the ground. "After the mob caught him, they checked his Aadhaar card and noted his caste name. While attacking him, they kept abusing him and calling out our caste name," she said.
Related news | Dalits vs Dalits: How caste walls are getting new narratives
On the allegations of flashing at a woman, Theivanai said, "He (Sakthivel) will never do that."
Police reached the spot two hours later and asked the Sakthivel and Theivanai to go home. However, when the two of them reached home, Sakthivel allegedly dropped unconscious on the ground. When he was taken to a hospital, the doctors revealed that he had been brought dead.
D Jayakumar, Superintendent of Police, Villupuram said only a thorough probe would reveal if there was a caste angle to the murder. "He died of a heart attack due to the severe torture. A case has been registered under the SC/ST (Prevention of Atrocities) Act with IPC Section 302 (punishment for murder)," The Indian Express quoted Jayakumar as saying.