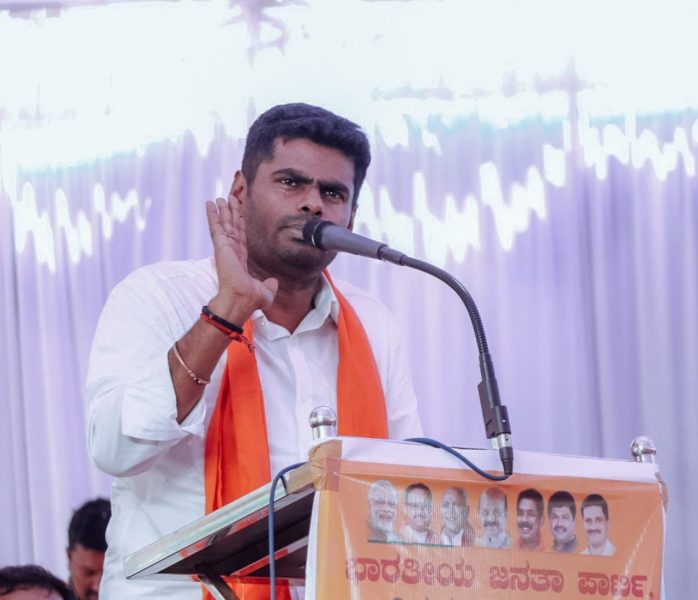 Annamalai warns Stalin against attending Bengaluru opposition meet
Tamil Nadu BJP chief K Annamalai on Monday warned Chief Minister MK Stalin against attending an opposition meeting in Bengaluru as Karnataka was adamant on building the Mekedatu dam.
He said the Bharatiya Janata Party (BJP) would stage a "Go back Stalin" protest if the Chief Minister chose to attend the meeting of opposition parties in the Karnataka capital.
Annamalai blasted Stalin for not condemning the Congress, especially Deputy Chief Minister DK Shivakumar, for making Mekedatu dam an election issue and for insisting on going ahead with the dam project.
"The Chief minister lacks the heart to condemn the Congress or Shivakumar but is keen on attending the opposition meeting thinking he will gain acceptance (at the national level)," the BJP leader told reporters.
"Stalin has a right to attend (the Bengaluru meet) but when he returns, I will lead a Go back Stalin agitation in which the farmers and public will participate," he said.
Cauvery river
Annamalai insisted that unlike the DMK and its allies, the BJP never played politics on the Cauvery water issue which is the lifeline of Tamil Nadu farmers.
He claimed that the Union government had already made it clear that the dam project cannot be undertaken without the concurrence of the lower riparian states.
(With agency inputs)