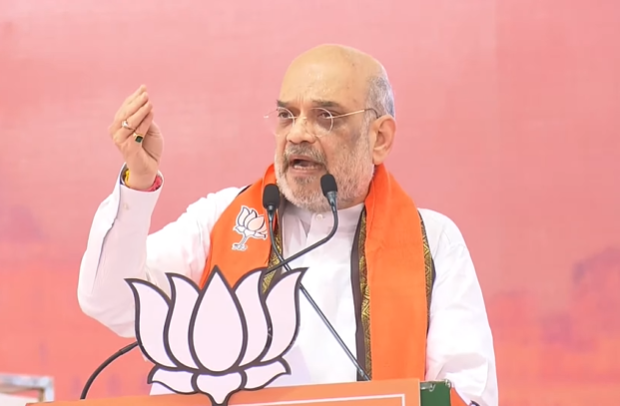 Amit Shah slams Stalin, calls DMK most corrupt party in the country
In a scathing attack, Union Home Minister Amit Shah on Friday (July 28) accused the Stalin-led Dravida Munnetra Kazhaga (DMK) government of being the most corrupt in the nation.
Amit Shah was addressing a rally in Rameswaram, ahead of kick-starting Tamil Nadu BJP president K Annamalais state-wide En Mann, En Makkal (My Land, My People) padayatra.
Shah also slammed Stalin for retaining V Senthil Balaji as a minister in the cabinet despite being jailed in the Enforcement Directorate (ED) case.
Also Read: Explainer: What is 'Sengol', who crafted it and what's its significance?
"Stalin should be ashamed of retaining V Senthil Balaji, arrested in an Enforcement Directorate case and in jail, in the cabinet," the union minister said.
"Can a person in jail continue as a minister," he asked. "Should Senthil Balaji not have resigned? Even if Senthil Balaji resigns, Stalin will not accept it because he is afraid that all secrets will be disclosed."
The union minister said a single tweet of BJP state chief Annamalai had rattled the DMK regime, referring to the state BJP leader's allegations of corruption vis-a-vis the DMK Files.
"Imagine what will happen when Annamalai takes the yatra across the state," he said. Shah exhorted the people to elect nominees from BJP and its allies as MPs to ensure that Prime Minister Narendra Modi wins a third successive term.
Shah blasted the Congress and its allies, including the DMK, saying nothing would happen by changing the name of their alliance to INDIA.
"When Congress and its allies, including the DMK, go to the people seeking votes, public would remember the corruption, including the 2G scam and CommonWealth Games scam during the UPA regime," he said.
Taking forward Prime Minister Narendra Modi's Tamil pitch, Shah said Modi honoured Tamil culture by installing Sengol in new Parliament building.