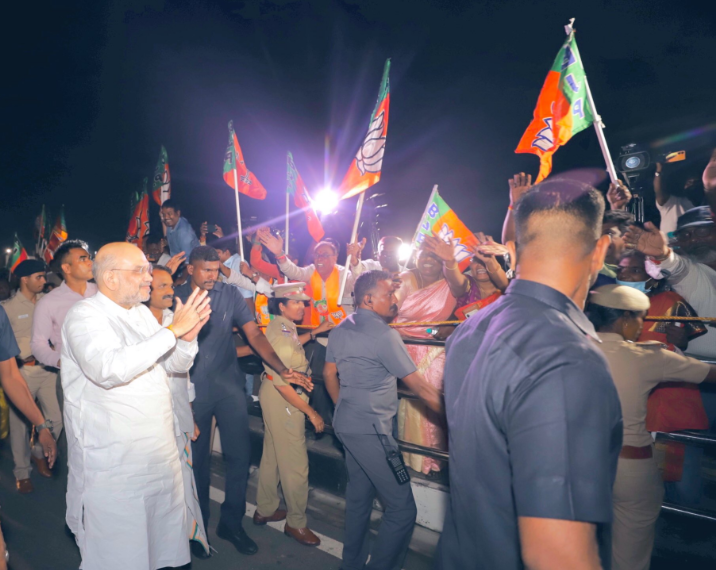 Amit Shah in Chennai; public rally in Vellore, review of LS polls preparation on cards
Union Home Minister Amit Shah, who reached Chennai on Saturday (June 10) evening is slated to participate in the BJP's 'Maha Jan Sampark' programme that aims to touch base with voters and tell them the initiatives taken by the Narendra Modi government over the past nine years, ahead of the crucial Lok Sabha elections next year.
With the BJP with the support of the AIADMK eyeing 10 Lok Sabha seats from Vellore and South Chennai, Shah is scheduled to hold discussions with the party's South Chennai functionaries about the pace of the campaign for the polls.
Also read: 'Modi is no Vajpayee': Stalin rules out any pact with BJP
Shah is also expected to hold briefing sessions with cadres on strengthening booth committees in the run up to the polls.
Reports said, the Home Minister will also meet industrialists.
While former chief minister and AIADMK chief Edappadi K Palaniswami is expected to meet Shah, his bete noire and expelled leader Pannerselvam is also said to have taken an appointment to meet the BJP leader.
Later in the day, Shah will address a public meeting in Pallikonda in Vellore before leaving for Andhra Pradesh.
On Saturday, Shah was received at the airport by BJP leaders including Union Minister L Murugan while Home Secretary P Amutha was present from the behalf of the state government.
He was later welcomed at the hotel by state BJP leader Annamalai and senior party functionaries. He met 24 apolitical personalities following which he had a discussion with senior party leaders about the elections.
Also read: Amid strategy lacuna, BJP gives Annamalai free hand in Tamil Nadu
Even as the state BJP unit organised a grand welcome for Shah at the airport, his entry was marred by a power cut, which the party alleged was a "security lapse." The street lights weren't working when Home Minister stepped out of the airport to leave for his hotel in Guindy.
Protesting against the same, a group of BJP cadres also staged a protest at the airport, demanding a probe into the matter.
"This has to be investigated. How can there be a sudden power failure when our leader and Union Home Minister Amit Shah reached Chennai airport? This is a security lapse. This should be seriously investigated," BJP's state vice president Karu Nagarajan told reporters.
"Union Home Minister Amit Shah has come to Tamil Nadu today. He met very important people from Chennai who have made Tamil Nadu proud. They are non-political people. They gave feedback about our government… It is a very unfortunate incident that when the Home Minister came there was a power failure. Untimely power cuts are happening after the DMK govt came to power. I hope the state government will take it seriously and ensure that such incidents do not happen again," state BJP president K Annamalai.
Also read: The MK Stalin interview: 'BJP can't win a single seat on its own in Tamil Nadu'
DMK supremo and Tamil Nadu Chief Minister MK Stalin in a recent swipe at the BJP had said that the party's hold is reducing across the country while asking Shah to release a list of initiatives that the Centre has taken for Tamil Nadu in the past nine years.
Responding to the criticism, Annamalai said the BJP will answer his questions as well as ask him what the DMK government has done for the people in the two years of its regime.
"I see a lot of fear on the chief minister's face. Tomorrow we will answer all the questions of the chief minister and ask him what he has done for Tamil Nadu in the last two years. I hope he will answer our questions as well. The people of Tamil Nadu do not want DMK party to be in power and want Assembly elections to be preponed by three years so that Lok Sabha and Assembly elections can be held in 2024," Annamalai said.
Shah is on a two-day visit to Gujarat, Maharashtra, Tamil Nadu and Andhra Pradesh to dessimante the achievements of the BJP government in the past nine years.