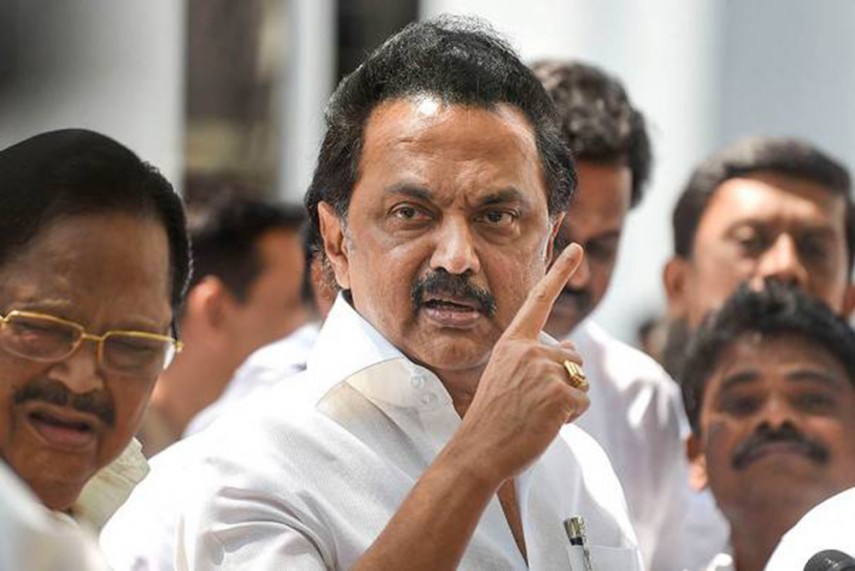 Amit Shah came to Tamil Nadu to launch 'sin yatra', not padayatra: Stalin
Tamil Nadu Chief Minister MK Stalin on Saturday (July 29) hit out at Union Home Minister Amit Shah, saying he had come to launch a "sin yatra" ("pava yatirai" in Tamil) from the pilgrim town of Rameswaram and not a padayatra (foot march).
"Did the Home Minister visit the state on Friday to inaugurate the AIIMS project or any scheme announced by the Centre? He has come to launch a pava yatirai (sin yatra), not padayatra, from Rameswaram, for what happened in Gujarat in 2002 and the violence in Manipur," the DMK president said addressing a meeting of party members in Chennai.
Shah flagged off the "En Mann, En Makkal" (My Land, My People) padayatra by BJP state president K Annamalai on Friday. He accused the DMK of perpetuating family rule and said Tamils were massacred in Sri Lanka and Tamil fishermen suffered during the UPA regime.
He even accused the Congress allies, including the DMK, of trying to empower their families and not being keen on state welfare. He added that nothing would happen by changing the name of their alliance to INDIA.
Also read: Amit Shah slams Stalin, calls DMK most corrupt party in the country
"Why sudden affection for fishermen?"
Reacting to Shah's allegations, Stalin questioned the saffron party's sudden affection and pity for Tamil Nadu fishermen who have been suffering for a long time. In this context, he asked why former Sri Lankan President Mahinda Rajapaksa had been invited to the swearing-in of Narendra Modi as Prime Minister in 2014.
Stalin pointed out that for the past three months, the Centre has been unable to restore peace in the violence-hit Manipur, adding that now "he (Shah) has come to Tamil Nadu to disturb the peace here."
He alleged that the BJP was also perpetuating family rule. "The Home Minister talks as if family rule is existing only in Tamil Nadu, forgetting the fact that it exists in the BJP too," Stalin said.
"I became Chief Minister to serve the people and I feel proud of it. I never dreamed that I would occupy the chair once adorned by late chief ministers CN Annadurai and M Karunanidhi. I always wanted to strive for people's well-being and worked in this spirit. So, I rose to this position," he added.
Also read: TN minister Senthil Balaji's remand extended till August 8
"INDIA has rattled Modi"
His DMK government was dispensing the Dravidian model of governance, he said. "They claim there's family rule here. But ours is a governance that is sustaining crores of families. We are continuing the legacy of Karunanidhi," he said.
Stalin listed numerous welfare initiatives, including the COVID-19 cash assistance of Rs 4,000 to rice ration beneficiaries, free bus pass to women, waiving off cooperative jewel loans, providing monthly aid of Rs 1,000 to women heads of families, and other initiatives.
"Some people are rattled by our alliance, INDIA. Wherever Prime Minister Narendra Modi goes, he talks about this alliance. This shows the success of the Patna and Bengaluru meetings. The PM is unable to digest this," he said.
On Senthil Balaji
On the Home Minister's charge as to why the jailed V Senthil Balaji was continuing as a minister, Stalin shot back saying many central ministers continue to hold their portfolios despite facing charges. "Will Shah ask the Prime Minister about this?" Stalin pointed out.
He accused the BJP of using the Enforcement Directorate as a "washing machine" against its political adversaries and said the time had come to end the saffron rule in the country.
At the padayatra flag-off event, Shah said Stalin should be ashamed of retaining Senthil Balaji in the Cabinet.
(With agency inputs)